When I saw the note that there would be THREE books in this upcoming package, I just had to snag one! Per usual, this was so fun to receive in the mail! What a great way to warm up the rough month of February!
NOTE: THERE WILL BE SPOILERS BELOW!
Let's dive in!
My Thoughts on the February 2022 Night Worms Package | Frostbite
The Goodies
I am SO pumped I finally snagged a package with a tea I can't wait to try! I love ceylon black tea, and this one has rose petals and cherry flavoring. That sounds delicious! Though I will need to be very careful as I've been caffeine free since August of last year. And I mean, how cute is that love zombie?! This tea is from @evilteacompany if you're interested.
The sticker is wonderful as well! That love potion sticker is from @spooki_kooki.
And of course, the bookmark and signed bookplates are so awesome to have as well! The bookplates are from Christopher Golden and Samantha Kolesnik.
The Books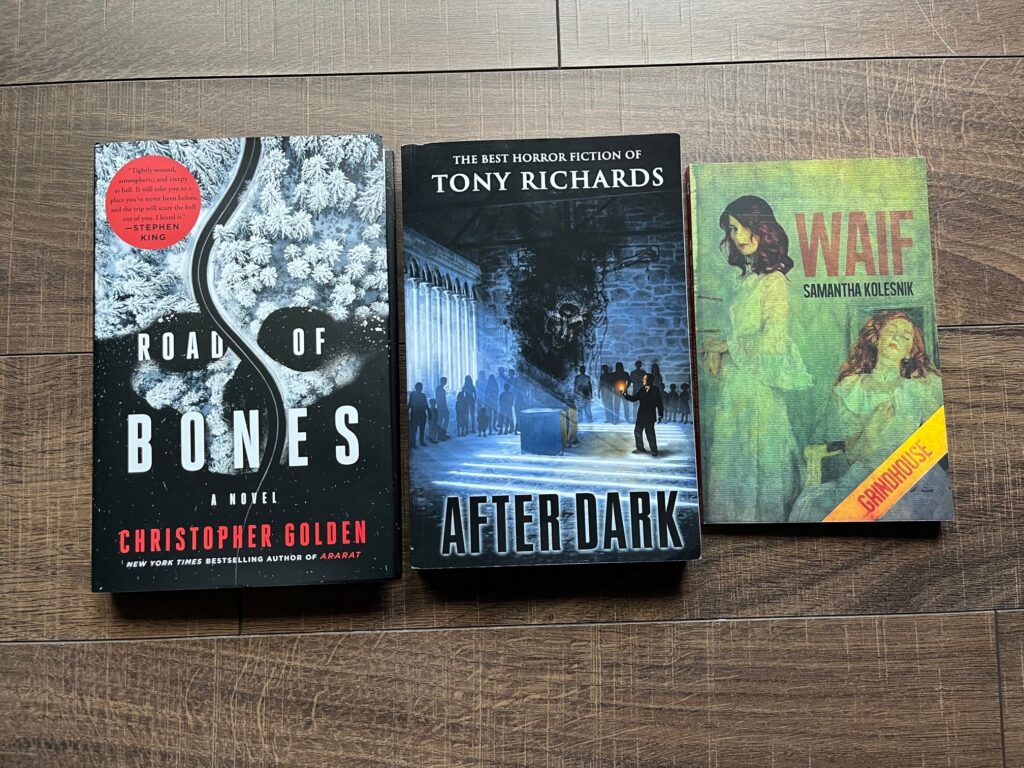 The three books from this package included:
Road of Bones by Christopher Golden
Waif by Samantha Kolesnik
After Dark: The Best Horror Fiction of Tony Richards
I had already purchased and gave WAIF a shot, but it was too uncomfortable of a read for me (CAN YOU BELIEVE THAT?! Killer job, Samantha!! This has only ever happened once before!), so this one will also be headed to a little free library near me 🙂
I cannot wait to dive into Road of Bones! That's been on my list of things to keep an eye on.
After Dark is totally new to me! I'm excited to give some of Tony's work a go!
The Whole Package
There it is in all it's glory! What a killer package! I also really enjoyed the note from Christopher! What a nice touch!
Happy end-of February everyone!
---
Related Reading: