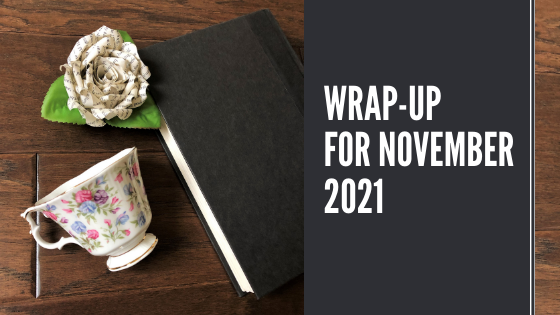 This month was certainly filled with ups and downs!
For the downs, I didn't get as much fall clean up/lawn work done before we got snow and ice and I was very bummed about that. Then our water heater died and had to be replaced. During that, we were out of hot water for a few days with 20 degree weather. Of course, when they were working on that, we discovered that something in the piping was messed up, so they had to take apart part of our wall to get to the pipes and replace that and all of the shower fixtures that had corroded. So that was messy and pricy…
To top it all off, I messed up my back on the 16th. As the next week was Thanksgiving week, I couldn't get in to my chiropractor, so I just suffered through it. Turns out I have a bulging disc in my lower back. Thank god for my chiropractor that gave me a little relief after the holidays. I have an appointment coming up with my primary care to see what else we need to be doing. I'm very worried about it getting worse and continuing to damage the nerve as it's already really affecting my left leg.
But for the ups, there were many more of those!
I had a great month at work overall! I got so many lingering tasks completed including finally getting my Ads Display Certification from Google.
I got new glasses FINALLY. My old pair was held together mostly by superglue, so this was a much needed upgrade. I love my new eye doctor as well. I now vow to never step foot inside another Lenscrafters EVER again. I learned so much from my new doctor. I'm kicking myself for not switching to a local doc sooner.
As I had completely reorganized my library last month, I had four bags of books to try to sell back at Bull Moose. With the store credit, we bought a bunch of books and two Ice Nine Kills albums!
One Saturday morning, my brother in law popped by with his beautiful daughter and I got some cuddle time with her while him and my husband got some of their stuff from our basement storage. My niece is so darn precious! She was all smiles that morning!
I also received my author copy of Blackberry Blood, which I have an interview in! I still can't believe it!!
During the plumbing issues, they caught that our water pressure was thirty points too high! It was at 100 PSI, and they installed something to get it down to 70. This will help with our appliance warranties, and we're already noticing a HUGE difference in a good way! Our toilet no longer screeches when filling with water, and when we get water from the fridge, it actually stays in the glass instead of shooting right back out when it hits the bottom.
I got SO much reading done over my time off around the holiday. I was so excited to make some great progress with my honest review backlog! I'm itching to get to my holiday reads next!
This month my therapist assured me that I am indeed in a good place right now, even when my skeptical brain tries to convince me otherwise! I made this to share with my husband… I just couldn't help it!
I also finally purchased a Calm app subscription. So far I have used it every single day and I'm quickly becoming addicted. I do the Daily Calm every night before bed and it's really helping with anxiety and getting me to wind down and ready for sleep.
I attended my first holiday parade with the Metcalf family! It was so much fun to see and experience this with the little ones! I can't wait to go again next year!
After the parade, we celebrated the birthday of one of my sister-in-laws, Aja.
Then to wrap up the month, I had my review at work and it went really well! I'm so excited that I will be given the opportunity to manage two team members moving forward. This will be something new for me, and I can't wait to get started.
Let's dive in to the rest of my recap!
My Reading Breakdown for November:
Monthly Musings
Watching:
The Hardy Boys | 2020 Mystery TV Series | Hulu – Five Stars
This was so much fun! The actor that plays Joe, Alexander Elliot, is SO wonderful. I can't wait to see him in more movies or shows!
Squid Game | 2021 Netflix Series – Five Stars
JEEZE. This was intense! This is definitely one that screams for a rewatch as soon as you finish it!
Arcane: League of Legends | 2021 Netflix Series – Five Stars
This is a MUST WATCH. This was so good! My husband and I both loved it. We watched the whole season over one weekend. I cannot wait for the second season!
Shang-Chi and the Legend of the Ten Rings | 2021 Marvel Film | Disney+ – Five Stars
This was so much fun! I loved the characters and the humor that was used. There were so many laugh out loud moments for me! I cannot wait to see more of this crew!
Red Notice | 2021 Action Film | Netflix – Four Stars
This was a blast!! Of course with this cast, I knew we were in for a really fun movie. I laughed so much! And that ending!!
How to Train Your Dragon | 2010 Film – Five Stars
My husband mentioned that he keeps hearing good things about this move but he hadn't seen it yet. Of course we had to change that! I love this movie so much. The overall story arc is so wonderful, the characters rule, and of course there's a tear worthy ending.
How to Train Your Dragon 2 | 2014 Film – Five Stars
Of course we had to dive right into the second movie! This was so fun. I love the storyline, even with the sadness in the middle.
Spider-Man: Far from Home | 2019 Marvel Film | Owned DVD – Four Stars
Another rewatch with my in-laws! I love this one so much.
Say Anything… | 1989 Film | Owned DVD – 5 Stars
I love rewatching this one so much!
The Princess Switch 3: Romancing the Star | 2021 Christmas Romance | Netflix – Three Stars
Another cheesy and cute addition to the series! Not my favorite of the bunch, but I still had fun!
Jonas Brothers Family Roast | 2021 Comedy | Netflix – Four Stars
This was pretty darn funny! Definitely recommended if you are or were ever a Jo Bros fan!
tick, tick…BOOM! | 2021 Drama | Netflix – Four Stars
This was WONDERFUL. What a beautiful and heartbreaking story that is full of hope and dreams.
A Castle for Christmas | 2021 Christmas Romance | Netflix – Four Stars
This was super cute! Following the predictable path of any hallmarkish Christmas movie, it's heartwarming until something silly happens, but it all works out in the end.
A Boy Called Christmas | 2021 Christmas Film | Netflix – Five Stars
This was SO CUTE! The middle got pretty heavy, but overall it was such a heartwarming tale about grief and hope! The mouse character was the best! He was so funny! A must watch during the holiday season!
Listening to:
Ice Nine Kills dropped their latest album, The Silver Scream 2: Welcome to Horrorwood, and I'm OBSESSED.
In the bookish community:
I really failed at blog hopping and such this month. 🙁
One article that I bookmarked as soon as I saw TorNightfire post on their Twitter was Emily Hughes' HUGE horror preview for 2022! Click here to check that out!
Then this popped into my feed! <3 What a wonderful guy Eric is!
Monthly bookish related haul:
I failed horribly with my book buying ban this month… In my defense, I did sell a bunch of stuff back, so everything I bought, I didn't use my credit card to buy 🙂 I was also gifted a bunch of these thanks to a lovely giveaway from Flame Tree Press!
These were my giveaway goodies!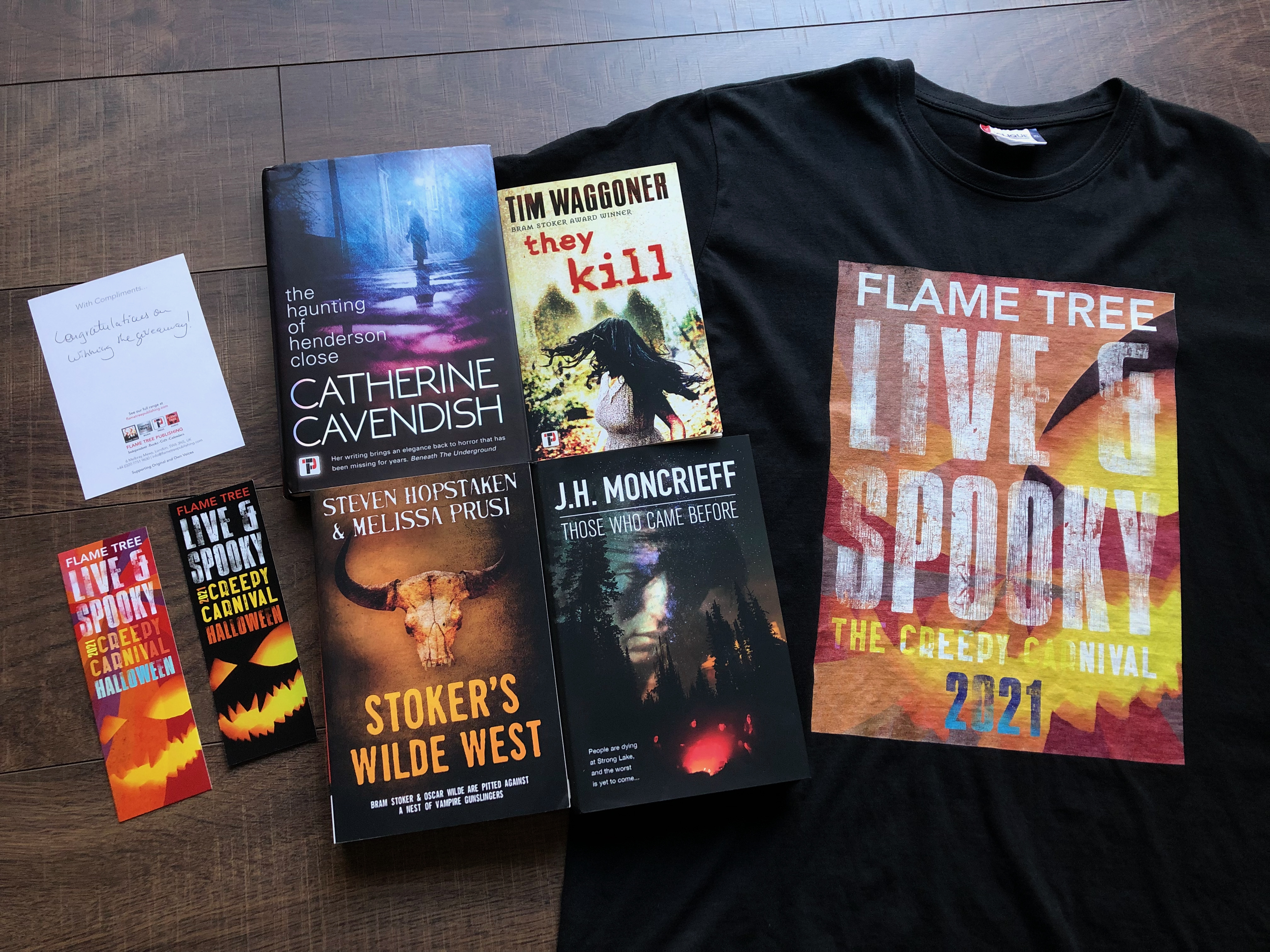 My favorite bookish photos this month: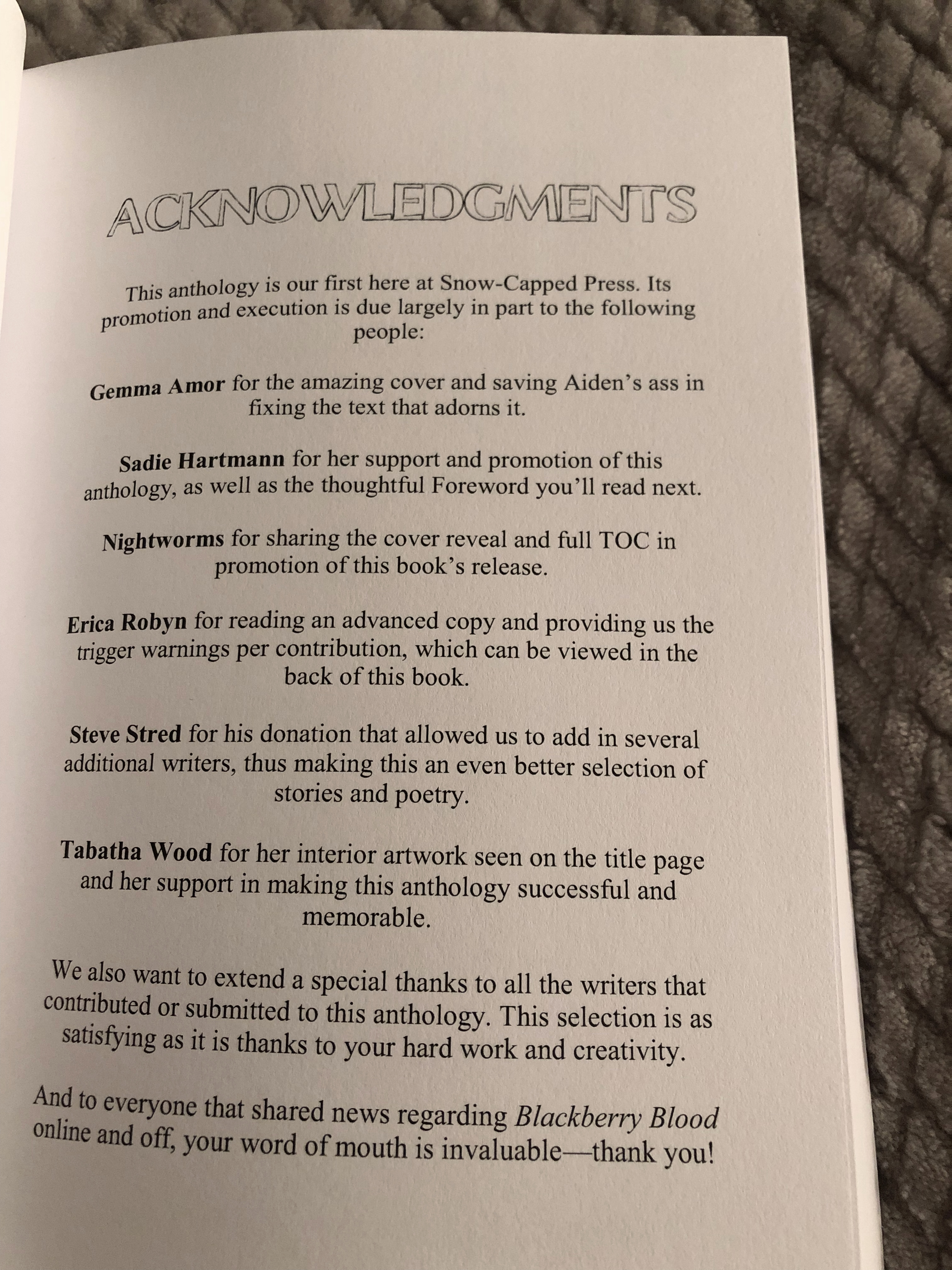 In case you missed it:
Looking forward to:
I do enjoy the month of December! Especially when work starts to slow down toward the end of the month. I can't wait to spend the holidays with my NH family!
I am also dreading but also looking forward to my appointments with my primary care doctor to get next steps for my back, and with my OBGYN for the infertility program. I've got my fingers and toes crossed for both of those appointments. Who knows, maybe we'll get a Christmas miracle this year!
Thanks for reading!