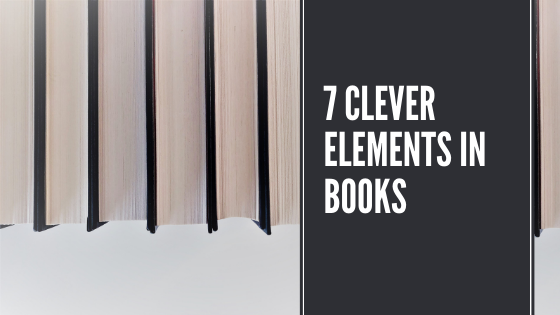 While reading a book, I literally read from cover to cover. Sometimes this pays off in wonderful ways as I spot elements that others may have missed if they just stuck to the story content.
To highlight some clever things that I have seen, I wanted to begin a new series titled simply, Clever Elements in Books.
Let's dive in to the first installment!
Seven Clever Elements in Books
This copyright statement from The Ghoul Archipelago by Stephen Kozeniewski cracks me up! I've heard that this is a trend for Stephen with this press, so I can't wait to read more to check it out!
Speaking of copy-write pages, this note in Dead Meat: Day 5 by Nick Clausen also had me laughing!
"No zombies were harmed in the making of this book."
In Aiden Merchant's re-releases, he added a note to the beginning of the books to let readers know content warnings are listed at the end of the book. What an awesome idea this is! This perfectly solves the debate on whether to include trigger warnings or not. If the reader wants to see them, they can simply flip to the back, and those that are worried about being "spoiled" won't see them at the start.
In We Bleed Orange and Black by Jeff C. Carter, Jeff added a section about which tales are family friendly so readers could share some of the tales in the collection with their kids.
In NOS4A2 by Joe Hill, the Acknowledgements section was broken up into The Nice List and The Naughty List. The Naughty list made me laugh out loud. How clever!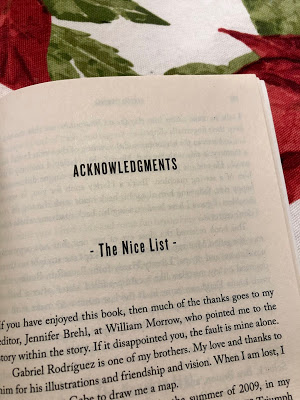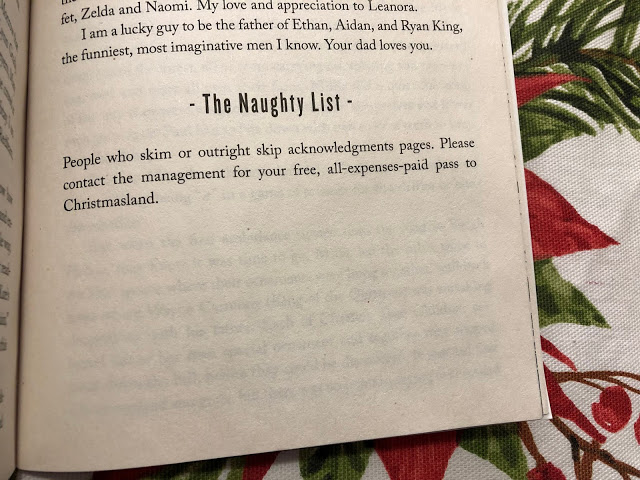 I love when authors allow superstition for adjust the format of their books! This little chapter for chapter thirteen in Even Halos Can Be Crooked by L.M. Schukraft was so spot on for the humor of the story.
How many people read the "Note On The Type" in the very back of the book? I do! I read this mainly because I love learning more about fonts thanks to a graphic design class I took that was really just about fonts and printing. At the end of NOS4A2, I was so thrilled to begin reading the note about the font just to be surprised by more of the story! So clever!
Thanks for reading!
What is a clever element of a book that you've seen recently?