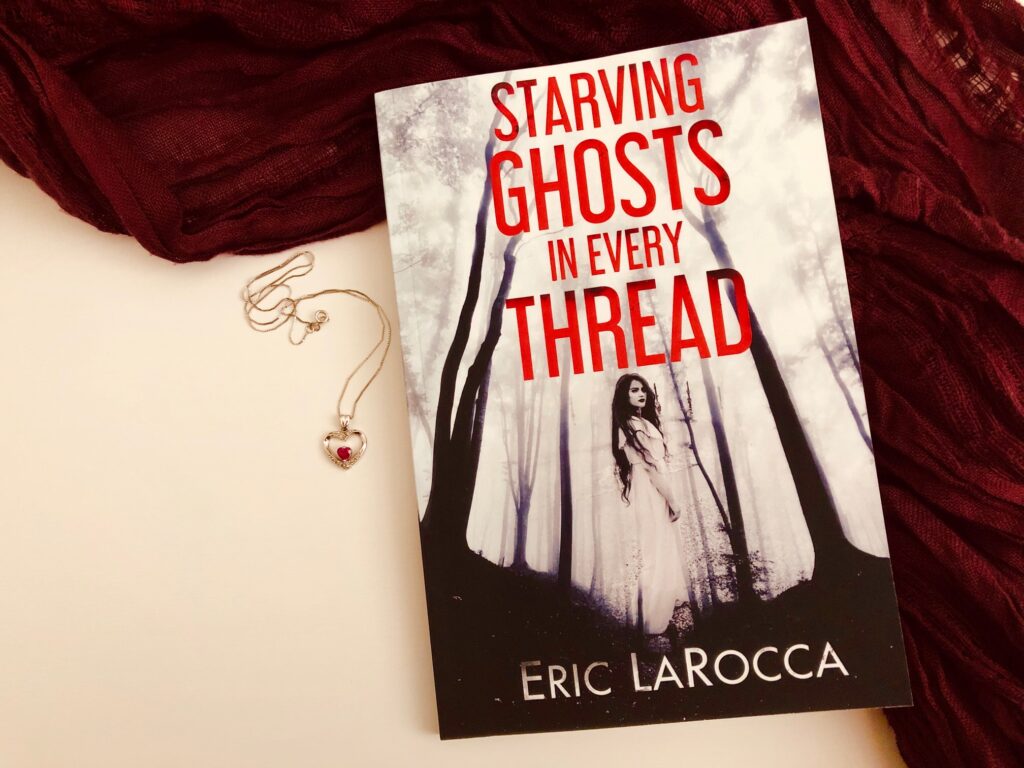 Starving Ghosts In Every Thread is a stunning debut horror novella by Eric LaRocca. Filled with a deep sense of guilt and various secrets, sprinkled with violence and heartbreak, this tale will keep you on the edge of your seat!
Full disclosure: I received a copy of this book from the author in exchange for an honest review. This did not affect my rating in any way.
Let's dive in!
My Thoughts on Starving Ghosts In Every Thread by Eric LaRocca
When I saw the cover of this one, I was immediately intrigued. I mean, how amazing is that cover?! I love the trees and how they fade out toward the top of the cover while the two trees in the foreground and black of the ground really draw the eye to the center where the girl is standing. Then of course the bright red title text that has bits of darkness splattered or blurred onto it gives it even more of an eerie vibe!
Eric and I connected on Twitter and when Eric reached out to ask if I would like a review copy, I was thrilled! I dove into the book just as soon as I had finished up the book I had been reading when this one arrived in the mail.
My goodness. In just the first couple of pages, I was totally hooked! I was so curious to learn more about the main character, Teddy, but I also found myself feeling very protective of her right from the first chapter.
As the story continued, I couldn't help but feel more and more protective of Teddy. It was clear that she was suffering through the guilt of something as well as the loss of her father, and that the affects of these two strong emotions were holding her back. But not only were these things weighing her down, they were also causing her to have physical reactions.
And what was that physical reaction? Well, Teddy's Teddy's skin would randomly begin to unravel from her body, a fact that I was equally horrified and enthralled by.
I loved that this physical element wasn't fully explained to the reader as it left a wonderfully mysterious element up to us to dwell on long after the book ends.
The situations that Teddy found herself in the middle of in a span of just 89 pages was wicked intense! One particular scene that was set in a basement had me reading as fast as I could to see what would happen next.
This one is going to stick with me for a very long time! It's definitely one I will be returning to time and time again.
My Favorite Passages from Starving Ghosts In Every Thread
The skin tightens about me so terribly that I wonder if my bones might leap out of my human suit.
The thought abandons me as suddenly as it arrives, her kiss draining my mouth of all words.
Darkness has its fingers about me, dragging me with it. But, the thought does not upset me as I thought it might.
My Final Thoughts on Starving Ghosts In Every Thread
An all around wonderful novella. I cannot wait to see what Eric writes next!
If you're a fan of light body horror and tales with wonderful characters, then I highly recommend picking this one up when you have time to read it cover to cover. It was spooky and bizarre, and it had intense action scenes, all of which are right up my alley! It also totally broke me.
Snag a copy using my Amazon Affiliate link or inquire at your local indie:
Shout-out again to Eric for sending a paperback copy my way! I'm so excited to have a signed copy of this one!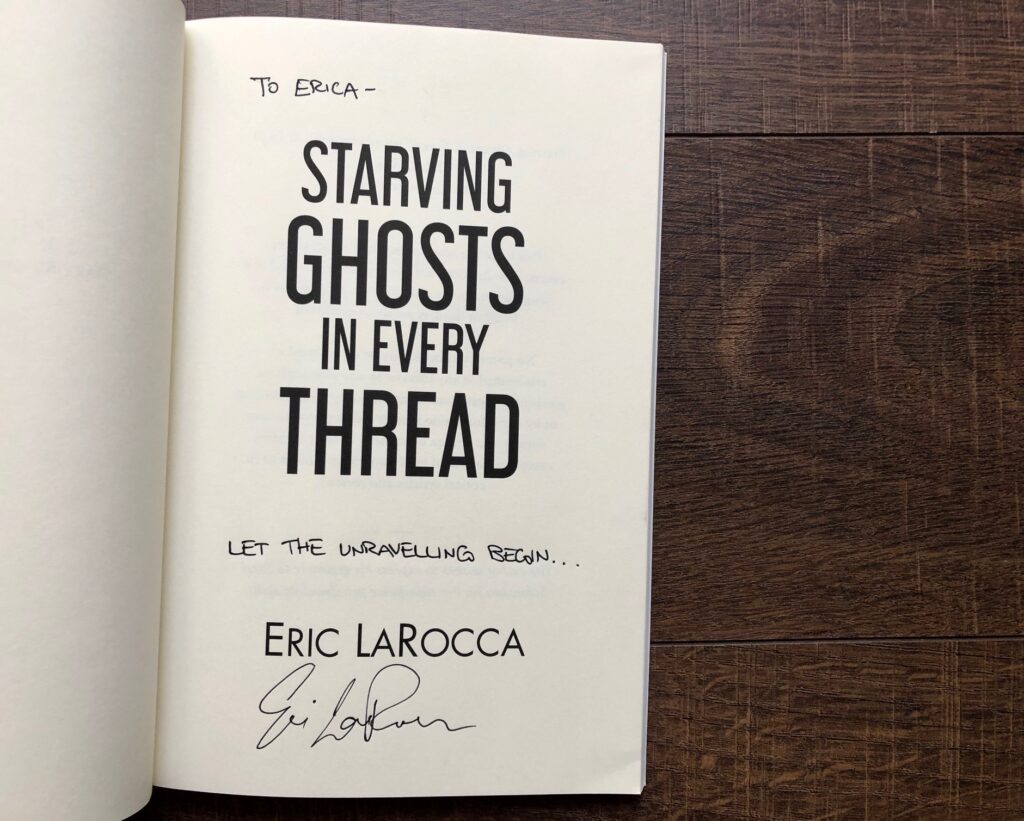 Thanks for reading!