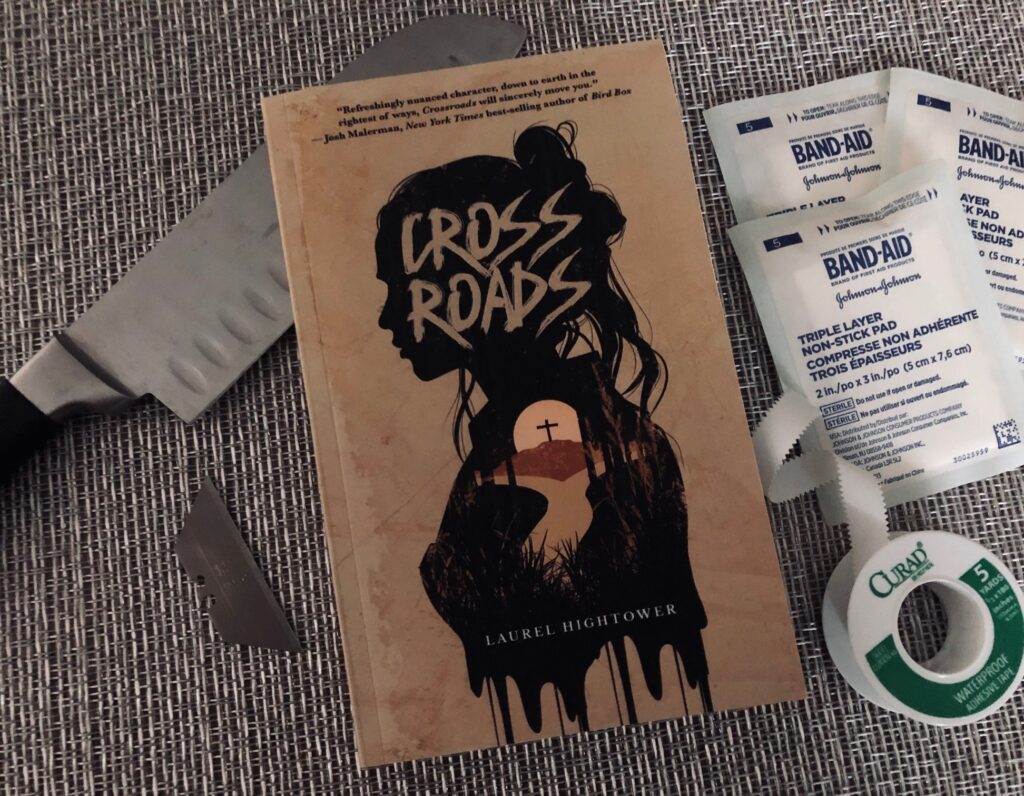 Crossroads by Laurel Hightower is a gut-wrenching tale about a mother that will do anything to see her son one more time. But just how far will she go?
Phew. Buckle up before starting this book!
Content Warnings: death of a child (teen), self harm, and suicide.
Let's dive in!
My Thoughts on Crossroads by Laurel Hightower
When the story begins, we meet Chris, a mother that is still mourning the loss of her son who died in a car accident. One thing leads to another, and Chris has found a way to see her son, or at least something that looks like her son.
With a new schedule and a new outlook on life, Chris starts to open up to her next-door neighbor, who has been holding a torch for her for years.
Things seem to be going well for Chris from the outside looking in, but the wounds that she's hiding say otherwise…
This tale was absolutely gut-wrenching and brutal. I found myself putting it down and walking away quite a few times as it had me feeling wicked squeamish. But like a magnet, I kept being drawn back to it!
The characters were so wonderful. I loved each of them so much and just wished for their happiness. I mean, poor Chris was totally caught up in her own head. I loved seeing the spurts of happiness that she got. Her ex husband and his family was also lovely. And how refreshing to see a couple that has split but stayed friends?! And of course, what an amazing and patient guy the next-door neighbor, Dan, was! My gosh. From not pushing her even though he was very clearly in love with her, to how he reacted to her injuries when he finally saw them was just incredible. My heart aches for him!
I definitely don't recommend starting this book if you're unprepared to be hurt. But, if the trigger warnings aren't an issue for you, go pick this up ASAP!
My Favorite Passages from Crossroads
She took a breath, knowing how far down the spiral of magical thinking she'd gone, but unable to find a reason to pull out of it. So, she folded her son's favorite shirt, pressed a final kiss to the fabric, and began to bury it in the hole she'd dug. She tried not to feel like she was burying him again, but somehow, she did.
She turned to lie on her side, the curve of her bare hips lit by a soft lamp. It was a beautiful landscape he never got enough of.
Motherhood had made her face all her fears, let go of her phobias and the things that bugged her, like snot and puke and having anything touching her collar bone. Kids trample all over those little rules and preferences in no time, and they put you in the most terrifying, godawful positions. Being Trey's mother had been the scariest, most stressful, exhausting, wonderful, and perfect thing she'd ever done.
My Final Thoughts on Crossroads
This was such a difficult but amazing read. It sent me on quite the emotional rollercoaster! From the highs of Chris's happiness, to the lows of the self harm and sadness, this had it all.
While definitely not for the squeamish, I highly recommend checking this one out!
---
Snag a copy through Bookshop to help support local indie bookshops:
Thanks for reading!