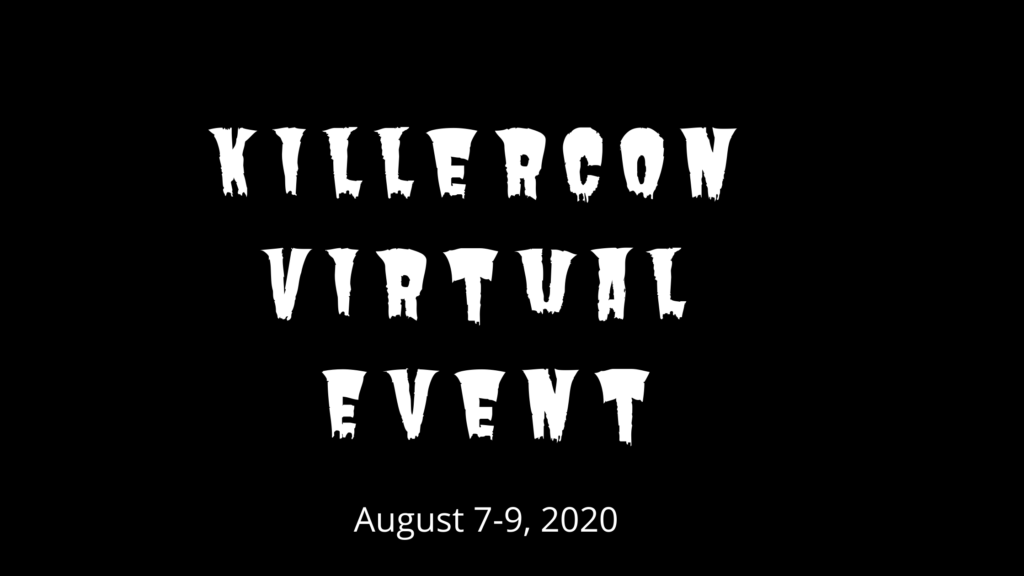 KillerCon is another event that I would LOVE to attend in person one day. Due to COVID, this event was held virtually so I got to get a nice taste of it!
I unfortunately forgot to take Friday off so I could stream this event and I was SO bummed out that I missed a couple of panels that I was really looking forward to. However, over the course of the three days, I dipped in and out, attending the sessions that I either had interest in, or had time to see.
Let's dive in to my very quick recap.
DAY ONE | August 7th
Writing In Trump's America: Horror, Bizarro, and Science Fiction As A Political Statement
Featuring: Linda Addison, Maurice Broaddus, Jeff Burk, Nate Southard, Wrath James White
Moderator: Tammy White
This was a fun session. I especially enjoyed their discussion about the lock down and the current pandemic and how it is affecting their lives and work. The discussion about how there's no way people would last during certain horror books/movies based on how quickly people stopped following very simple requests with this pandemic had me chuckling.
7:30pm- Reading and Q&A with our Guest of Honor! Weston Ochse
Weston read from his upcoming release Bone Chase, which will be out in December.
8:30pm- THE KILLERCON WINGS OF PAIN CHALLENGE!
Oh gosh, these things kill me! I have NO interest in spicy foods as table pepper is too much for me most of the time! I'm so glad this crew was pumped about this challenge! What troopers!
---
DAY TWO | August 8th
Panel- How To Do A Reading That Doesn't Bore Everyone
Featuring: Stephen Kozeniewski, Robert Ford
Moderator: John Baltisberger
It's always a pleasure to see Stephen Kozeniewski speak! I loved this discussion. I honestly never really though much about what can easily make a public reading be a bore!
7:30pm- Car Chases, Gunfire, Fistfights, and Explosions! What Makes A Horror Thriller?
Featuring: Daniel Krause, Tim Waggonner, Weston Ochse
Moderator: Lucas Mangum
On this panel, the crew discussed the thin line between "thrillers" and "horror." This was really interesting to me because I tend to lump everything together under the horror umbrella if it's a book that can spook me in any way.
8:45 Reading – John Skipp
This was so much fun! John Skipp is so upbeat and wonderful!
9:30 pm- Splatterpunk Awards! Celebrating the best of Extreme and Hardcore Horror fiction.
J. F. Gonzalez Lifetime Achievement Award– Edward Lee
Best Anthology– And Hell Followed by Jarod Barbee & Patrick C. Harrison III, eds. (Death's Head)
Best Collection– Dirty Rotten Hippies and Other Stories by Bryan Smith (Grindhouse)
Best Short Story– "Angelbait" by Ryan Harding (The Big Book of Blasphemy)
Best Novella– One For the Road by Wesley Southard (Deadite) (WAHOO! CONGRATS WESLEY!!)
Best Novel– Lakehouse Infernal, Christine Morgan (Deadite)
---
DAY THREE | August 9th
Reading – Max Booth
Moderator: John Baltisberger
My gosh!
1pm- Closing Ceremonies
A quick but wonderful closing!
---
Thanks so much to everyone that helped put this together!
I'm so grateful to have been able to attend virtually.