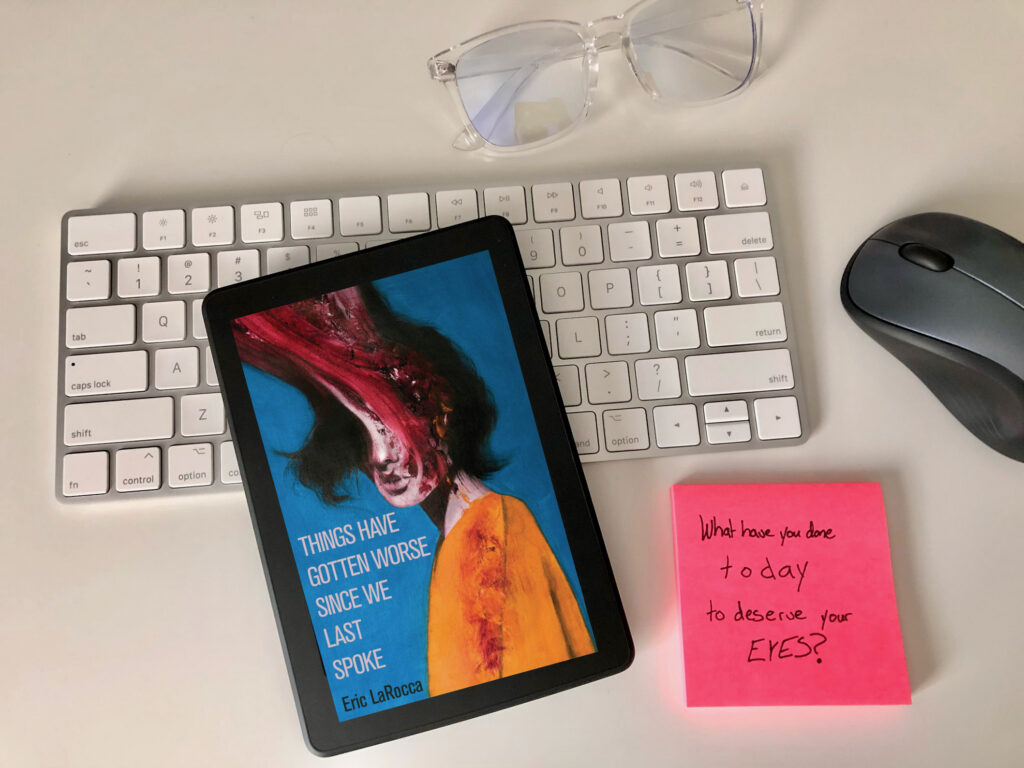 Things Have Gotten Worse Since We Last Spoke by Eric LaRocca is a novella about obsession and how far someone will go to get what they want.
Set up as a case file that tracks the communication between two people, we see the initial innocent correspondence that quickly devolves into madness and obsession.
Full disclosure: I was a beta reader for this story and then re-read it once it officially launched and I was able to purchase a copy. This did not affect my rating in any way.
Let's dive in!
My Thoughts on Things Have Gotten Worse Since We Last Spoke by Eric LaRocca
When Eric LaRocca reached out to ask if I would be interested in reading an early copy of this one, I didn't hesitate. Of course I would! This was my second read of Eric's work the first was his debut novella, Starving Ghosts In Every Thread, and since my initial beta read of this work, he as also released A Bright Enchanted Suffering and Fanged Dandelion. In each of his works, he does such a great job taking very real world things and brining the terror front and center.
I LOVE that this story is set up as a collection of correspondence between two people. In the first few emails sent back and forth, the reader sees the characters quickly throw caution to the wind and move forward in complete vulnerability to a stranger on the internet.
I instantly felt for Agnes as she told her story in the initial emails. I was so proud of her for becoming her true self and not letting the opinions of others get in her way, especially as it was her own family that wasn't accepting her. But that feeling quickly turned because then… we hit the big ask and oh Lordy. I wanted to scream at Agnes: "You haven't even met in person once yet! THERE ARE SO MANY RED FLAGS HERE!"
But onward we go, following the other "assignments" and interactions the two women had virtually just as the case file laid them out…
This whole novella was organized so wonderfully, from the authors note at the very beginning to the use of the signatures and how they both went from a polite "Best" to a more genuine "Your friend," and then back to a more cold "Yours" and "Signed" as the reader goes deeper and deeper into the evidence.
While the events were quite extreme, it all seemed very realistic in the sense that things like this could really happen.
What a trip this was! I had so much fun reading this novella, gawking at some of the insanity as things started to get weird.
Also, there are a few scenes toward the end that got me… My god. I had to get up and leave my laptop on the couch to walk a lap around the house! Just the thought of what was being asked of Agnes literally had me squirming in disgust, and it only got worse from there! (Well done, Eric!) *Updated note- I had the exact same reaction the second time around after reading this scene!!
And of course, I can't move on to the next section without commenting on the cover! How eye catching is that?! The cover art is by Kim Jakobsson, cover design by Ira Rat.
My Favorite Passages from Things Have Gotten Worse Since We Last Spoke
Every family has a myth for the young to inherit – an undocumented fable passed between mouths, a grave illness to be contracted – as if the very words were a blight to infect the youth with and let them know they're now welcome to the fold.
I returned to work and that's when I noticed that when you change, the people around you start to change as well. The arched eyebrows. The voices thinning to mere whispers. The spines straightening, faces blanching, as if I were brandishing a small weapon when I passed them. I suppose I was – the redness sprawling from every inch of my body as if I were blanketed with a rare tropical flower, a carnivorous plant with a decidedly avid appetite.
What have you done today to deserve your eyes?
I spent so many years forgetting I had teeth, too.
There's something Godlike about holding something so small – something that solely depends on your kindness, your generosity. I had never thought about hurting something before. Until now. I imagined what it might feel like. I imagined closing my hand to make a fist until its tiny body was squished, its innards squeezed out like toothpaste from its mouth open in a muted scream.
I guess that's what makes people do horrible things – they think whatever they're doing isn't nearly as bad as what somebody else will do.
My Final Thoughts on Things Have Gotten Worse Since We Last Spoke
This is one of those stories that you read and have an absolute blast during, even if some of the horrific scenes make you queasy. But then after the read, it haunts you. I will be thinking about these two characters for a long time to come…
I highly recommend checking this novella out!
---
Thanks for reading!
To check out more like this, feel free to read my review of Eric's novella Starving Ghosts In Every Thread, my interview with Eric, or a cover reveal post for A Bright Enchanted Suffering!
And major thanks to Eric for giving me a shout out in the acknowledgements section! <3