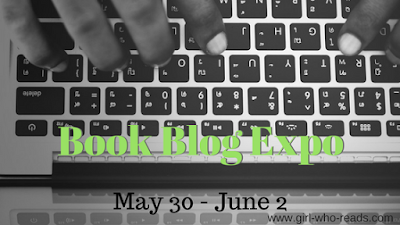 Wahoo! Today is the kick-off to the Book Blog Expo, hosted by the lovely Donna of Girl Who Reads. When Donna offered to organize an event when we learned that the ArmchairBEA wouldn't be happening, I was thrilled! To learn more about this event, click here!
Today's topic is Introduction & Networking. So let's dive in!

Book Blog Expo Day 1: Introduction & Networking
My name is Erica Robyn and I started this blog in December of 2016. I blog about many different genres; from children's picture books to horror, and everything in between. I started this blog as a way to connect with other readers and get more out of the reviews I was spending so much time writing up.
I blog mainly from our dining room table. We're living in a rather small town house right now, so we don't have room for me to create an office space. Though that is definitely one of our immediate goals once we buy a house! Other places I may blog from include the couch, our bed, or my lawn chair that sits on our patio when the weather is nice.
I started out really strong with my blog; I was publishing a post almost every single day. But after a year went by, I started losing steam and I realized it had become more stressful than fun. My life also got quite busy, so blogging was forced to take the back burner every now and again. However, now I simply publish a post when I have something that I am proud of ready! This is working much better for me because I'm no longer posting memes that I don't care about or trying to force anything.
I am continuously blown away by looking at how far I've come in just a short amount of time. I've made so many wonderful connections thanks to this blog, and I am so humbled by all of the amazing doors it has open up. I cannot wait to see where I am a year from now!
To stay involved in the community, I participate in weekly memes and Twitter chats on occasion, I'm always on the lookout for great events like this one and the Bloggiesta, and I'm very active on Twitter, Facebook, Instagram, and Litsy.
I think the key part of being involved in the book blog community is simply blog hopping. I try to go through my list of favorite accounts at least once per week. Feedly has been making this process much easier for me, as it tracks all of the posts that have gone live since I last checked, without forcing me to manually check each of my favorite blogger's links.
Thanks for reading!
Are you participating in the Book Blog Expo? If so, I'd love to see your intro post!
SaveSaveSaveSaveSaveSave