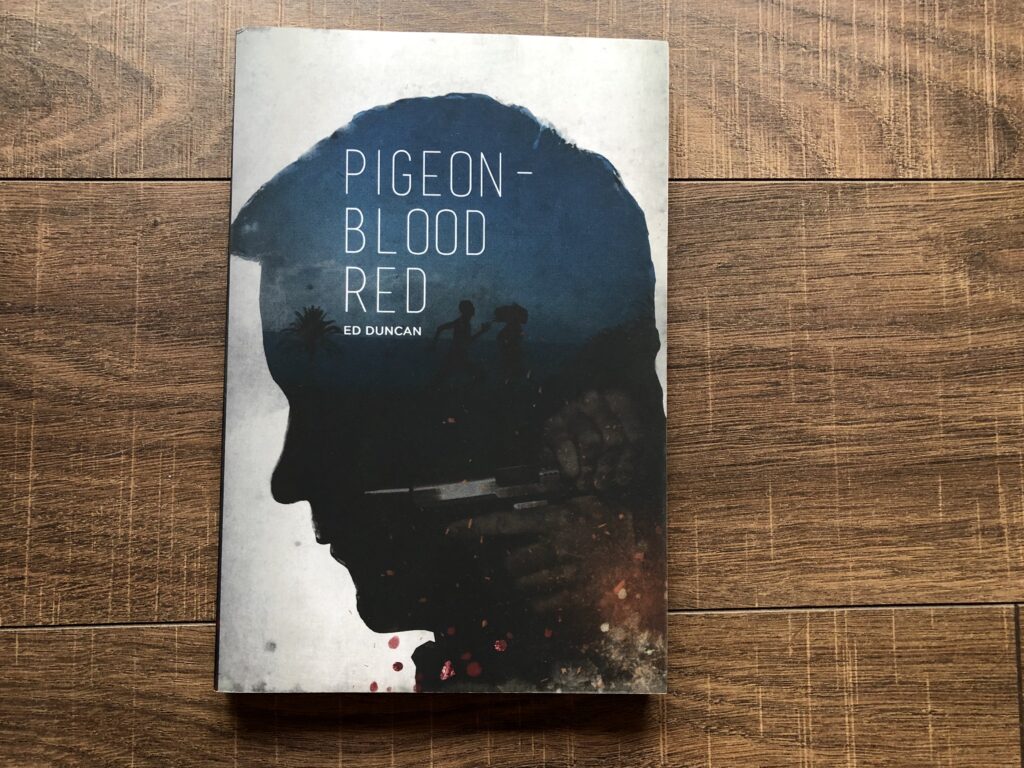 Pigeon-Blood Red by Ed Duncan is a crime thriller that will suck you in and not let you go until the very last page. I absolutely loved every second of this book and would highly recommend it to others.
Full disclosure: I was given a free copy of this book by the publisher in exchange for an honest review. This did not affect my rating in any way.
My Thoughts on Pigeon-Blood Red by Ed Duncan
The writing style was fantastic! It's easy to read and very realistic. The action and suspense was so well done that I struggled to put it down! There are many cases where I absolutely could not have guessed what was coming next. On page 77, I actually said out loud "Wait what?!" And had to re-read that paragraph because I couldn't believe it.
The pacing and the plot were both excellent! I loved that while the main focus was on crime and suspense, there were also elements of love, marriage and second chances, which I am a total sucker for!
Needless to say, I was totally engrossed in this story!
I loved all of the characters, even the "bad" ones. I really enjoyed how we were introduced to all of them, and how their storylines met up with one another. I cannot wait to (hopefully) see some of them in book two!
Some of the main characters:
Rico- "He was big and solidly built, well over six feet tall with dark sunken eyes, curly black hair, and a perpetual five o'clock shadow." Litvak's right hand man. "Dating" Jean. Handed the necklace off to Jerry.
Jerry- Shorter and more slender than Rico. "He had a pale complexion, sandy brown hair, and wafer-thin lips." Partners with Rico, also works for Litvak. He had the necklace in his pocket when he stretched out in the back of the car.
Robert- gambler, found the necklace.
Frank Litvak- a money lender or "loan shark," he finds people in debt that need to borrow more money, and gives it to them.
Evelyn McDuffie- married to Robert.
Paul Elliott – lawyer.
My Favorite Passages from Pigeon-Blood Red
The truth was that she could never be absolutely certain what was in Rico's mind. Yet, as a flower is drawn to the sun, she was drawn to him by a force she could neither explain nor control. Perhaps more importantly she knew that, in his own way, he was drawn to her as strongly as she was to him. Of that she was certain.
He wasn't a happy drunk and when he'd had too much, his frustration spilled out of him in an angry torrent of false bravado. More than once in one bar or another he narrowly escaped getting his head handed to him because of some stupid comment bathed in liquor.
… he realized too late how important a few words were.
My Final Thoughts on Pigeon-Blood Red
I would definitely recommend picking this one up if you like crime thrillers! I loved every second of it. I'm so excited to get my hands on the other two books in this trilogy.
---
Snag a copy through Bookshop to help support local indie bookshops:
Thanks for reading!
What's your favorite crime thriller?
Related Reading:
Check out my review for book two, The Last Straw, here!