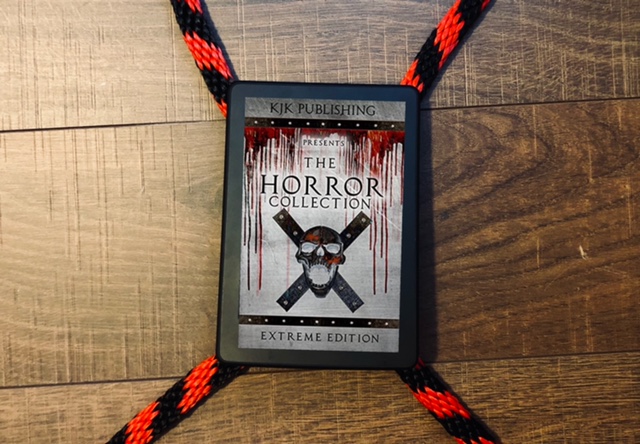 The Horror Collection: Extreme Edition is another collection from KJK Publishing that will definitely knock your socks off while simultaneously giving you a punch to the face.
With these collections, I always know that I'm in for quite the ride when I pick one up. With this one, I was so hesitant knowing some of the topics that were tackled here, but I'm so glad I gave it a read!
Full disclosure: I was given a free copy of this book from the author in exchange for an honest review. This did not affect my rating in any way.
Let's dive in!
My Thoughts on The Horror Collection: Extreme Edition from KJK Publishing
I'm going to preface this with a quick note that extreme sexual horror is not usually my cup of tea. As such, I have left off rating notes for those stories as I don't think it's fair to me to rate something that I already know isn't for me. However, I still got totally sucked into many of these stories!
My two favorites from this collection were Gone Fishin' by Matthew A. Clarke and Rage by Kevin J. Kennedy.
Per usual, here are some of my notes about each of the tales:
The Wife by Matt Shaw –
A man desperate to move on from his dead wife desires to go to a brothel. But when he returns home again, is he over his wife or has he made things worse? Goodness this one made me feel so sick! The first half was sex and anger filled, then the second half was just something else… Phew, this one will haunt me.
Miss Sideshow Necrotic by David Owain Hughes –
The main character of this tale, Miss Sideshow Necrotic, has quite the role at this circus, but how she got there is quite the story! The start of this one was very heavy on the sexual elements, but when we jumped back to learn how we got to where we were at the beginning, I was hooked. Even though I knew where she would end up, I kept hoping for another ending. This poor woman.
Collector's Edition by Natasha Sinclair –
Lexie is a woman that gets what she wants. Dave is enjoying his time on porn sets. While together, the two debate what would happen if zombies began to take over. They both have very different ideas of how they would handle things. But they're both about to find out if their ideal paths during a zombie takeover were correct. Goodness this one had me making faces while reading. Especially one scene toward the end. Phew! Fans of tales with a lot of sex and darkness will love this one!
Gone Fishin' by Matthew A. Clarke –
When a man young man and his stepfather go on a fishing trip, something suddenly goes very wrong. As a result of the trauma and stress, the step father regresses and believes he's back in Syria. But will his training help in this situation? This tale was intense with the body horror! My god! The descriptions made me cringe a few times! And after all of the viciousness, that ending was incredible.
Steak Tartare by Nic Brady –
Maria is a woman with dark tastes. Elizabeth is looking for a relationship. When a notice from Elizabeth's dating app pops up, she's giddy and can't wait to meet this person. But the date Elizabeth is about to go on is about to take an intense path. My god, the line about beef jerky early on in this one left an impression in my brain that will never go away…
Rage by Kevin J. Kennedy –
This man is a very angry person. He bottles it all up and knows that something has to change. One day, he adopts a dog named Buddy. Buddy is exactly what he needed and things are more manageable. But then one day someone decides to kick Buddy and this man snaps. And boyyyyy does he snap! This one is insanely brutal! I gotta admit, I was rooting for the revenge! If this were ever on the big screen, I'd be watching through my fingers. Just reading it made me cringe!
Broken Things by Kyle M. Scott –
This brother has had enough of his older brothers bullying. Messing with his toys was the absolute last straw. Now he'll get his revenge. Good lord the start to this one was insane! I loved how shocking it is and how you slowly learn what's going on. Then when the action starts… phew. This had me cringing!
My Final Thoughts on The Horror Collection: Extreme Edition
PHEW. This was so wildly outside of my comfort zone and I owe major thanks to Kevin J. Kennedy for giving me the nudge to give it a go. While I would still say many of these were not for me, I enjoyed experiencing the discomfort while reading and trying to broaden my scope when it comes to horror.
For fans of extreme horror, specifically extreme sexual horror, you need to pick this one up immediately!
---
Snag a copy through your local bookstore if you are able or feel free to use my Amazon affiliate link:
Thanks for reading!
If you pick this one up, I would love to hear what you think! Please feel free to pop by by here and leave your thoughts!
Related Reading: