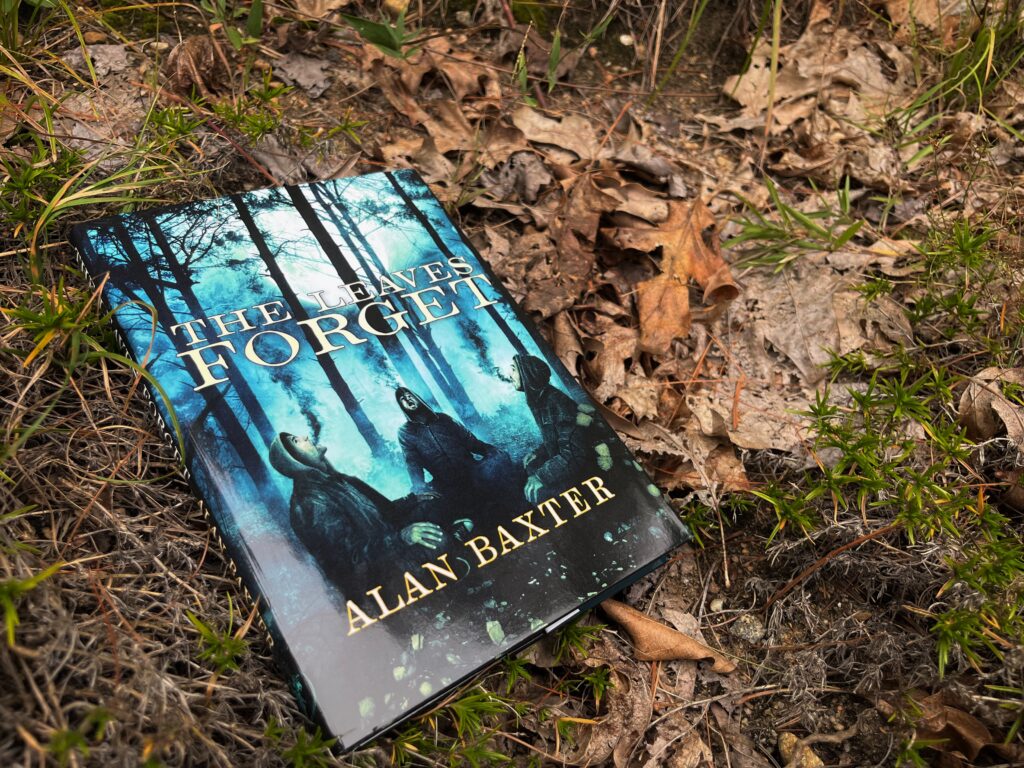 The Leaves Forget by Alan Baxter is a tense and suspenseful tale of a brother desperate to find answers.
Let's dive in!
My Thoughts on The Leaves Forget by Alan Baxter –
Months after this family has realized that the sister, Olivia, has dropped off the face of the Earth, her brother Craig has begun to think the worst. But one day, his neighbor who had been traveling comes to him with a stack of letters from Olivia that had been misaddressed and piling up in his absence. 
Craig immediately sits to read them, feeling cautiously optimistic, but also fearing the worst. As the letters go on, he fears more and more for her safety. Then as he finishes the very last letter, he springs into action.
Can Olivia be saved or is it already too late?
My goodness. I absolutely loved the chilling opening. As Craig began to read the letters, I was totally hooked. I really enjoyed that the letters were interrupted by Craig's thoughts throughout! Many times, I found myself thinking very similar things that he did, and couldn't help but laugh.
When he jumped up to get things in motion, my blood was pumping, and I was ready to go on this journey with him! 
The pacing was absolute perfection. I loved getting to know both the main characters and the supporting characters as we went deeper into the story.
And the mention of the Blind Eye Moon cap… I love it!
My Favorite Passages from The Leaves Forget –
"…Family, huh? The cause of all our joys and all our dismays."
Justin stares at us, his dark eyes suddenly boyish. Lost. "They're doing harm, aren't they." It's not a question.
I guess we're all thinking the same stuff. How lives can turn sour. How some people don't even get a start, but are born into generational trauma. It's not an excuse for anything, of course. But maybe it's a reason.
My Final Thoughts on The Leaves Forget –
I picked this up late one evening telling myself I'd read just a couple chapters before bed. Bad idea. While I was successful in putting the book down and going to bed, every single time I woke up, I looked at the clock to see if it was a reasonable hour to get up and read… and at almost 38 weeks pregnant, I was up every single hour.
Fans of very suspenseful tales with a cult and supernatural feature, go grab a copy right away!
---
Purchase your copy of The Leaves Forget
Thanks for reading!
There are limited numbers of the limited edition hardcover of this book available! Order now before they're gone!