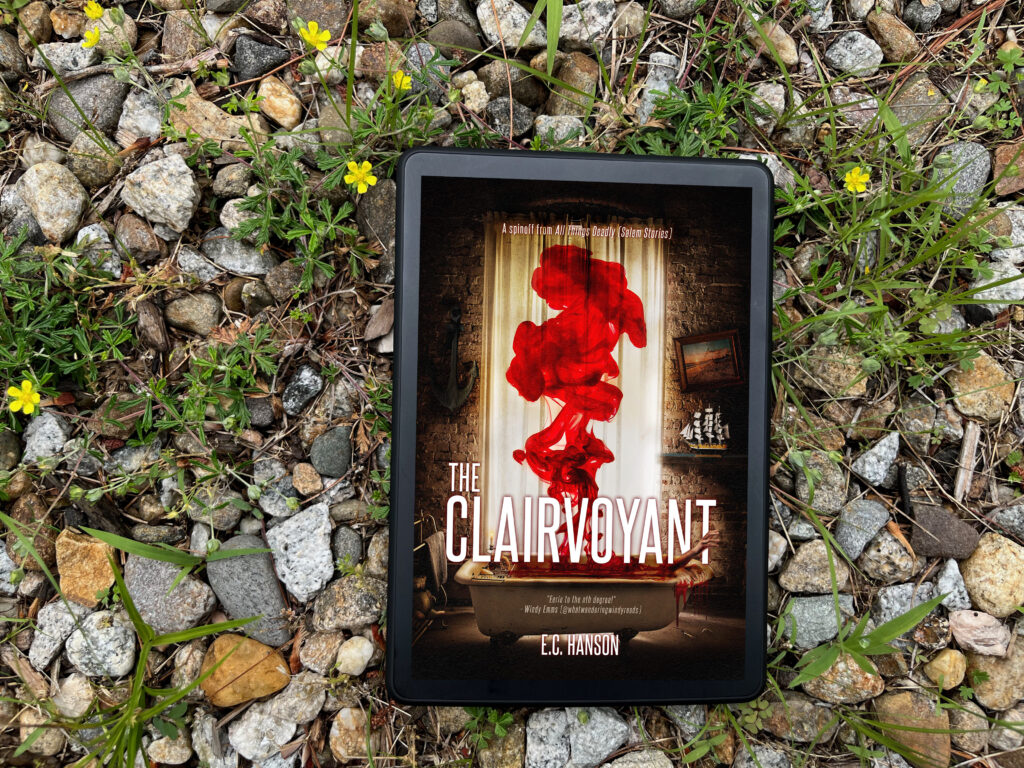 The Clairvoyant by E.C. Hanson is a tale of deep grief, visions, and paranormal activity.
Content Warning:
Suicidal thoughts, suicide attempt, grief, and death of a parent. 
Shout-out to the author for including the quick content warning at the start of the book!
Let's dive in!
My Thoughts on The Clairvoyant by E.C. Hanson
Sutton Frost is a teenager struggling with her mental health. She constantly beats herself up over her appearance and struggles with having no friends and no mother. One day, when she finds out her father has a date, she goes into full-blown wicked daughter mode, bluntly doing something to let him know she disapproves of him getting back into the dating scene.
That same day, while in school, Sutton gets one of her visions. At first, she isn't sure what this one was about, but when she recognizes some of the elements, she's desperate to try to stop it from happening.
Oh, this poor girl. Seeing her struggle with so many elements of her life is heartbreaking and frustratingly relatable. The author does an amazing job putting you in the head of this teenage girl. Even if your logical brain tries to kick in, you won't be able to look away from the emotional side of things.
This whole tale reads so easily as the people and situations just jump right off the page. It was so much fun to see the level of humor and teasing that was present, mixing very well with the darker emotions. So many of the conversations that occurred had me chuckling.
My Favorite Passages from The Clairvoyant
People, mostly those who never shared a single word with her, were quick to offer whatever she needed. But she wanted and needed both of her parents to be alive.
"Can you make a sound?"
Nothing.
"I'd settle for a fart. Come on. Give me something."
A loud vibration from a nearby table. Terry jumped backward. Then he realized it was his phone. He laughed, feeling grateful that none of his team members were around to witness his extreme reaction.
While Terry waited in his van, he flipped through various stations on the radio. He told a jockey preaching about politics to shut up; he said, "We get it" to an Adele song that seemed too repetitive, and he yelled at a speaker asking for donations so their classical music station could survive a few months more.
After a heavy sigh, Terry said, "Google the following: priests near me."
"We're in front of a church!"
"Oh, right."
My Final Thoughts on The Clairvoyant
While this definitely had me recalling some past trauma, I just loved that this tale is a spin-off to a series of tales in All Things Deadly! Those short stories were some of my favorites from the collection and I loved seeing how they were progressing. Getting this spin-off was such a treat!
While it doesn't shy away from the darkness, this tale also makes sure to focus on the light and the hope that comes after going through difficult times. But please tread lightly if the content warnings have you nervous.
---
Purchase your copy of The Clairvoyant
---
Related Reading:
All Things Deadly by E.C. Hanson is an amazing collection of short tales all centered on events occurring in and around Salem, but there's more than just location that ties them all together.
If you enjoy collections that will keep you on your toes as you just have no idea what to expect next, you don't want to miss this one!