Sleeping In The Fire by John Durgin is a collection of 9 short stories that are each terrifyingly brutal and so vivid.
Let's dive in!
My Thoughts on Sleeping In The Fire by John Durgin
It is absolutely impossible for me to choose favorites from this collection. I absolutely loved them all! John Durgin is really showing off his range as a horror writer here, and I'm so here for it!
The way each story is placed within the collection is also interesting. There's such a fun mix of the absolutely brutal, the unsettling, the blood-boiling, and then even more of the brutal and gore-filled terrifying tales!
Here are my thoughts on each story:
The Bandit's Son –
When playing hide and seek, this group of kids hears screaming and gunshots from their camp. Returning to find two dead and one dying, they learn what they're up against and what they must do.
What a tale to kick off the collection! This story is brutal and so sad. But that doesn't last long because the terror and anxiety kick in as soon as we learn there's a ticking clock.
---
Bird's Eye –
Brandon just wants to propose to his girlfriend on the Ferris wheel at sunset, just like the night of their first date. But when he comes across a man getting violently ill in the bathroom, and then later sees him serving food, he tries to warn his friends and girlfriend, but he's too late. Little does he know, this man was more than just sick with the flu.
When all chaos breaks out, I was both disgusted and terrified! The writing is so vivid, it's like you're right there in the Ferris wheel cart, watching the events play out below.
---
The Candy Bar Killer –
Intrigued by the town legend of Mr. Keene, these kids can't help but visit his house on Halloween as their last scare of the night. But when they hear a girl ask for help, they spring into action.
Short and sweet, and this one packs quite the punch! Perfect as a short story, I would also love to see this one expanded for all kinds of Halloween night terrors!
---
The Selected –
A man recounts his time in a cult, showing readers how easy it was to get pulled in, even with the red flags. There was also something darkly magical about this cult and once he learned what it was, he was stuck.
Poor Cole! This was such a cool story about a character we meet in Inside The Devil's Nest! We knew bits, but this really showed us everything this poor man went through.
---
Companion –
While out looking for a Christmas tree, this father and son spot an injured animal. Not knowing what it is, just that it may die without help, they bring it back to their cabin. The grandfather immediately warns them of the danger.
If only they had listened… this story was so brutal! These creatures wasted no time!
---
Oneiric –
After her girlfriend dies in a supposed suicide, Samantha is ready to do anything it takes to see Morgan one more time. Luckily there is a pill that can help, though it comes with major risks.
A heartbreaking story of a love cut short by darkness. My goodness, the terror here was incredible! From the scratching noises to the smells of smoke, this one will have readers experiencing an array of senses.
---
Letters To Santa –
When a boy living in a very toxic and dangerous home writes a letter to Santa, his mom warns him that nothing will change. But a Christmas miracle happens! Unfortunately, the father doesn't let this be a happy thing… As the years wear on, this boy writes a few more letters and gets his wishes.
I love this story so much. It's horrible to see this poor boy going through life terrified of being home with his father. There are so many scenes that will make you cringe and rage at the horrible acts. But the magic of the holiday letters is a wonderful thing.
---
Thalassophobia –
Taking a trip to snorkel around reefs, when they get out to the area where they will leave the boat, the group learns one of them offered to pay more to go out deeper. But that's not all… out there, sharks lurk. Of course, the one that was given this information didn't share it. When picking up some sea-life ends with a cut hand, one shark zeros in on the group…
This story begins with an immense amount of anxiety and only gets worse and worse as it goes on! Playing out just like a film in readers' minds, you're going to be right there on the boat with this crew.
---
A Walk on the Beach –
Wandering away when his parents got drinking, this young boy finds a cave. His curiosity gets the best of him and he goes in… but he's not alone in the cave.
My anxiety with this one! The darkness, the unknown, and the claustrophobia… phew. I 100% would have gone into the cave myself, so I felt for this poor kid! I kept hoping he'd turn around!
My Favorite Passages from Sleeping In The Fire
Her eyes looked like they might explode if they tried to fit another ounce of fear in them.
— The Bandit's Son
We waited a few minutes, and the only noise we heard was the rustling of the dead autumn leaves blowing across the street to the neighbor's yard. I couldn't help but get the feeling even the leaves were trying to get away from the house.
— Candy Bar Killer
"What's happening?" I yelled.
"Patience. Do not move…" Alister said calmly.
Nothing could have prepared me for what I saw next. Multiple hands shot up out of the water, grabbing onto the dock.
— The Selected
The snap of a branch close by sent Billy's heart into his throat. They focused their attention on the area the noise came from. The crunching of footsteps on the crusty surface of snow were getting closer. Even with the lack of leaves, long lost to the winter season, it was still a struggle to see too far into the woods. Large pine trees were scattered throughout the forest, still plush as can be, hiding whatever it was that watched them from a distance.
— Companion
She flailed around, digging her nails into his charred forearm, peeling away sections of skin like an overdone Thanksgiving turkey.
— Oneiric
Creeping past their bedroom, I peeked in to see them both still sound asleep, my dad's face looking in the direction of the door with his eyes shut. Part of me wanted to walk in and punch him in the mouth for all the awful things he'd put us through. Another part of me wanted to soak in the rare moment of him at peace, unable to inflict any harm on us.
— Letters To Santa
One thing he could see perfectly clearly were the remaining pieces of Glenmore's body dispersed across the waves like spare doll parts floating in a child's bubble bath. An arm, ripped apart at the elbow, clanged off the side of the boat as they sped by.
— Thalassophobia
Slowly, Jack turned around. In the darkness he saw two glowing dots in the rock wall. To his right, another set of glowing dots appeared.
Then another.
And another.
When he realized what he was looking at, it was too late. He was staring at multiple sets of eyes, and they were staring back at him.
— A Walk on the Beach
My Final Thoughts on Sleeping In The Fire
This collection is so darn good! Perfect nightmare fuel that just adds more and more to the already building fire.
Horror fans, this is one you're going to need! Keep an eye on the preorder options as they roll out!
---
Purchase your copy of Sleeping In The Fire
---
Related Reading: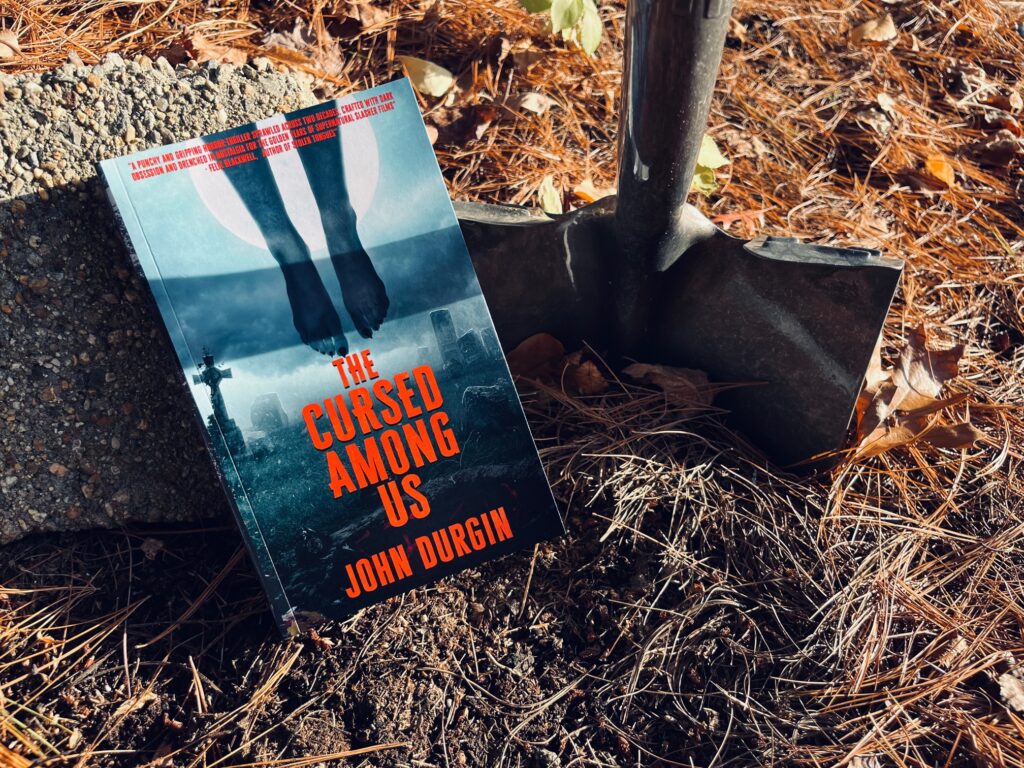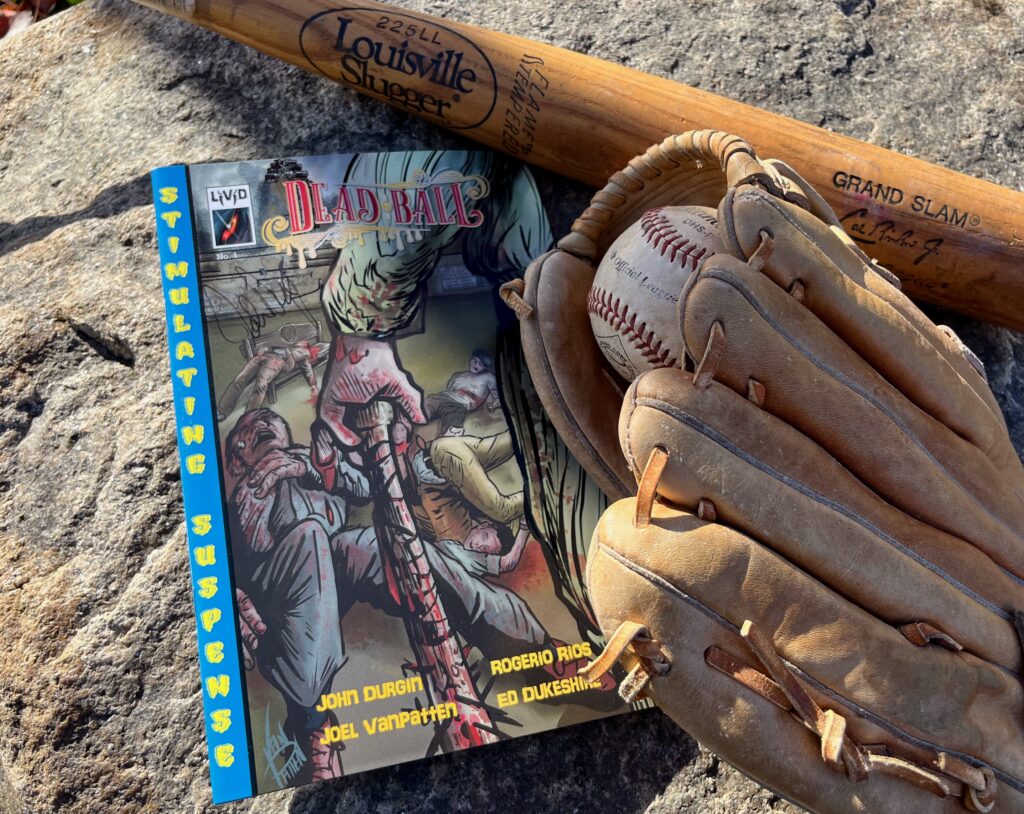 Dead Ball from Livid Comics is a bloody and haunting story with the lesson that all choices come with a cost. Right off the batt (sorry, I just couldn't help myself!), I knew this was going to be awesome just by looking at the cover.