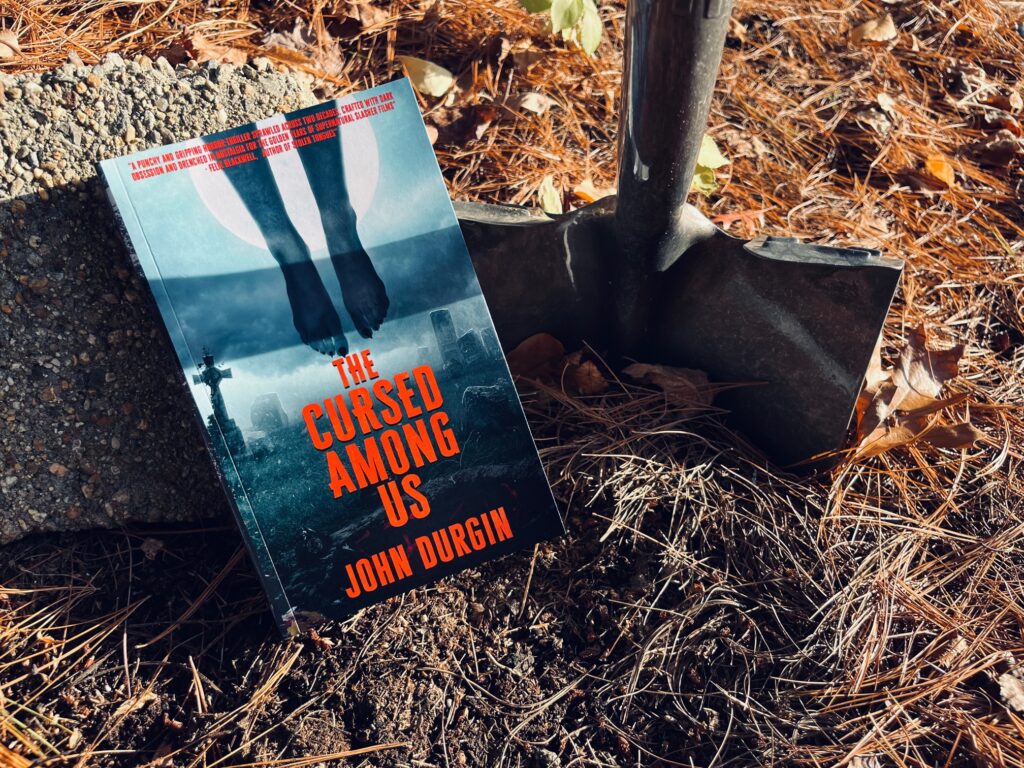 The Cursed Among Us by John Durgin is a horror-thriller that is packed with action, terror, and gore! But among all the blood and violence is a wonderful friend group that will do anything in their power to save their town.
Let's dive in!
My Thoughts on The Cursed Among Us by John Durgin
In the small town of Newport, New Hampshire, a group of friends pass the time by creating a horror movie to honor the slashers they all love to rent from their local video shop. The filming is going well, but one day, they enter the woods to film a chase scene and stumble over something that looks like a grave. Already a bit nervous about being in the woods in the first place, once this area was disturbed, they learn very quickly why their parents had a rule to stay out of this forest.
The format of this book has two of my all time favorite things with horror stories; one, an opening that dives right into a terrifying scene before we jump to a different scene to slow things down before they ramp up again, and two, an ending that made me jump up and say, "WAIT, WHAT?!"
I was totally hooked from the very first sentence of this book. I mean, John kicked things off with: Henry Black trekked through the dense forest as dawn approached, dragging the girl's body behind him. How could you not want to know more immediately?!
The darkness that had a grip on the town was super chilling. Seeing how tight-lipped everyone was about it only made the friend group more antsy to get answers, and readers will be right there with them, ready to roll up their sleeves and dive into the dusty archives!
The author does a killer job when hinting at what is to come. There were a handful of instances where I read a sentence and immediately thought "oh no…", and a bit later, that line would pop to mind after seeing that had occurred. This was mostly around the more horrific elements! And man, the author doesn't shy away there! So many scenes had me cringing over the violence or body horror. These scenes were wonderfully written, playing on all of the senses to really immerse the reader in the action.
And my goodness, this friend group. I loved to see how much they cared for one another, even when tempers ran hot. Their dynamics with one another was so realistic, you'll feel like your part of the group!
And one last note, the ending of this one had me crying. But no spoilers here as to why! I'll let you discover that for yourselves.
My Favorite Passages from The Cursed Among Us
The way Howie and his friends saw it, rules were meant to be broken. Now they were seeing firsthand why those rules had been put into effect.
He grabbed the remote off the coffee table and turned the television off when something caught his eye. As the screen went blank, Todd could see the reflection of a figure standing behind him at the couch.
The glow of her eyes revealed her facial features, but she remained mostly hidden in darkness, as though the shadows worked for her.
Howie glanced below anyway and immediately regretted it. He'd never thought he feared heights, but he was second guessing that right now. Down below, he could see jagged ends of trees sticking out of the ground after their top half had fallen beneath years of New England weather taking its toll. A sick thought crossed his mind that the broken pieces looked like the ground's teeth, awaiting victims to fall so it could chew them up.
My Final Thoughts on The Cursed Among Us
If you're looking for a horror-thriller that will totally sink it's claws in you, then look no further.
From start to finish, I absolutely loved this book! As this was John's debut novel, I already cannot wait to see what he does next!
---
Purchase your copy of The Cursed Among Us
---
Thanks for reading!
And major thanks to John for hand selling me this one while at the Merrimack Valley Book Fest! I'm so pumped to have a signed copy on my shelf!