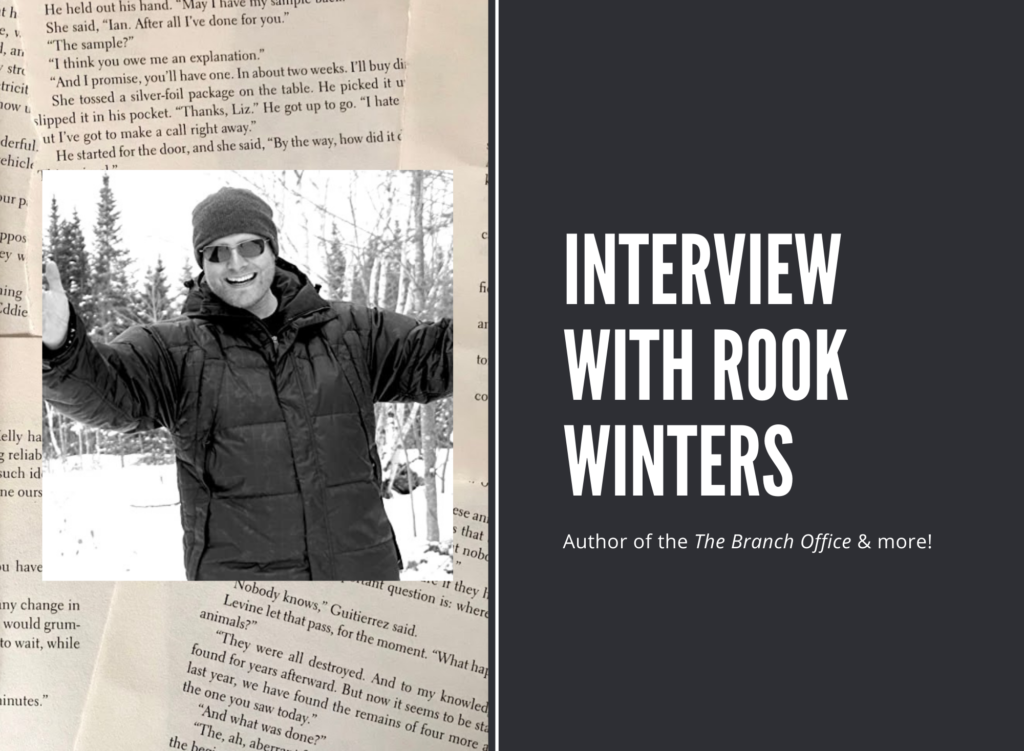 I am so excited to be posting this interview today! Many thanks to Rook Winters for giving me the opportunity to host this!
Let's jump into the interview!

Interview with Rook Winters, author of The Branch Office
Who is Rook Winters?
Rook Winters is a tea drinker with a writing habit. His background is in software development and nonfiction. He left his corporate job in 2017 and finished his first novel, The Branch Office, in between hiking trips and trips to the tea kettle.
What is your first memory of writing for fun?
My most resonant memory is actually not the writing itself but a comment from my English teacher on an assignment. He wrote, "You're a strong writer." It seems like such a simple thing but that type of encouragement shapes the way a young person sees themself. I was probably 13 at the time. Later, in university, a history professor wrote, "You're an excellent writer and an awful historian." Guess you can't win them all.
A couple years ago, I found a fictional autobiography of an 8-year-old genius that I think I wrote in my early teens. I was definitely having fun with that one. Here's how it starts: "Believe it or not, my extraordinary life started out much the same as everyone else: as a zygote. The only exception I know of would be my older sister, Henrietta, who was bought at a blue light special at Zellers." For the uninitiated, Zellers is a defunct Canadian discount department store chain. Obviously, I was unaware that blue light specials were a Kmart thing. In a mere six pages, I tackled upper middle class suburbanites, the paltry imaginations of adults, annoying older sisters, dullard parents, the miracle of television, the trauma of large canine houseguests, Christmas shopping, peeing in a snowsuit, hellish newspaper deliveries, and a sister's gross boyfriend. It was fun to discover that buried in a storage bin.
How many books have you written?
I've published one novel and one short novella (or long short story or novelette, depending on whom you ask). I also collaborated on two nonfiction books for software developers. I'm about halfway through the first draft of a middle grade novel at the behest of my children—I told them I'd finish it before writing the sequel to The Branch Office.
What are some of your other interests outside of writing?
I really like hiking and low-and-slow barbecue (not at the same time). I'm still trying to perfect my brisket, although I've managed some dynamite burnt ends a few times. I enjoy getting out in my kayak and canoe but I haven't made much time for that the past few years. And I love to do just about anything with my family. If we're going on a trip, you can bet I'll be planning the heck out of it.
Are you also a reader?
Definitely.
What genres do you reach for the most?
That's a tough question. My genre preference is a bit fluid and I go through phases. I often reach for some form of speculative, dystopian, post-apocalyptic, or science fiction, but I've read my fair share of spy thrillers, too. We've listened to a lot of middle grade audiobooks as a family and I have to admit that I enjoyed them as much as the kids. A healthy dose of humor and satire is always good. And I read a fair bit of nonfiction.
Do you have an all time favorite book or author?
There's still so much left to read. I can't pick a favorite yet! I do make a point of reading everything published by John Scalzi, Olen Steinhauer, and Terry Fallis.
Just one last question for today; Where can readers find you? 
I'm @rookwinters on Twitter and Instagram. My website is rookwinters.com, and I'm on Goodreads at goodreads.com/rookwinters.
Thanks for reading!