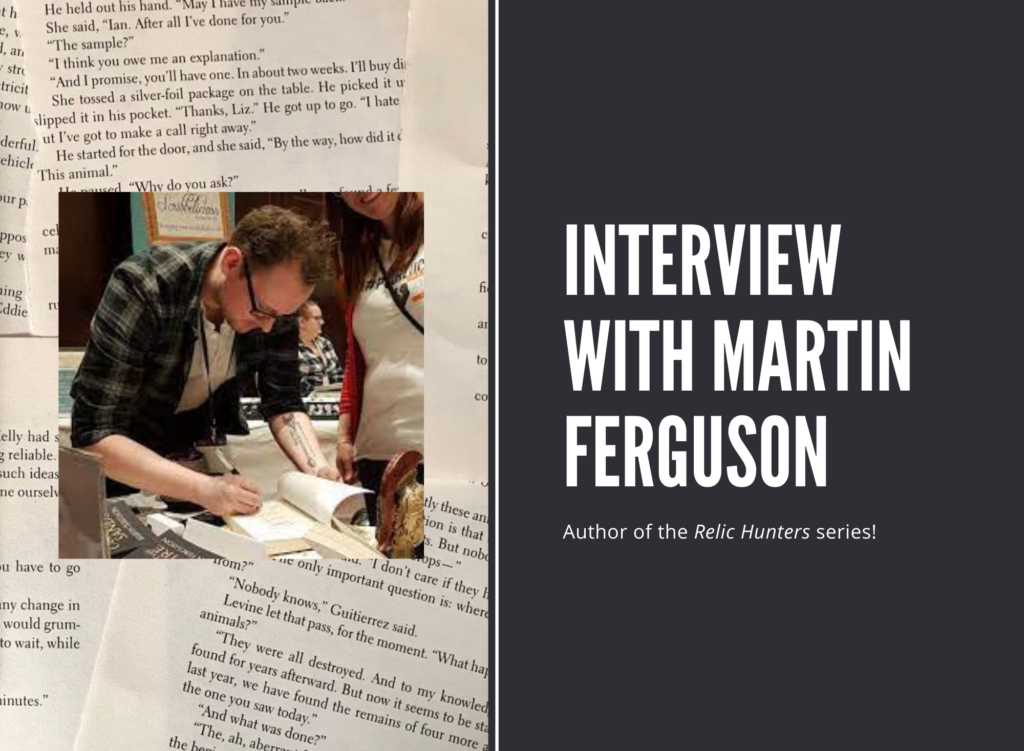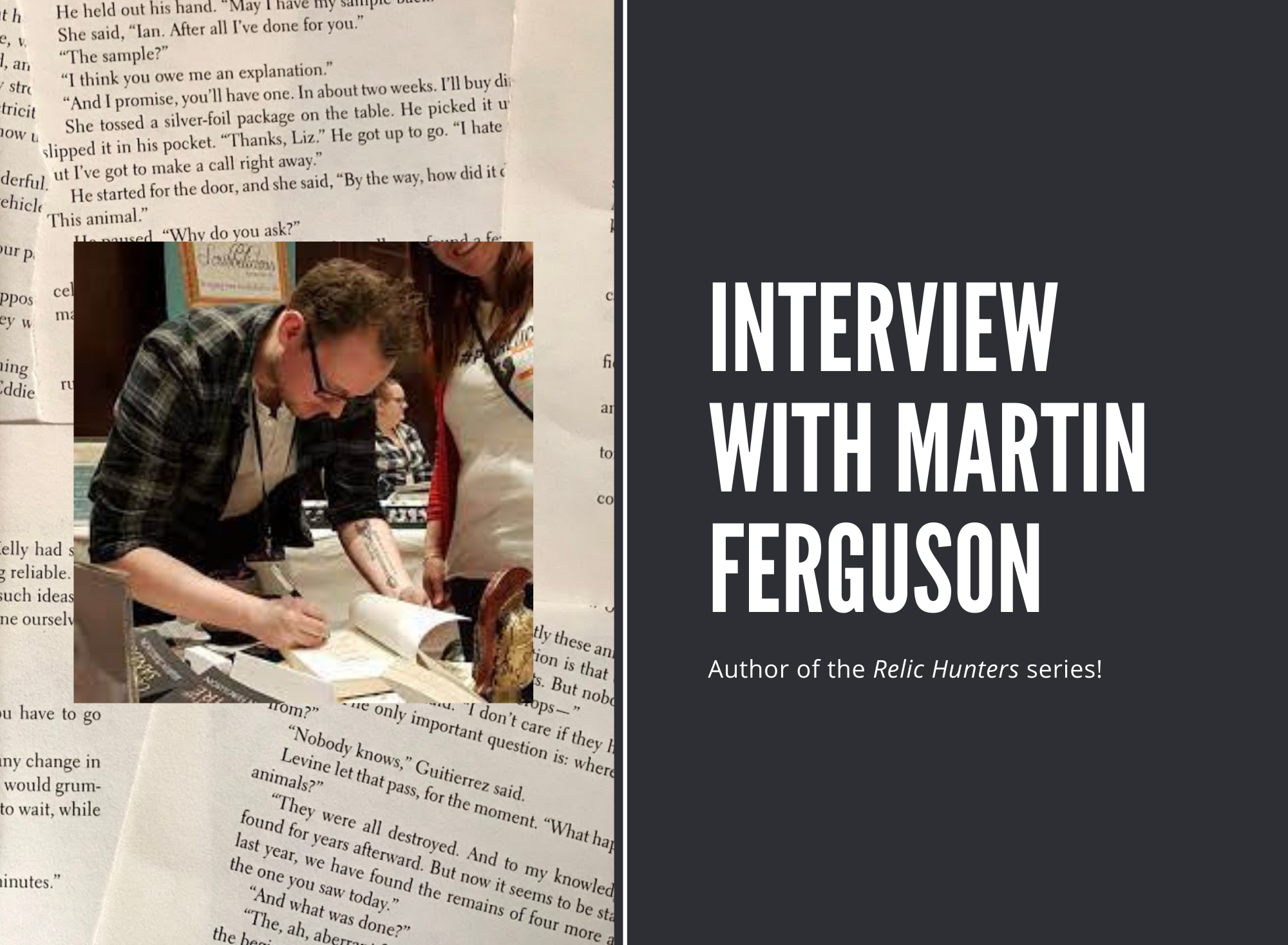 I am so thrilled to be posting this interview today! Many thanks to Martin Ferguson for taking the time to write up responses to my questions! Especially during release week for the latest book in his Relic Hunters series, War of the Damned!
Let's dive into the interview!

Interview with Martin Ferguson, author of the Relic Hunters series
Who is Martin Ferguson?
I live in Norwich, England and am currently working on the young adult fantasy and historical series 'Relic Hunters'. Inspired by the myths and legends my parents told me as a boy and with the help of my ever-suffering wife, a teacher and history graduate, 'Eagle of the Empire' was the first entry in the 'Relic Hunters' series, followed by 'Curse of the Sands' in 2017 and 'War of the Damned' in 2018.
My work as an author began under the name Edward Drake, with the release of the fantasy series 'The Warrior's Journey' and 'Stormheart', along with the thriller 'Outlaws'. I was also one of the authors featured in the Little Bird Publishing House anthology 'Night Shade' with the horror story 'A Beaten and Haunted Heart'.
What is your first memory of writing for fun?
When I was in school my English teacher would set us weekly homework of writing a one page story. I took this a little further – and really bugged my teacher by writing 5, 8 or 10 page stories instead…meaning they had more to mark! My parents then started setting me challenges of re-writing endings to films or potential sequels. I still think my original sequel to Independence Day was much better than the film that came out a couple of years ago!
How many books have you written?
Three officially, the first entries in my Relic Hunters series. 'Eagle of the Empire' began it all. It started as a story for children but I quickly realised it was far bigger and had far more potential as a young adult series. I wanted to write something about treasure hunters, traveling the world to investigate myths and legends. Something else stuck in my mind though, the thought that the history behind the relic was never told. The idea then struck me for a book which was really two stories – the modern treasure hunt and the historical fantasy entwined.
I rewrote from scratch 'Eagle of the Empire' from scratch and I haven't looked back since, with its release in 2016 followed by Curse of the Sands in 2017 and War of the Damned in 2018.
What are some of your other interests outside of writing?
When not writing am training or at least planning my next challenge. Following a serious knee injury I was told by surgeons never to run or play sports again. Stubborn and reckless, much like the characters in my writing, I have not listened and have since completed the Great North Run and the Greater Manchester Marathon. I do try to play football too – when needed (sadly most weeks), and support Arsenal Football Club.
Are you also a reader?
Absolutely. My TBR (To Be Read) list and pile is stupidly long. I am currently reading GRRM's A Knight of the Seven Kingdoms, with a Clive Cussler and a John le Carre to come next.
What genres do you reach for the most?
Adventure, fantasy, horror, thrillers – really a bit of everything. It is the story that draws me in. If it sounds like a good plot that will hold my interest, then I am in.
Do you have an all time favorite book or author?
Favourite book is easy – it was the first adult one I read – Sharpe's Eagle by Bernard Cornwell. English hero, damsel in distress and great villains – it is the only book I always go back to. Favourite author is a bit tougher. Bernard Cornwell is great, as is Simon Scarrow and Clive Cussler – I really couldn't choose.
Book Related Questions
Tell us about your new book, War of the Damned.
War of the Damned is the third entry in the Relic Hunters series. On the coast of Scotland, an intact German U-Boat from the Second World War has been recovered. Adam Hunter and the British Museum are dispatched to investigate and on board they discover two items of interest; a gold bar belonging to the fabled missing Nazi Gold Trains and the body of a British soldier of the Suffolk Regiment.
With these two clues, Adam, his brother Matt and his teammates Emma, Dave and Abbey set out in search of the Gold Trains. Their journey will take them to Poland, Berlin and to places not even recorded on maps where they will face an evil unlike any they have encountered before. But the Hunters are not the only ones in search of the Gold Trains. Spectres from the team's past will return to haunt them and stop at nothing to claim the riches of a dozen nations.
Adam Hunter and the British Museum must find the Gold Trains first, but in doing so they may just awaken a terrible force that has waited decades to be released.
Entwined with this story is that of Private Andrew Cooper of the Suffolk Regiment. Through his eyes we are shown the true heroism and horror of the Second World War – from the Dunkirk evacuation all the way to entering Germany in the final days of the Third Reich. There he will discover that there is an evil far worse than the Germans he has been fighting.
What made you choose the Suffolk Regiment?
I grew up and now currently live in Norwich, Norfolk and originally planned to have the Norfolk Regiment in my story. However, the campaign they marched and the places they fought did not quite match up with where I wanted the story to go.
The Suffolk Regiment matched up perfectly. Their story takes them from the evacuation and miracle of Dunkirk, to the Normandy Landings where they captured a fortress on D-Day, to a battle which became known as the 'bloodiest square mile' of the war. I researched the regiment at the Suffolk Regimental Museum and discovered more about the fascinating stories of these real-life heroes – stories that have barely been told. I hope that I have captured even a small glimpse of their heroism.
Are you planning more in the series?
Absolutely – there are at least two more entries in the current series arc to come. After that…let's just say I have plans!
Just one last question; Where can readers find you?
Thanks for reading!
I highly recommend checking out this series! They're so well written, they're action packed, and the characters are so interesting and realistic!
Feel free to check out my reviews for the first two books to read more of my thoughts: