Hell On High by Michael Clark is a tale of adventure and determination that forces a deep chill into your bones that will linger long after the final page.
From the forests of Brazil to the top of Mount Everest, the main character of this story faces many horrors. Her sheer determination to survive and help her sister keeps her on her path during this suspenseful and nerve-wracking tale!
CW: This book contains content warnings at the back that details a full list. The one element I would like to point out is rape. This is a case where I personally feel that the author handled it extremely well. Michael captured the horror and brutality of the event perfectly without going overboard and getting too graphic. The disgust and despair that came afterward was pretty spot on. If that is a trigger, please tread lightly and perhaps skip that chapter if you're nervous.
Let's dive in!
My Thoughts on Hell On High by Michael Clark
Michael Clark has done it again! I should have learned my lesson with his first three books… but here we are again, I started reading an early version of this book on a weekday night after work and got totally sucked in, staying up WAY too late… The same held true when I read the latest version when it was ready for publication. But it's totally worth it every single time!
What an incredible opening. Mike talks about his love and respect for Brazil and why he focused his story there in an unflinchingly honest way that will leave readers both heartbroken and ready to rage at the unfairness of it all…
The first chapter certainly set the tone of the book! It's very dark and terrifying, and it gives readers a glimpse into one of the horrors that you will see come to light later on.
While the first few chapters jumped between different characters in different situations, I couldn't wait to see how they were all connected. Soon, the story focuses on Juliana and her family. From there, we learn that all is not well under the roof of their home. But what's actually going on is much worse than just having a harsh stepmother and a tricky family dynamic.
Juliana learns information that forces her to flee from her home country and embark on an extremely dangerous trek to cross multiple borders to get into the US. But from there, her adventure is only halfway over, she still needs to accomplish a huge task in order to save her sister from their home.
Meanwhile, her father begins a new journey when he moves to the US and finds The Book of Shadows.
I adored Juliana. I loved that she was not there for anyone's nonsense and wasn't afraid to speak her mind, though, at the same time, she could recognize when to bring something up and when to wait. She knew she could do anything it took to reach her goals. She had such an intense character arc and while I loved the suspense, I felt so nervous for her every step of the way. She is a character that is very easy to root for and you will keep your fingers crossed that everything turns out well.
Per usual with Michael Clark's writing style, this book has much more than just an amazing main character. It also has a very creepy atmosphere that will leave readers feeling anxious, while the settings and events that occur throughout are written so vividly that you can really picture everything in your mind, whether you want to or not.
There were so many times that my chest felt tight while reading this. There were passages that had me terrified, while others were unsettling and brought out some major feelings of claustrophobia. I mean, just check out this passage:
What would it be like to be entombed under the ice and snow, immobilized, broken, upside down, and backward? The claustrophobia alone chilled her. Could I hear them searching for me? Would I be able to cry out? Will I die in the dark, or does the light make its way down through?
And with that, let's jump into my favorite passages!
My Favorite Passages from Hell On High
Before Luiz realized what was happening, the man hip-checked him into the room, sending him to the floor, and the door slammed shut, the sound of the locking bolt confirming his living nightmare.
Her gut told her to leave, but her head demanded answers; she tried the fourth key, and the lock popped open. The door creaked as she pulled, allowing a cluster of flies to escape. As they passed, she brushed wildly at her face, sickened by the filthy tickle. The room smelled of bleach disguising something… what was it? Blood?
Whatever fragment of Juliana's childhood remained ended then and there…
It wasn't the fire, and it wasn't the house perhaps it wasn't even what started the fire; she couldn't be sure. Something close radiated power. Dark power. Scary energy. Watching. It wasn't something she could see, but a feeling – a presence.
What would it be like to be entombed under the ice and snow, immobilized, broken, upside down, and backward? The claustrophobia alone chilled her. Could I hear them searching for me? Would I be able to cry out? Will I die in the dark, or does the light make its way down through?
Nestled in a tiny yard sat another small farmhouse and a barn with a collapsed roof, and both buildings were dark. The barn was like hundreds across New England; a good gust of wind could blow it over. Whoever owned it didn't have the time or money to tear it down.
The frozen dead came to mind. Renata wondered how many were stuck up there; dismal souvenirs taken by the murderous mountain.
He managed two stumbling steps before the mountain ended and the sky began. With nothing beneath him, the Tibetan winds roared to life, whipping him like a discarded candy wrapper.
Before he stood, however, a fly landed on his arm, and though he waved it away, it wouldn't quit. A second buzzed around his head, followed by a third and a fourth.
My Final Thoughts on Hell On High
If you're looking for a book with real-world horrors and a splash of the paranormal that will keep you on the edge of your seat, incredibly nervous for the wellbeing of the amazing main character… Then this is a book for you!
If possible, I recommend picking this one up over the weekend so you can read it straight through. This story is one that will haunt your dreams.
One last note, if you have read The Patience of A Dead Man trilogy, you're in for a special treat here. If you haven't, you're going to want to have those three books ready to roll next!
---
Major thanks to Michael Clark for including me in the Acknowledgements! I'm so honored to continue to work with you throughout your career. It's been an absolute blast so far and I cannot wait to see what you get up to next!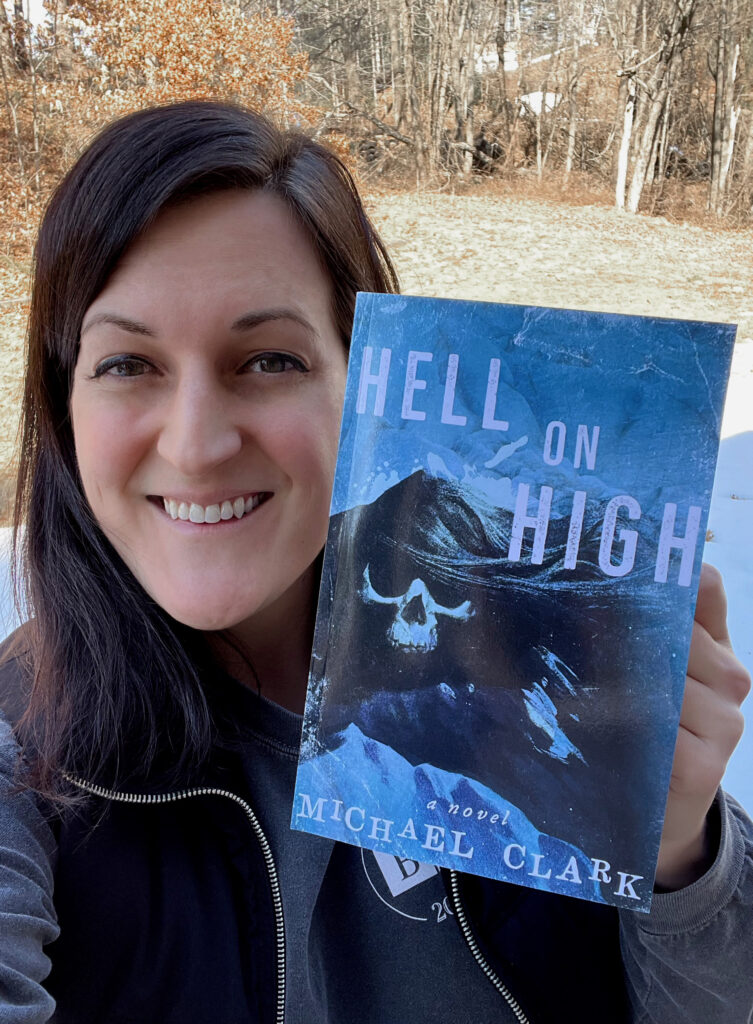 ---
---
Purchase your copy of Hell On High
---
Related Reading:
Thanks for reading!