Ghosts by Raina Telgemeier is a quick read, but it sure packs an emotional punch! The story of these two sisters is quite bittersweet, but very powerful.
My Thoughts on Ghosts by Raina Telgemeier
This graphic novel was so adorable. The artwork was brightly colored and fun. There wasn't a ton of detail, but it was all organized so well! I loved all the little words that were thrown in here and there to elaborate on what was happening in the panel.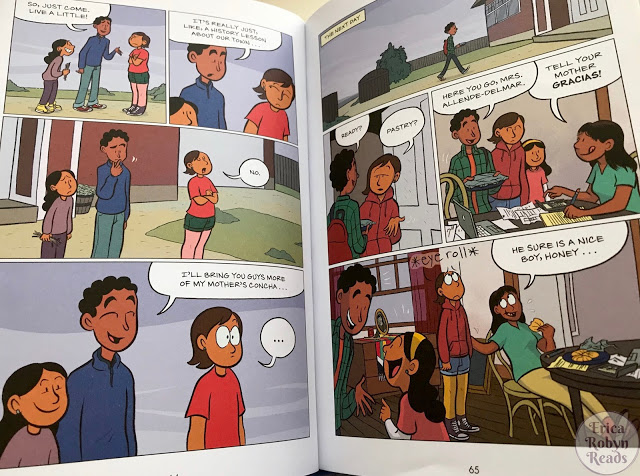 The characters were perfect. I really enjoyed watching the main character, Cat, grow as the story moved along. And her little sister, Maya, was so cute! I loved her bravery and excitement and her outlook on life was also lovely. The sisterly love between these two was so refreshing! Of course there was still a bit of a struggle when the older sister wanted friendships of her own, but that only added to the realism of their relationship. The parents only played a small role, but they were wonderfully realistic.
The fact that Maya had cystic fibrosis added a very powerful element to the storyline. Considering the middle grade level, I think this was done very well. The author kept it real, but not too dark. I definitely hope to see more "real world" things like this in middle grade novels.
My Final Thoughts on Ghosts
I really enjoyed this read! It's a great one to pick up one afternoon and just read straight through. I would definitely recommend it if you're looking for a middle grade read for someone in that age range, or for yourself!
---
Snag a copy through Bookshop to help support local indie bookshops:
Thanks for reading!