February always seems to come and go in a whirlwind! This year, especially so.
I was so happy that this month I was able to read nine amazing books! Per usual, I acquired too many books… But just look at that pretty stack in the header photo!
Let's dive in to my recap!
---
My February Recap
Reading:
Other posts:
Dead Headspace:
Each of these women were absolutely incredible to speak to.
I fan-girled HARD over CJ Tudor. She's one of my auto-buy authors and I have absolutely adored every single one of her books. Talking to her was such an honor and I cannot wait to see what she does next!
Erika is such an amazing human. I was immediately drawn toward her energy and had a blast chatting.
In the community:
To start February off with a surprise from Brennan LaFaro, Brennan wrote up a lovely feature on his January newsletter giving me a shout-out. If you haven't yet, subscribe to Postcards From The Falls by clicking here!
This month, I had the honor of my blurb appearing on Aquino Loayza's website!
Monthly bookish-related haul:
This month with books, I tried to slow down a bit, but failed horribly.
I acquired the following books directly from the author:
AHH! That's What I Call Horror! An Anthology of 90's Horror edited by Chelsea Pumpkins
The Betrayed by Wesley Southard
Bishop by Candace Nola
Churn the Soil by Steve Stred
Deep by Aquino Loayza
Inside the Devils Nest by John Durgin
My Glass is Runn by Die Booth
Spirit Houses by Die Booth
Wasps in the Ice Cream by Tim McGregor
I also snagged the following from indie bookstores:
Brave New World – The Best New Weird Horror edited by Alex Woodrow
Exiles by Jane Harper
Like Real by Shelly Lyons
Taboo in Four Colors by Tim McGregor
Tell Me I'm Worthless by Alison Rumfit
The Nightmare Man by J. H. Markert
The Waiting by Hunter Shea
Slewfoot by Brom
And finally, I got the following direct from the publisher:
I Know Who You Are: How an Amateur DNA Sleuth Unmasked the Golden State Killer and Changed Crime Fighting Forever by Barbara Rae-Vente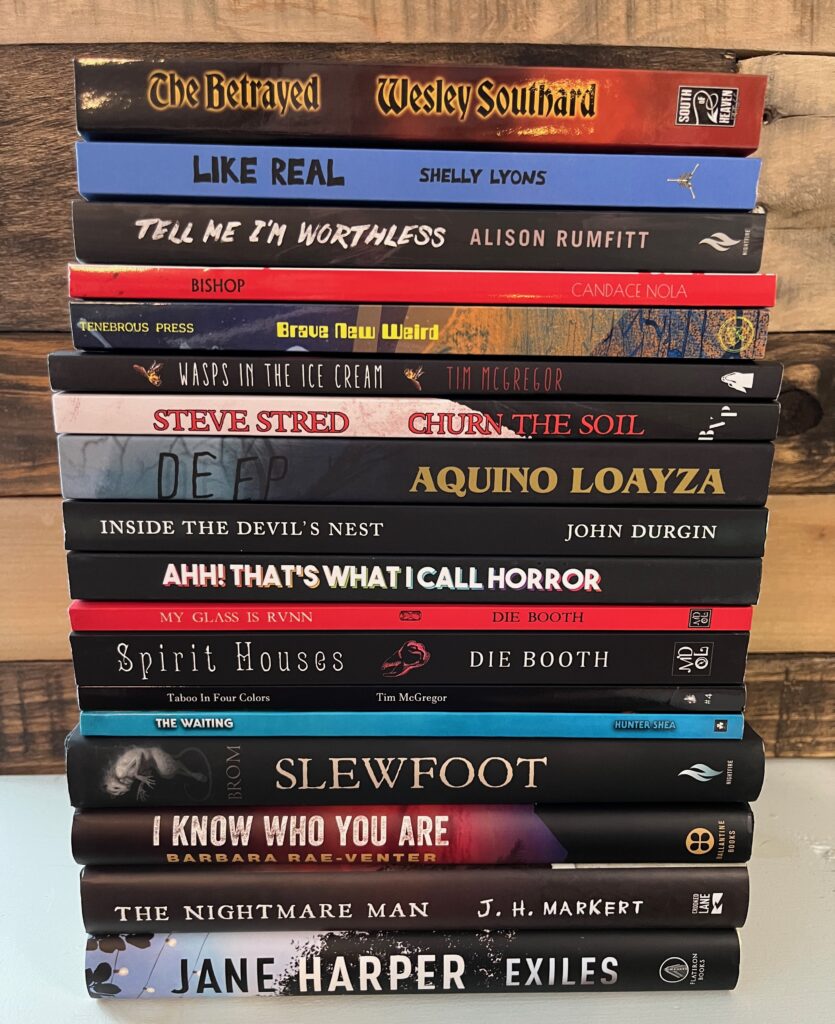 My favorite book photo this month:
Thanks for reading!