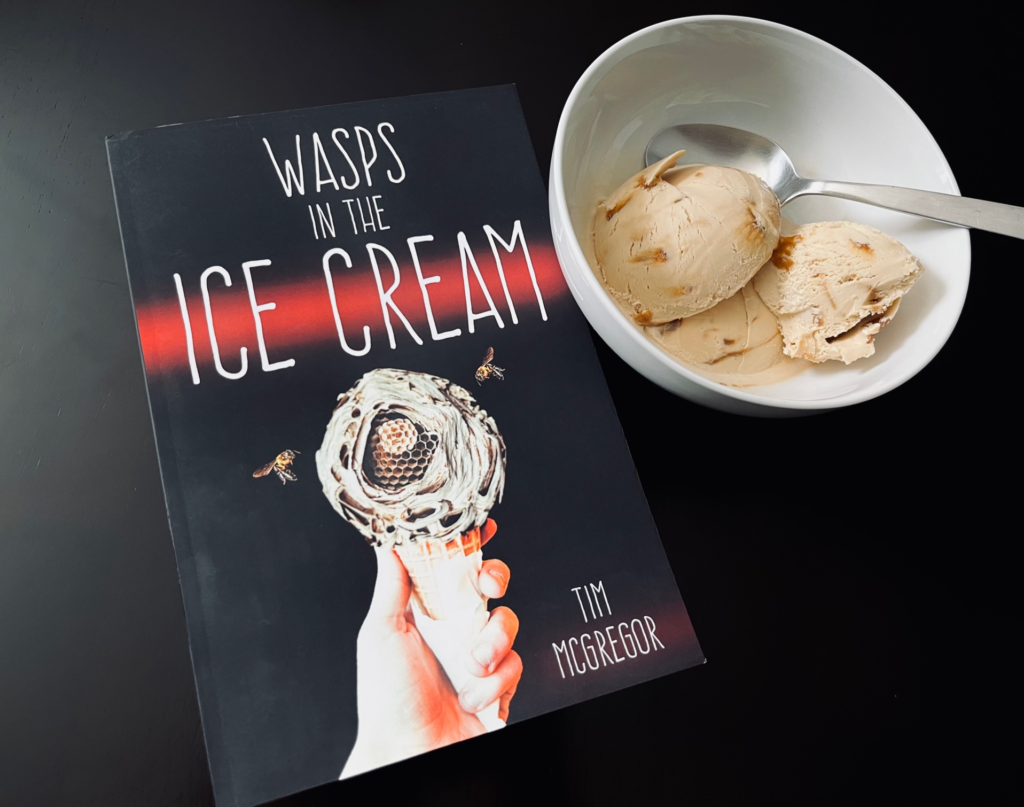 Wasps in the Ice Cream by Tim McGregor is a coming-of-age story filled with life lessons and unsettling spookiness.
Let's dive in!
My Thoughts on Wasps in the Ice Cream by Tim McGregor
Mark Prewitt is a teenage boy entering summer break. His plans are simple; avoid his father and his new girlfriend, get through the hours spent working at his two jobs, rebuild his car to get it running, and spend as much time with friends as possible.
But something about this summer is different. Mark isn't so sure about the decisions that his friends make. When one prank goes sideways, Mark finally tips onto the side of being fed up with the immature and dangerous antics. Determined to apologize to the girl that they harmed, he realizes he feels a strange pull toward her. As they spend more time together, that feeling grows.
But when his two worlds collide, Mark risks losing everyone.
This is one of the best coming-of-age stories I've read! I really enjoyed the focus on how to follow your own ethics even when your friends try to tell you to do otherwise. Of course, that was blended wonderfully with falling in love for the first time and all the struggles that comes with that.
Tim did an amazing job putting readers right into Mark's mind to understand the decisions he was making. But even so, I was hoping for a different result in a couple of scenes. At times I wanted to shout at Mark for being such a typical teenager but other times, it was heartwarming to see how he reacted to things.
The friendship that grew between Mark and his new friend, George, was absolutely wonderful. I loved seeing the path that this took.
The very last line of the book was my favorite!
My Favorite Passages from Wasps in the Ice Cream
Any house that stands empty too long becomes haunted. That's just the way it is in small towns. The old house out on Merrily Road certainly looked the part with its sagging veranda and rotting roof, a withered husk of lichen and dry rot timbers. A storybook mansion fallen into ruin, it reeked of ghosts and secrets.
There are two flashlights in my backpack. I hand one to her. "What do you think?"
"It's creepy," she says. "I love it."
The stairs are appropriately squeaky as we explore the second floor.
It's too dark to see if there are tears, but something changes in the air, like the barometer dropping real fast. Can grief do that — change the air pressure in a room?
"Wrong. Folks are going to think whatever they want. There's nothing you can do to change that, so don't give them the satisfaction." He turns off the tap. Water drips all round us inside the hut as he continues. "You think I don't know what people say about me behind my back? That I'm crazy or off the wall? Should I change just to make them like me? Hell, no. Opinions are like assholes; everyone's got one, and they all stink. You'll drive yourself crazy trying to make people like you."
My Final Thoughts on Wasps in the Ice Cream
A must-read for fans of coming-of-age tales. This one had such a wonderful spooky vibe, but like many terrifying tales, the people are the scariest! I absolutely loved this novel.
Major shout-out to Tim for sending me a copy! I was so excited to read and review just in time for release day!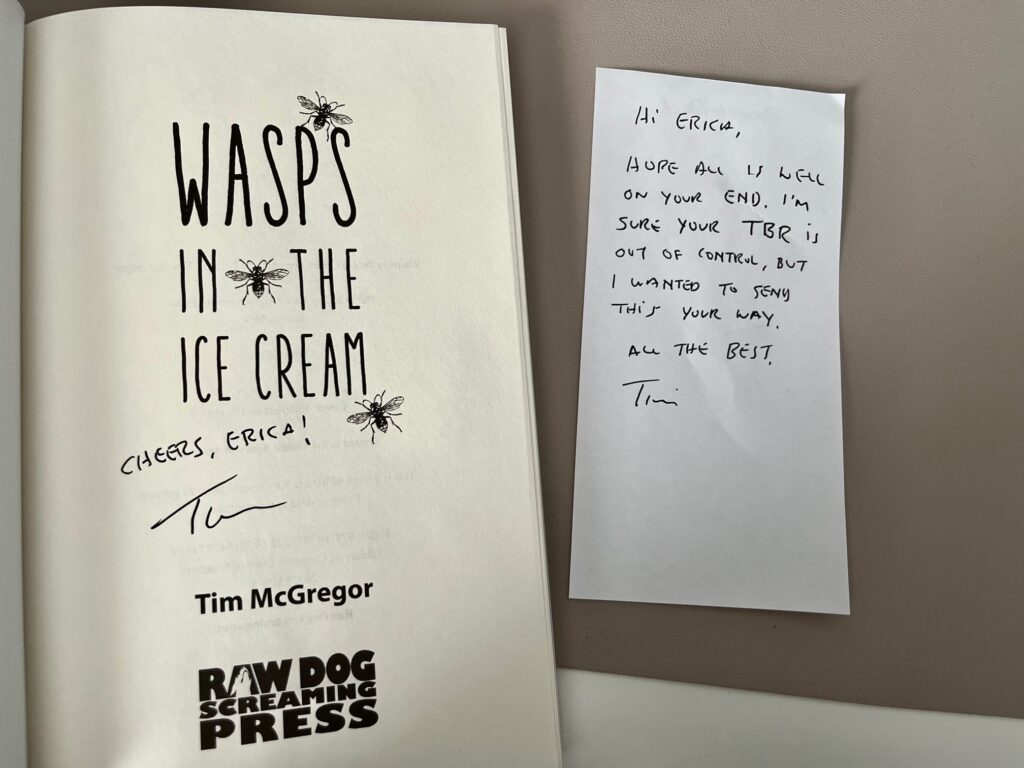 ---
Snag a copy through Bookshop.org to help support local indie bookshops:
Thanks for reading!