The Little Blue House's Little Free Library is settled in under a beautiful tree on Salem Street in Manchester, New Hampshire.
As I had visited on an extremely hot day during the summer, I was so grateful for the shade!
Let's dive in!
Little Free Library Visit – Salem Street, Manchester, New Hampshire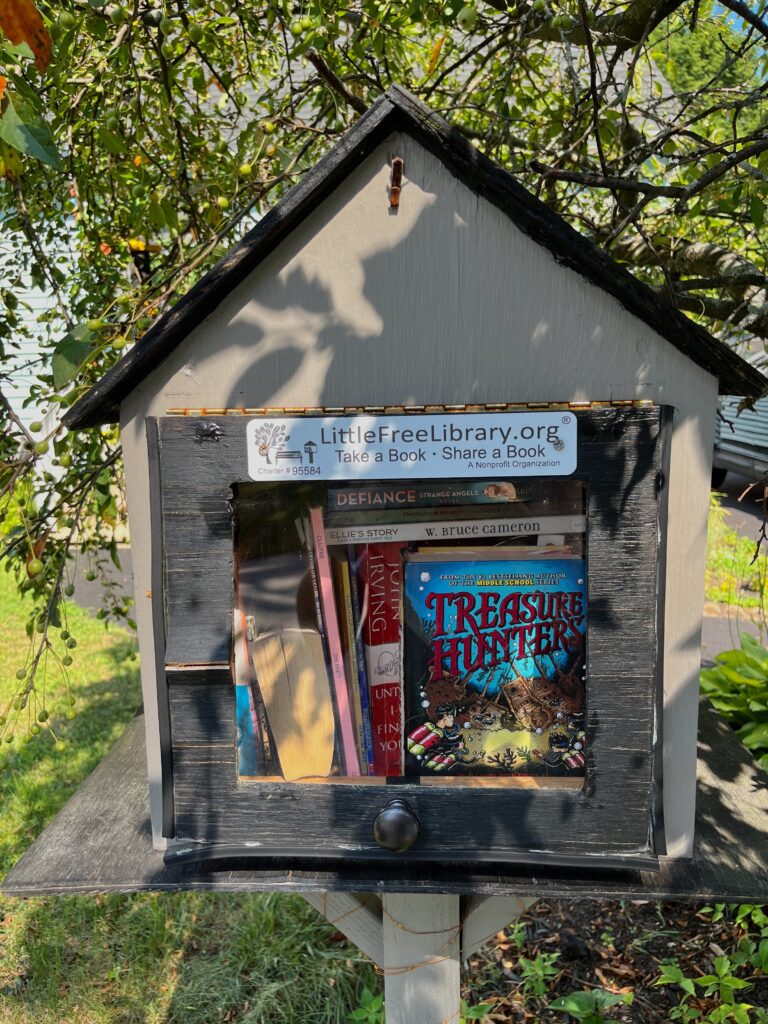 This is another super cute LFL that I cruised right by on my first pass. Though I was happy to make a loop and get right back to it!
I loved that the owner had twirled string lights around the base. At night, I'm sure this looks great!
I was also super curious about what used to hang from the hook at the top of the structure. Guess I'll have to visit again later to see if it's maybe something holiday related!
The inside had plenty of space and the books that were stocked had a nice selection to choose from! There were various books for all ages. A book titled Treasure Hunters that was displayed outward looked super fun!
I struggled a bit with the door, which opens from the bottom upward, as I was holding a book and my phone and didn't have any pockets. This one could use a little door prop or something to keep the door open when trying to browse. But I suppose that runs the risk of people just leaving the door open…
I managed to properly balance everything to get my copy of Greyfriars Reformatory by Frazer Lee and a super cool Final Guys sicker in there!
Thanks for reading!