Buzz Book Expo is a wonderful online event hosted by Mary SanGiovanni, Matt Wildasin, and Somer Canon where publishers can discuss the releases that they have coming out.
If you missed the live event, don't worry! The team recorded the event and that will be available for you to check it out when you have time on the Buzz Book Expo Youtube channel!
One big announcement this weekend was the expansion of Buzz Books! Please click here to learn more and subscribe! Indie horror fans do not want to miss out on getting newsletters and such when they fully launch this platform! Right now, there's already a free short story from Mary SanGiovanni up there.
Let's dive in!
Day One | Saturday 9/17/22 –
From Day One, my favorite element was that in each session, viewers learn what each publisher looks for in a story. For writers looking to submit, these sessions are great to watch to keep an eye out on publishers you may be interested in working with!
Intro with Mary SanGiovanni
Mary is always such a great host! She began the day letting everyone know what the event will entail as well as giving a lovely intro to the amazing small presses.
Crystal Lake Publishing – featuring Kevin Lucia
Kevin is such an amazing human. I'm honored to be on his newsletter for ebook copies for reviewing. Definitely one of the best publishers that I have had the opportunity to work with.
In this chat, he went over some awesome books that are coming up that I can't wait to read, such as The Dismembered by Jonathan Janz! Kevin also noted that while reading, if he has trouble putting a story down, that's a great indicator that this is a book that he needs to publish. I guess that explains why I read many of the books he publishes in a sitting or two!
Apex Books – featuring Jason Sizemore
In this chat, we got to see the upcoming books before Jason dove into Q&A featuring what gets his attention in a book or story submission.
Eerie River Publishing – featuring Michelle River
Michelle is such a fun speaker! I always love seeing what Eerie River has coming up as the sub-genre range they cover is always so awesome!
On this session, I was reminded that I NEED to pick up all of the It Calls From books as soon as possible… These look and sound amazing!
D & T Publishing – featuring Dawn Shea
What a killer list of upcoming books! Please keep an eye on this publisher to check out all of the amazing titles, literally. The book titles here are so fun!
St. Rooster Books – featuring Tim Murr
If you're ever looking for horror nonfiction, this is a publisher you need to know!
French Press – featuring Stephen Kozeniewski and Kayleigh Edwards
French Press will forever be one of my favorite publishing houses. The authors that they have published so far are incredible. I am also obsessed with the fun little elements they add to the books such as jokes in the copyright pages.
"Instead of getting off the pot, we decided to shit." – Stephen Kozeniewski. Definitely the quote of the day here!
Bad Hound Press – featuring Rob Errera
What a treat listening to Rob is! He's always go so many fun things to discuss!
Day Two | Sunday 9/18/22 –
I was so sad that Day Two was already here, as the events would be over by the end of the day. But of course, I was so pumped to jump in to the sessions!
Thunderstorm Books – featuring Paul Goblirsch
Learning what Paul has coming up is always a treat! I had JUST gotten my copy of Cynthia Pelayo's We Came From An Island from this publisher in the mail yesterday.
Happy Goat Horror – featuring Kayleigh
Oh my goodness, Kayleigh is such an awesome human. Kayleigh runs this review platform, and they are gearing up for some amazing things! If you haven't followed Happy Goat Horror, make sure to change that ASAP.
I'm so glad that our paths crossed! This exchange on day one had me floating in happiness!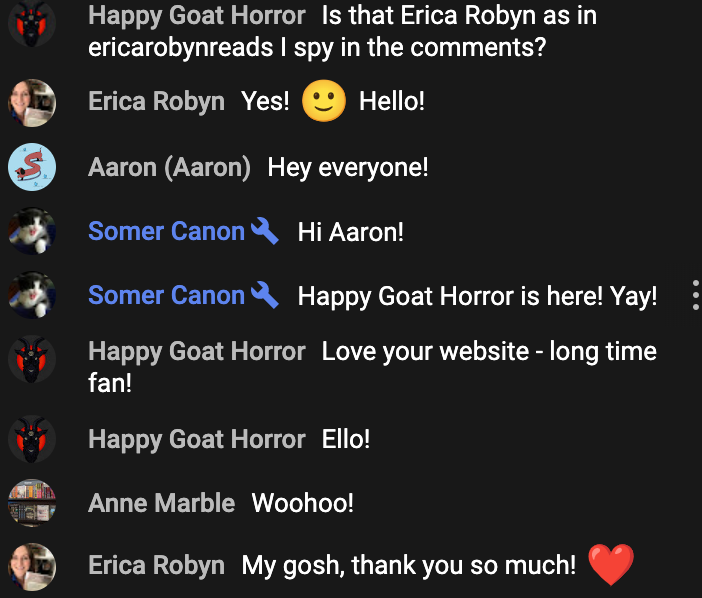 Apokrupha – featuring Jacob Haddon and Jessica McHugh
In this session, Jessica shares how she makes her amazing blackout poems and reads a few examples! The two hosts even create poems during the interview and then share them with viewers!
Bleeding Edge Books – featuring D. Alexander Ward
Novella and short story fans, you gotta check this publisher out!
Madness Heart Press – featuring John Baltisberger
They have a book of plays coming out! How neat is that?! This publisher certainly isn't afraid to try new things! They also make tabletop games.
Cemetery Gates Media – featuring Joe Sullivan
First up was a quick presentation from Joe, followed by a slew of authors that tell us about their works! I loved this session! I love seeing author talk about their book babies!
Brigid's Gate Press – featuring Stephanie Eillis, Jerry Roth, Ben Monroe, and KC Grifant
I LOVE when authors read from their work so very much. This session was a blast!
Closing Remarks – featuring Mary SanGiovanni, Somer Canon, and Matt Wildasin
Always nice to see Matt and Somer pop in, and Mary did an amazing job as always! These were wonderful closing statements.
If you haven't yet, please go check out these links to learn more about these three:
---
Thanks for reading!
This was SO much fun to tune into over the weekend, especially as I was pretty under the weather at the time. I have added a ton of books to my TBR list and purchased a few as well.
Thank you so much to everyone that was involved in running, planning, promoting, and participating in this! I already cannot wait for Buzz Book Expo 2023!
To watch the event on demand, check out the Buzz Book Expo Youtube channel by clicking here!