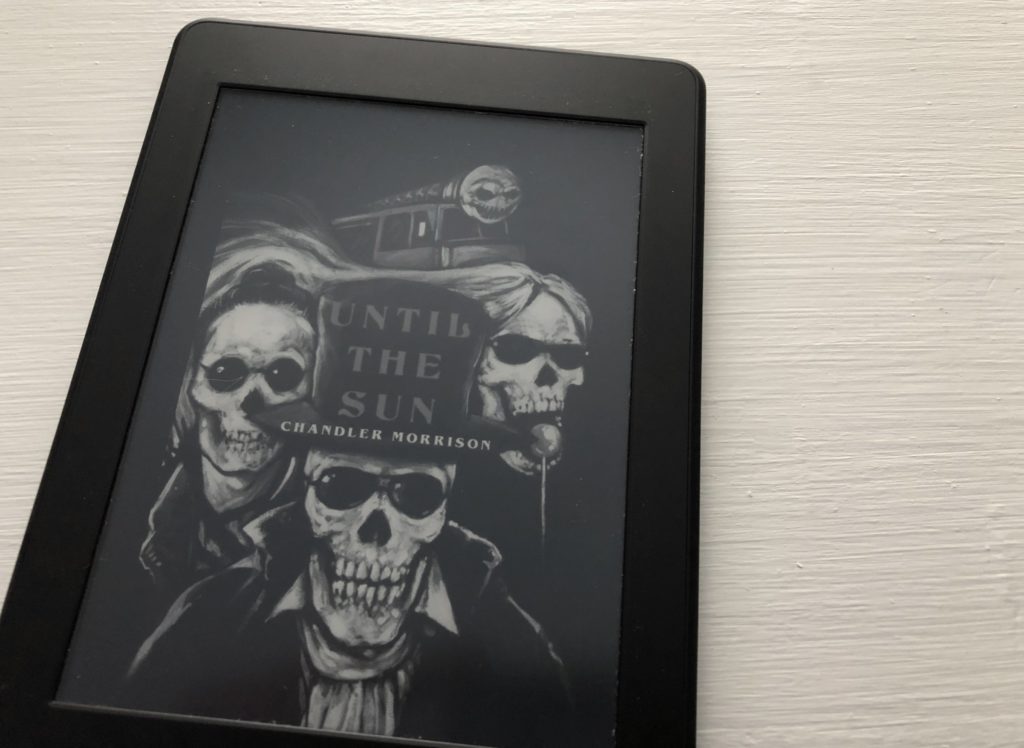 Until the Sun by Chandler Morrison is a tale about a very troubled fifteen-year-old boy. Everywhere this boy goes, death soon follows…
I picked this book up after Mr. Morrison announced some personal news on Twitter. Shortly afterward, a group of horror fans all joined together to do a read-along. I'm so happy that I was able to participate! <3
Let's dive in!
My Thoughts on Until the Sun by Chandler Morrison
Until the Sun was a book that is WAY out of my comfort zone. If it wasn't for our group that were all reading this together to discuss, I probably would have bailed on it. I personally just don't like anything that centers around sex and drugs, and that was a major part of this book.
However, I'm SO glad I stuck with it.
Overall, Chandler Morrison's writing style was wonderful. I really enjoyed the use of dialog and how the story overall was organized. This book started off in a way that made me curious… so I just had to keep reading to find out what was going to happen. The ending was definitely worth me following the elements that I didn't care much for.
Other than that, I gotta say that this is one that's really best to just dive in for yourself!
Below, I have listed a few of my likes and dislikes. Feel free to skim past these if you haven't read the book.
Likes:
The vampire-like characters and how they processed foods and blood was unique. I at least hadn't seen vampires like this before, so I enjoyed learning more about them right up until the very end.
The Grinning Man was super eerie!
The element of the serial killer was very creepy. Especially the bit that the police hid from the press…
I loved all of the pop culture references. Like people that have been in the news, Instagram filters, Bunnicula, Hawthorne Heights (even if the emo-bashing got old real quick).
The violence was intense and written so vividly!
Dislikes:
All of the sex and drugs. This was a main focus of the book and I'm just not a fan, personally. Related to that, the flashback to the main characters life in LA wasn't for me. If you enjoy teenage angst, lustful longing, and lots of sex and drugs, you'll love this section though! (Note: It was wonderfully written! It really gave you a great look into the character's past and allowed you to understand his mindset at current times.)
The use of the word "retarded." From the characters and how they all acted, it made sense as it went along with their privilege and self-centered personalities. It's just an exhausting word to keep seeing used, even more exhausting when seeing it used as an insult.
The attack on the people in the house who had a Trump-Pence sign certainly highlighted the toxic mindset of lumping people together and hating all Trump supporters. Again- this was wonderfully written, I'm just totally exhausted on this political mindset of hating those that don't agree with you.
My Favorite Passages from Until the Sun
With everything that's happened to you over the past year, there isn't much room left in your mind for doubt.
"My friends," Varney says, grinning and spreading his arms wide. "Let us make haste, for the night is calling to us, and we alone have the answer it seeks."
My Final Thoughts on Until the Sun
My goodness. This book. If you don't mind elements of sex and drugs, or you can skim past them like I did, I highly recommend giving this a read!
The ending of this novel is something that I won't soon be forgetting!
---
Snag a copy from your local bookstore or feel free to use my Amazon affiliate link:
Thanks for reading!
What was the last book you read that you weren't loving, but that changed your mind at the end?