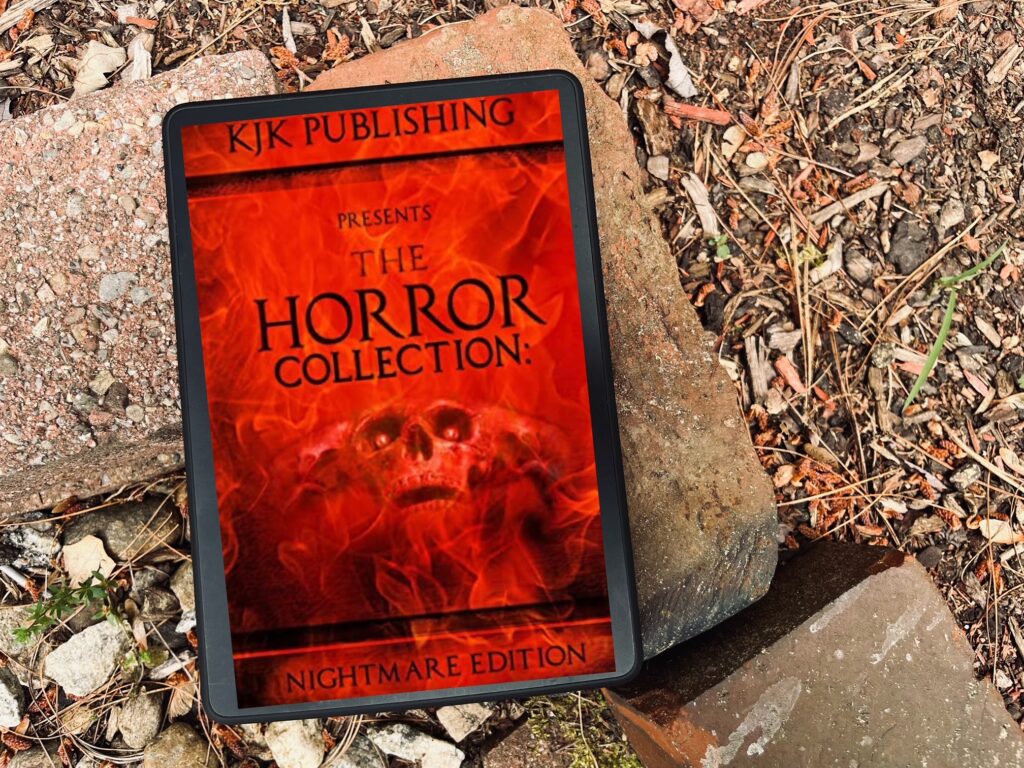 The Horror Collection: Nightmare Edition presented by KJK Publishing is the twelfth amazing and brutal collection in this series. Like all of the others, once I dove in, I couldn't stop reading!
Full disclosure: I was given a free copy of this book by the publisher in exchange for an honest review. This did not affect my rating in any way. I also purchased a copy!
Let's dive in!
My Thoughts on The Horror Collection: Nightmare Edition presented by KJK Publishing
I freaking love these collections! Each time I see that a new one is coming out, I start getting antsy to get my hands on it!
This one is one of my top favorites of the bunch! The range goes from mildly creepy to full blown extreme horror, so there's something here for every horror fan, as always!
I had SO many favorites from this one! My favorites include:
It Walks About the Woods by Tom Deady
A Broken Man by Steve Stred
Old Soul by RJ Roles
Three Seconds by Nicola Lombardi
When Calls the Deep by Mike Duke
The Old Man at the Gatehouse by Simon Clark
Soul Prism by Ruthann Jagge
Run Rabbit Run by Andrew Lennon
Meetings with the Devil by J.C. Michael
Taste for Adventure by Matthew A. Clarke
Clubhouse of the Dead by David Owain Hughes
The Graveyard by Lee Mountford
Per usual, here are my notes on each tale –
It Walks About the Woods by Tom Deady
Back in town to celebrate their 10 year reunion, this group goes on a hike rather than going to the reunion itself. But of course, they find that there is more to worry about than just the heat and the bugs.
I was SO pumped to see that this one was set in my home state, Maine! The build up to the terror was done so well. And boy, did the gore factor come in strong!
My Favorite Passage from this Tale:
The sky is still clinging to the last shades of indigo, but the fire is lulling me into a soothing lethargy. In the distance, something large crashes through the underbrush.
---
A Broken Man by Steve Stred
Forced to make an awful trade to try to survive, this man is immediately haunted by his decision. But that haunted feeling only gets worse as the night goes on.
Per usual with Steve's work, this was brutal! What a dark little tale with a killer ending!
---
Old Soul by RJ Roles
Since the age of fourteen, this poor character dips into other lives in the moments before their death. Traumatizing enough, they also feel every thing that happens.
My god, what a terrifying idea! I cannot imagine what this would be like. That first scene alone was enough. The last one?! Straight out of my nightmares.
---
Beneath A Templar Cross by Gord Rollo
Grief-stricken over the loss of his wife to a monster, this man dedicates his time toward hunting them down and trying to find the leader.
This one was so unsettling! I loved that you got little teases to show you what was really going on.
---
Three Seconds by Nicola Lombardi
Haunted by something long ago that would have only taken three more seconds to conclude, this man is interviewed by someone claiming to be from a true crime magazine. But the interview takes quite the turn.
This was a great crime tale! The suspense in getting to the final page was so intense!
---
When Calls the Deep by Mike Duke
When this army veteran goes to sleep, he thinks he has the perfect spot picked out to weather the storm. But when he wakes, he sees that there is water surrounding him. But what's worse, is that there is something IN the water surrounding him.
This tale really pulls on the heartstrings! I was so sad to see these two drawn to one another through their mutual suffering and loss, but the plot of finding their community was lovely!
My Favorite Passage from this Tale:
The scream became a roar, proclaiming his abandonment of humankind. Like some massive, prehistoric conch shell trumpeting with the breath of Poseidon, bass notes resonated from the depths of Robert's being. The sound rushed along every nearby street and between buildings, vibrating windows and shaking doors before making its way out onto the ocean.
---
The Old Man at the Gatehouse by Simon Clark
This group of boys are having a wonderful summer day in a park. Tempted by the ghost stories, they take turns knocking on a door. But the result of one boy's knock is different from the rest…
This one has some lovely ghost story elements, centered around the joys of being a kid.
My Favorite Passages from this Tale:
That day in August was a great day to be eight. Blazing sunshine worked up a thirst for an ice cream, and there were still three glorious weeks of the summer holiday left, making school seem as far away as Timbuktu.
---
Soul Prism by Ruthann Jagge
After a drop when she was a child, Mandi grows up not being able to see colors. Her childhood friend, Bobby, is determined to help her. First, he tries showing her foods that he relates to colors, then he decides to make her special glasses, but the glasses show the true colors of the people all around them and it scares them.
The path this one took is one I did not expect at all! I wanted that happy reunion, but I should have known better since the story was in this collection! What an intense ending!
---
The Llama by Drew Stepek
This poor boy has a tough upbringing. The teasing is almost constant in both his life at school and at home. But one day, he finally gets fed up.
The fat-shaming was exhausting here. I felt so bad for this poor kid.
---
Run Rabbit Run by Andrew Lennon
Thrilled about a weekend filled with old school video games, pizza, and snacks, one boy gets carried away explaining a game and accidentally punches a bigger kid. Of course, that big kid won't let this slide as the accident that it was and goes after him…
PHEW! What a whirlwind this tale was! I was so invested from the start, and that ENDING! My goodness. Perfect as is, but I would love more to see what happened next with these two!
---
Peuchen by Lex H. Jones
After moving into a house with a locked basement, this character can't wait to see what is behind the door. Turns out it was a sealed vase. Rather than leaving it alone, he tries to open it, and then shatter is, unleashing what was inside.
This one really plays on the terror of never really knowing who someone is and what their intentions are!
---
I Am the Storm by Michael Bray
When this grieving husband and father gets the chance to see his wife one more time, he takes the deal. But then his greed gets the best of him.
This one was heartbreaking! This poor grief stricken man. Faced with the same opportunity, I'm sure most people would indeed take this stranger up on his offer.
---
Boys Will be Boys by Natasha Sinclair
What a dark and disturbing tale! Only a few notes on this one; prepare yourselves for the brutality and darkness! A must read for extreme horror fans!
---
Meetings with the Devil by J.C. Michael
This man has a special gift that haunts him throughout his life… He can see the devil when he appears in people.
This tale is terrifying! How would you handle being able to see the devil in people? Would you fight back, or turn away?
---
Taste for Adventure by Matthew A. Clarke
While on a journey through the jungle, this family is warned to stay on the path as there were many dangers lurking in the woods. But what they didn't realize, was that danger had already found them. The wife had gotten bitten by something and she's going downhill quickly.
This poor family! They had such a great vacation going…
---
Beast by Kyle M. Scott
When a teenager brings a girl to a place in town that has become legend, he tells her scary tales to try to get into her pants. But of course, urban legends all come from somewhere…
My goodness, the creepiness and brutality in this one was SO good. The ending made my stomach turn.
---
Clubhouse of the Dead by David Owain Hughes
When a normal sunny day turns to a day filled with screaming, Sue, the owner of a bar tries to get everyone inside quickly. But even with their best attempts, the ghouls still make it inside. Forced to flee to try to find help, the survivors pile into a car and head out. But will they make it safely?
This was an AMAZING zombie tale! Action packed and tense, I loved this one!
My Favorite Passage from this Tale:
The two bikers got in as the door to the garage busted apart and a clown zombie – its red nose crooked and blackened, its colorful costume torn and bloody – stumbled into the garage and crashed against the SUV. Its bright wig was knocked askew.
---
The Graveyard by Lee Mountford
When this young man backs out of going into the graveyard at night, his friend still heads in. Seeing something that terrifies him, the main character runs to his parents to alert them. But his parents brush it off, trying to convince him it was a nightmare. But soon, the boy enters the graveyard and quickly learns that what he had seen was real.
WHAT A STORY TO END ON! This one was spooky from the start and filled with terror toward the end. That last sentence… Phew!
My Final Thoughts on The Horror Collection: Nightmare Edition
A killer collection of tales that will haunt your nightmares! This is a collection that horror fans won't want to miss!
---
Snag a copy using my Amazon Affiliate link or inquire at your local indie:
---
Related Reading: