The Horror Collection: Purple Edition: THC Book 3 by Kevin J. Kennedy is another amazing collection of tales that range from creepy to totally terrifying. Two stories had me squirming in my chair! I mean, in the famous words from Ron Weasley… "Why spiders?"
Full disclosure: I was given a free copy of this book from the author in exchange for an honest review. This did not affect my rating in any way.
Let's dive in!
My Thoughts on The Horror Collection: Purple Edition by KJK Publishing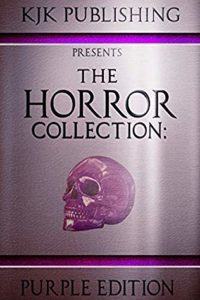 What a bad time to have finally gotten a reading chair in my library! I was reading this collection and then suddenly realized that I don't have any curtains over the windows that are ground level…
Needless to say, I went right upstairs to continue reading in the light, away from windows where someone could be standing just on the other side of the glass, looking in…
Per usual with these types of collections, here are my rating breakdowns for each story along with some immediate thoughts/reactions:
Cat Lover by Ray Garton 4 Stars
YIKES! This poor guy! This tale was heartbreaking and horrible. I wanted someone decent to pop by so badly!
To Love Is To Hate by Mike Duke 5 Stars
Oh good lord. This one was terrifying on so many different levels. First the virus and the betrayal, then the spiders, no thanks!!
Malignant by Christina Bergling 4 Stars
Horribly dark and sad. Wonderfully written!
The Twelfth Labour of Hercules by David Owain Hughes – 4 Stars
Woah. I loved that this one had you guessing at what happened right until it laid everything out for you.
An Evacuation of Bones by P. Mattern 5 Stars
Oh my gosh! I loved this one so much! I'm a total sucker for tales about a haunted space that has the power to drive someone to change. This one had light 'The Shining' vibes, but was SO much creepier!
All That Glitters by Gord Rollo 4 Stars
Whoa! What a neat idea! I did not see that coming at all! I was picturing a Sasquatch or something…
Rakshasi by Kelley Armstrong 4 Stars
Another interesting one! I love the idea behind this being ridding the world of crooks.
Don't Grass by Kevin J. Kennedy 5 Stars
Oh my God, this tale. The poor kid! This was the second time I've read this one, and this read was just as shocking as my first!
Live Wire by Simon Clark 4 Stars
Woah! I really liked the choppy monologue format of this one!
Deprivation by Chad Lutzke 4 Stars
Oh boy, this one had me cringing!! And that ending- WHAT?!
My Final Thoughts on The Horror Collection: Purple Edition
Another amazing collection from Kevin J. Kennedy!! This one had so many tales that are going to really stick with me…
---
Snag a copy through Bookshop to help support local indie bookshops:
Thanks for reading!
If you're a fan or horror short stories, what was the last one that got under your skin? To Love Is To Hate by Mike Duke from this collection really got me!
---
Related Reading: