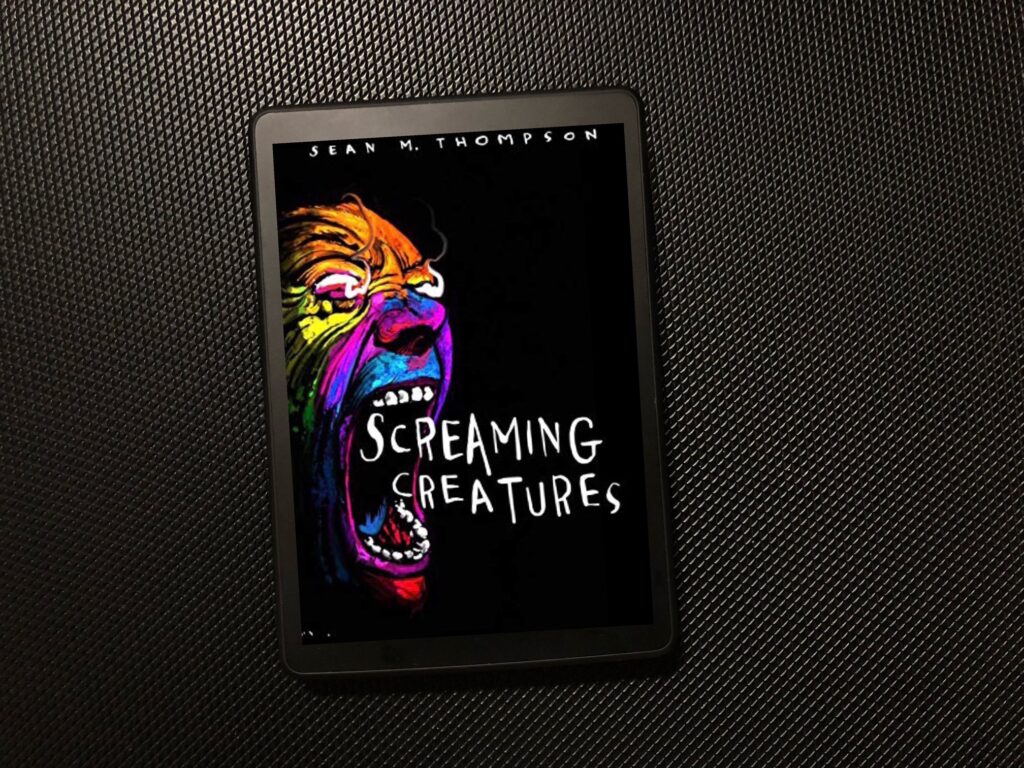 Screaming Creatures by Sean M. Thompson is a collection of stories that really shows off this author's range! From the unsettling and spooky tales, to the bizarre and fever dream-like tales, there's something for everyone here.
Full disclosure: I was given a free copy of this book from the author in exchange for an honest review. This did not affect my rating in any way.
Let's dive in!
My Thoughts on Screaming Creatures by Sean M. Thompson
From this collection, I did have a few favorites!
My favorites included:
The Cliffside Tavern
Centralia
Kiss of the Succubus
Each of these tales had such awesome pacing! I was hooked with every one. If I was tempted to pick this one up to read a bit of one story, I knew I would need to wait until I finished the specific tale I was on before I could put it down again.
Per usual, here are my notes on each tale.
Sunny Village – Three Stars
When a woman is watching the apartment and pet fish of someone who has gone out of town, she makes herself at home and watches tv for a bit. When she looks outside, she sees something startling on the deck of another floor.
This one was unsettling! It certainly makes readers question what was really going on.
The Cliffside Tavern – Five Stars
When two men are forced to pull onto the side of the road during a severe rain storm, they spot a tavern. Deciding to wait out the storm and get some food, they go in. Right away things are a bit off, but the go with it. Soon they realize they should have just waited in the car.
I loved this one! When a location conveniently pops up just when you need it, perhaps that's a sign to get out of there. I loved how this one had a slow build up until the explosive ending.
Centralia – Five Stars
When a couple heads to an abandoned mining town to play a game on their cell phones, they're expecting to have virtual monsters pop up here and there. But what they don't know is that this isn't just a cell phone game… this town is dangerous.
Boy this game idea sounds so much fun! But I have to admit, I would have gotten out of there the minute something felt a little too real.
3 A.M. Orphan – Three Stars
As the narrator speaks directly to readers, they recount a situation of a friend telling them a story.
This story will make you question what is real!
Cat's Claw LLC – Four Stars
When a woman desperate to find a better job heads to an unusual interview, she is shocked to get the offer right then and there. But will she take it after learning what the job really is?
This one was so atmospheric! I loved the descriptions of the settings. I was super interested to see where this was going.
Make It A Double – Three Stars
When a man rolls into town, he ends up meeting a woman. Things are going well but he's got a secret he's keeping from her, and it's going to come out one way or another.
The thought behind this one is so eerie! I love seeing stories about people finding their doppelgänger, but this was a whole other level.
Dead Visions Review – Four Stars
This is one you need to read for yourself!!
Kiss of the Succubus – Five Stars
A woman on an assignment to track another woman gets quite the shock!
I loved this one so much! I would love a longer tale about this woman and her work after this short has taken place!
Metronome – Four Stars
In this tale we meet a man who is writing a story that's about a man writing a story.
This one is wonderfully trippy! Once you see the pattern, you'll want to reread immediately!
The Silent Man: A Documentary – Four Stars
Set up as a documentary, this covers the current interview with one person and a reenactment of a time when two couples go to a cabin in the woods for a little weekend getaway. Turns out, a few of them have plans they'd like to carry out.
I'm a sucker for any tale that involves a cabin in the woods and something scary! This one was nerve wracking.
Rot Gut – Three Stars
Haunted by a terrible nightmare, this crew of three are about to learn it was actually a premonition.
This one was very suspenseful as we waited to see how this would play out!
The Blind Opera – Three Stars
A man on a quest of curiosity gets more than he originally expected!
This one read like a fever dream. What a trip!
Cycle – Three Stars
Oofh I've never wanted to scream at a character to go to therapy more than while reading this tale!
Screaming Creatures – Four Stars
Faced with a sickness that makes people act violent or bizarre, the public is forced to wait and see if they're next.
This one was terrifying. Especially seeing how many people have been handling COVID-19, I can absolutely imagine things like this tale really happening.
My Final Thoughts on Screaming Creatures
Horror fans are sure to find something in this collection that really sticks with them! This is a great read any time of the year, but it's especially fun reading it during the spooky season of October.
---
Snag a copy through your local bookstore if you are able or feel free to use my Amazon affiliate link:
Thanks for reading!