Sadie by Courtney Summers is a YA mystery that follows two story lines; one of a podcaster as he worked to unravel the story of a missing girl, and the other about life of the girl that goes missing.
I was gifted a copy of this book for my birthday from my friend Heather, but unfortunately the book fell down my TBR list. I'm so glad that I was finally able to get to it!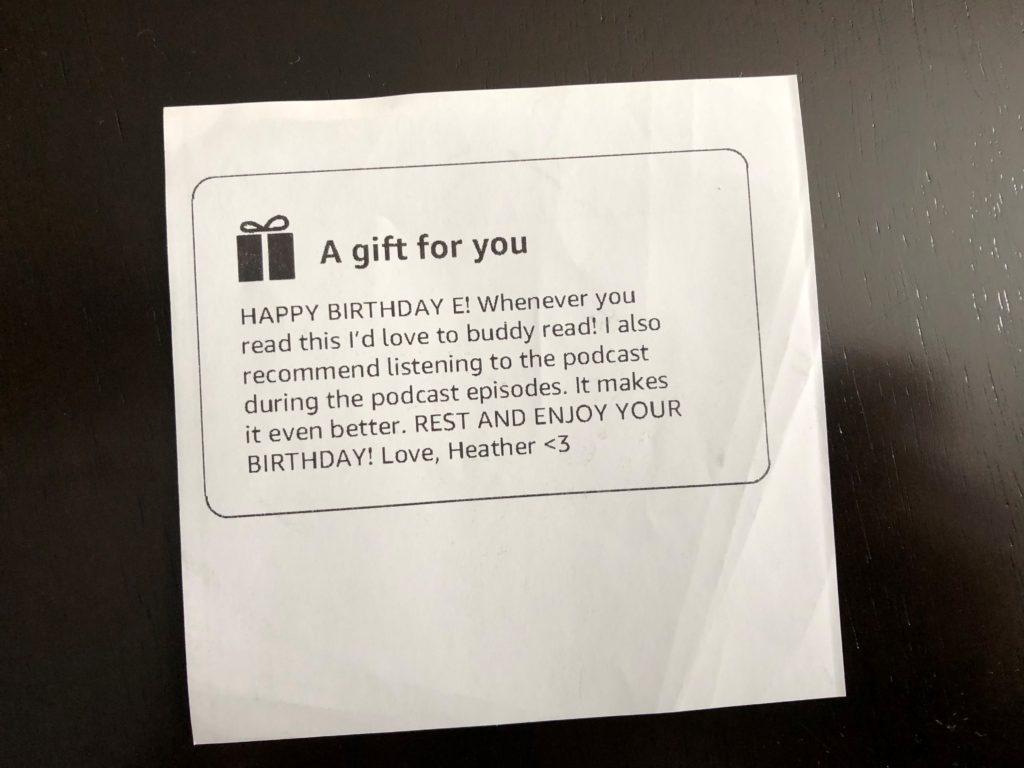 Let's dive in!
My Thoughts on Sadie by Courtney Summers
In this tale, we follow West McCray who is a a radio personality that overheard Sadie's story at a local gas station while on another assignment. He is hesitant to dive in at first as he doesn't think that there is much of a story there, but he quickly becomes obsessed with finding the missing girl.
As the story continues, we follow West as he picks up clues here and there and gets closer to figuring out what exactly was going on. Meanwhile, the podcast episodes are broken up by the story of Sadie and what she actually did. The two story lines worked so wonderfully together! This was definitely a case where I had trouble putting the book down because I just wanted to hurry up and see if the two story lines ever converged, and how everything would turn out!
Even though I knew the buzz around this book was still pretty active, I had totally forgotten what the premise was. When I started reading, I was so excited to see that some of it was set up in podcast format, like we were reading the transcription!
When Heather texted me to remind me of the podcast, I went to subscribe immediately. It was SO much fun listening along to the podcast while reading! I especially loved that the podcast only covered the chapters that were formatted like the podcast, and that you could pause to then read the section that were focused on what Sadie was doing.
The only bummer here was that the feeds stopped at episode six, which was episode five in the book. So for the remainder of the book, I didn't have the additional podcast narration so I just read through it.
Overall, I did really enjoy the story. It was difficult, it was dark, and it was written really well. It certainly reminded me of a few true crime podcasts that I had listened to, with a more fun fictional twist as we got in the mind of the character that was the main character.
In true crime, I always get so sad that we can't hear things from the victim's perspective, so this fiction take was refreshing.
I felt so bad for poor Sadie. She certainly had a rough upbringing which made her a bit cold and reserved, but she also knew exactly what she was doing and how to accomplish her task as she didn't have anything to lose after her sister was murdered. One element that really got me was the shock that Sadie kept feeling about being violent, and continuously having to tell herself that shes dangerous so she could stay brave.
My only tiny gripe was with the formatting; it wasn't super consistent. Like when West McCray was narrating, most of the time it had the [studio] disclaimer, but many times it didn't. Where the podcast was very choppy and jumped from one interview to the next, having the formatting to make things clear would help a lot.
Another small item was that not all of the new episode pages began with [The Girls Theme], only episode 1, 2, 4, 6, 7, and 8 had the theme. Strictly from a reading standpoint, comparing it to the podcast, which would very likely have the theme song at or near the beginning of each episode, that would have been nice as well.
My nitpickyness is showing! Moving on!
Check out what's hidden under the dust jacket:
Too cool! I love when stuff like this is included.
My Favorite Passages from Sadie
And it begins, as so many stories do, with a dead girl.
It's the kind of motel that makes you feel every one of your secrets.
You can't really recover from the moment you make someone else feel like a freak. You just have to hope the person you made feel that way extends a level of grace toward you that you probably don't deserve.
My Final Thoughts on Sadie
I definitely enjoyed reading Sadie. The podcast was super fun as well. I loved being able to read and listen to the content. However, I think this may be a book that I can only read once, but we'll see! It will definitely be holding it's place on my shelves for some time.
I would recommend this to other fans of YA Suspense with troubling family dynamics. Just a warning about the difficult content around child sexual abuse. Nothing was ever fully explained in detail or anything, but it made it very clear what was going on.
---
Snag a copy through Bookshop to help support local indie bookshops:
Thanks for reading!
Stay tuned for another edition of H & E Bookish Chat where Heather (of Heather's Reading Hideaway) and I discuss this book.