On Wednesday, March 8th, I had the opportunity to join a Facebook live event for the book launch for the amazing Michael Clark! Michael's latest book is titled Hell On High.
During this session, we got to discuss the making of the book, the real-world horror of crossing the Darien Gap, our favorite parts of the novel, and so much more!
Let's dive in!
My Thoughts on the Live Book Launch of Michael Clark's Hell On High
This was such a fun event! I had never been part of a Facebook live event before, and what an extra honor for my first one to be with Michael!
On the live chat, we had:
Aimee Ravichandran – lead promoter of this event!
Renata Souza Reveley – Michael's cousin-in-law and namesake for one of the characters of the book!
MJ Pankey – editor of Hell on High
Janet Velky – Michael's support for some of the book's elements
Mickey of Creative Edge Publishing
Heather and Steve of Brigids Gate Press
And of course, the author himself, Michael Clark!
I was beyond thrilled to be joining as a little book blogger! I got to rave about how I met Michael and how he added my quote to the back of one of his books. I also got to chime in to note my favorite passage from the book as well as why I love adventure horror while I'm NOT adventurous in my personal life.
During the event, we also brought up one of the biggest trigger warnings in the book; rape. I didn't chime in here, but I will repeat something I said in my review; Michael handled this with amazing care. You can definitely tell how sensitive he was in developing this chapter for readers. He didn't shy away from the darkness to sugarcoat anything as this was truly an important aspect of the journey of the main character, but he also didn't go too into detail.
One bummer that we had to discuss was the pirating issue. Some jerk uploaded a copy of the book to Amazon, which resulted in the actual book listing being taken down. If you got an email that your preorder was canceled, please stay tuned to Brigids Gate Press or Michael's social media channels for an updated link once Amazon stops throwing a wrench in the works…
But all in all, this was such a blast! I had so much fun participating and I hope everyone watching also had a great time! Michael Clark is definitely an author to celebrate. He's so kind, so talented, and as you probably know, he sends out amazing merch!
Running just over an hour, I definitely recommend checking out the recording to help celebrate the launch!
Watch the recording of the event below!
---
How I first connected with Michael Clark –
As a bit of an aside, I wanted to give you all a little backstory on how I met Michael! I briefly noted this on the show, but it's definitely worth repeating and expanding a bit.
I first met Michael when he had two books out. I had started seeing a ton of bookish friends posting their reviews, and photos of the book and merch that Michael had sent out. Of course, I'll admit I was jealous! One day, I got a tweet from Michael asking if I'd be interested and I jumped on the offer immediately.
A few weeks later, I logged into my review request system and had the awful realization that I had never turned the form off when I thought that I had. I had 486 review requests sitting in there (which I am still working on reading the books that I took on today!). Michael had been one of them… So my jealousy could have been totally avoided if I hadn't made that oopsie!
I cruised through The Patience of a Dead Man and immediately jumped right into Dead Woman Scorned. Getting my reviews up, and raving to Michael about how obsessed I was with these stories, he had just finished book three and asked if I'd like an early read. You bet I wanted that! Soon enough, my review of Anger is an Acid went up!
And much to my surprise, Michael included my quote on the back of the published version of Anger is an Acid! Just like that, I peaked in my reading and reviewing life! I still can't believe it! What an honor.
I also had the pleasure of finally meeting Michael in person at the Merrimack Valley Book Festival in 2022! As you can probably tell from my face in the photo below, I was completely star-struck by Michael and the amazing Glenn Rolfe!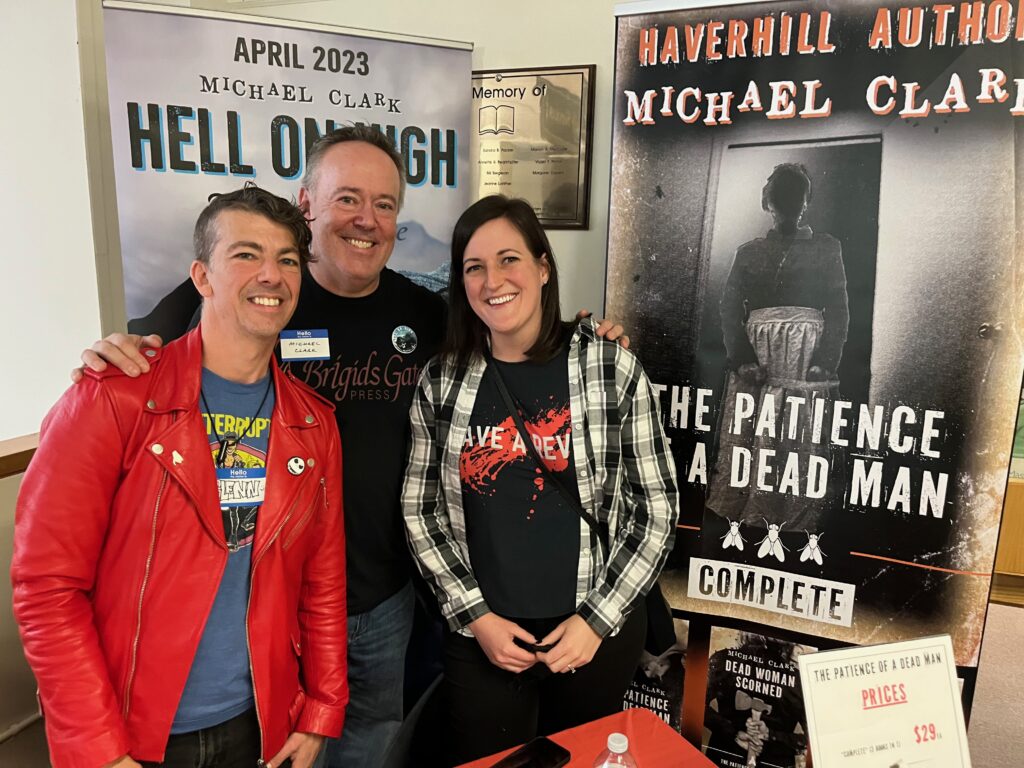 Michael is such an awesome human being. I am so here for any new books he writes.
Just as soon as he announces his next project, you know I'll be counting down the days until I can give it a read!
Thanks for reading!
And don't forget to keep an eye out for the updated order links so you can snag your copy!