Phew, what a month! I had a bit of a health scare, but things are finally turning around. We're still not totally sure what was going on… but it felt like I was about to have an asthma attack constantly. At the worst, I was getting winded after taking only a few steps. I had lots of blood work done and even had a chest x-ray, before winding up on a pill regiment. The pills were incredibly rough; they made me so sick so I was so happy to finish them!
So through all of that, I didn't get to all of my spooky reads, but I still did quite a bit of reading!

My Reading Breakdown for October:
5 Stars- 4
4 Stars- 6
3 Stars- 3
2 Stars- 1
1 Star- 0
DNF- 0
Monthly Musings:
Watching:

Kubo and the Two Strings

This movie is ADORABLE. The colors are stunning and the facial expressions are perfect. I can't believe I hadn't heard of this movie before! Shout-out to Amber for watching it with me!

Dragon Ball Z

We've finally hit season 7 and I am LOVING it! Goten is my favorite!

La La Land

Nope. Not for me. We only made it to the scene at the observatory before calling it.

The Nightmare Before Christmas

One of my Halloween must-watch movies, of course!

Coraline

Another of my Halloween must-watch movies

It (1990)

I can't believe I hadn't seen this before! I really enjoyed it, but it's not one that I need to have for my DVD shelf.

It (2017)

I was SO excited for this one, but unfortunately, it just wasn't for me. I didn't jump at the jump scares. I didn't laugh at most of the jokes. Truthfully, I only really liked two scenes; the opening scene where Georgie is killed, and the flooded basement scene with the two boys. I thought that Jackson Robert Scott was PERFECT as Georgie. He was definitely my favorite character and I cannot wait to see where his career brings him.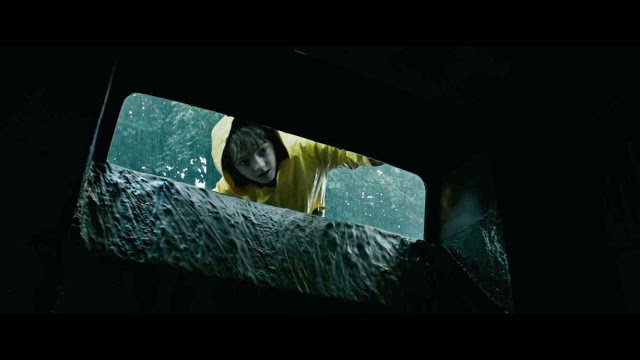 Playing: Nothing this month.
Drinking:

Honest Tea! I'm still so hooked on these teas!

Listening to:

My Favorite Murder (Podcast)- I'm finally all caught up on this one! 🙂
Recommended (Podcast)- A new podcast from Book Riot. I'm enjoying it so far, but it's not my favorite bookish podcast…
Nerdist (Podcast)- This is a podcast that I listen to on and off, depending on the guest. This month, Whitney Cummings was on the show, and it is a must-listen for all! Check it out here.
Top 5 Of Death (Podcast)- This is one I listen to every week! This month they had some great Halloween related content, and I highly recommend checking it out; Guilty Pleasure Horror Movies, Worst Halloween Candy, Jack-O-Lantern Ideas, Halloween Costume Ideas for 2017, and Horror Icon Draft.

In the bookish community:

Greg & Esther participated in the Blogger Recognition Award that nominated them for 🙂 Click their names to check out their posts.
I won an awesome giveaway from Jessica at A Great Read!

Looking forward to:

My third book club meet-up where we will be discussing a book that has been on my TBR for quite a while, Homegoing by Yaa Gyasi.
In Case You Missed It:
Thanks for reading!
How was your month? Have any special plans for November? I'd love to hear about it in the comments section below!
SaveSave