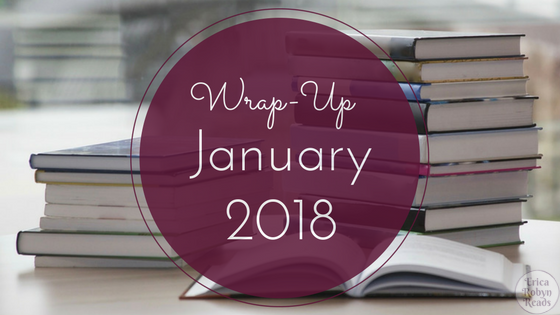 Phew. I'm not usually one to wish away time, but I am very happy to see January 2018 making its way into the past. This month was equally horrible and fantastic… but I won't bog down this post with the negative details.
The good news is that I got a new job! It's with an incredible company with an awesome office space. I'm still pinching myself to make sure I'm not dreaming!
Let's dive in to my monthly wrap-up!

My Reading Breakdown for January:
5 Stars- 6
4 Stars- 6
3 Stars- 3
2 Stars- 0
1 Star- 1
DNF- 2
Monthly Musings:
Watching:

Fuller House (Netflix TV Series, Season 3)

I enjoyed this season a lot more than the first! Of course there are still some lame bits, but overall this one seemed much more relaxed. However, I'm SO over the love triangle. That took away a lot from my overall enjoyment of the series. 3/5

Cheapest Weddings (TV Series, Season 1)

When I started watching this show, I was really hoping to pick up some tips and ticks for our wedding planning. Unfortunately, I didn't. Though it was still pretty fun to watch. I really enjoyed a few of the couples, but the majority were a bit rough to watch… 2/5

The Wall (2016 Movie)

I LOVED this movie! The action was awesome, the storyline was interesting, the humor was perfectly timed, and I loved the characters. I also really enjoyed that the different types of soldiers had a different color. I would definitely watch this one again! 5/5

Atypical (2017 TV Series)

I love Keir Gilchrist's acting! When I first saw this show advertised, I couldn't wait to watch it. I binge watched this one and cannot wait for season 2! 5/5

Kiss Kiss Bang Bang (2005 Movie)

This one wasn't for me. The setup of the movie was interesting; the main character narrated the whole thing and broke the fourth wall to talk to viewers from time to time. Robert Downey Jr. did a great job! His character was so funny. However, the plot of the movie just wasn't for me. I wasn't draw in or even that interested. 2/5

The Next Three Days (2010 Movie)

I really enjoyed this one! The whole plot of the movie was about a woman that went to jail for a crime she didn't commit, so I found it terrifying! The suspense had me feeling super anxious! The drama and sadness were very well done! 4/5
Playing:

I am SO addicted to this game. All you do is swipe right or left to follow a storyline as you try to properly rule a kingdom. You can die very easily if you're not paying attention, but it's so fun to see how long you can reign before dying or being killed! Only once so far have I made it to dying from old age.
Drinking:

Lots of sparkling water! My new office has an awesome machine where you can customize the flavor levels and choose sparking or plain. It's amazing!
Listening to:

I've been really hooked on Korn recently, specifically the Greatest Hits Vol. 1 album.
Sirius XM Radio- Alex won a free year and decided to put it in my car, since I was the one traveling the most. My goodness, I'm going to be SO sad when the year is up! I have so many favorite channels that can't be duplicated on regular FM radio…
In the bookish community:
Looking forward to:
Alex and my dating anniversary! Every year we go back to the restaurant where we met for dinner.
The Walking Dead returns February 25!
In Case You Missed It


Thanks for reading!
How was your month? Have any special plans for February? I'd love to hear about them in the comments section below!
SaveSave
SaveSaveSaveSaveSaveSave