Brookline Booksmith is a lovely bookshop that has been family-owned and locally run since 1961. With loads of things packed into this shop, whether you're looking for a treat for yourself or a gift for someone, this is a must visit.
I was recommended this shop via an amazing local author, and I am SO happy I got the chance to visit!
Let's dive in!
Visiting Brookline Booksmith
When opening the door to step inside, I was immediately impressed. The signage looked lovely and easily helps visitors navigate to the section they are looking for if they're in a hurry! Peep the blue baskets right up front to help shoppers carry around their treasures.
I took some time to wander the first few display tables before looking at the aisles of books. I made a quick pitstop to look at the Mystery & True Crime section.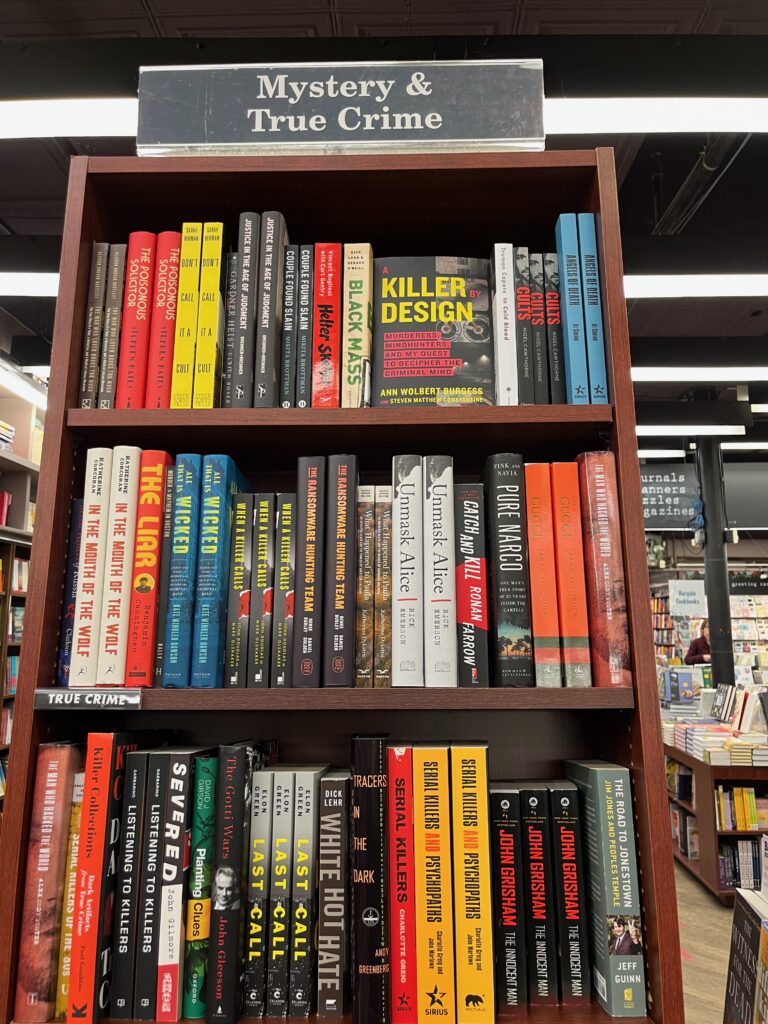 Then I reviewed a small display of staff recommendations. Lorelie recommended a true crime book (Unmasked – My Life Solving America's Cold Cases by Paul Holes) that I own but haven't gotten around to reading yet. I need to change that soon!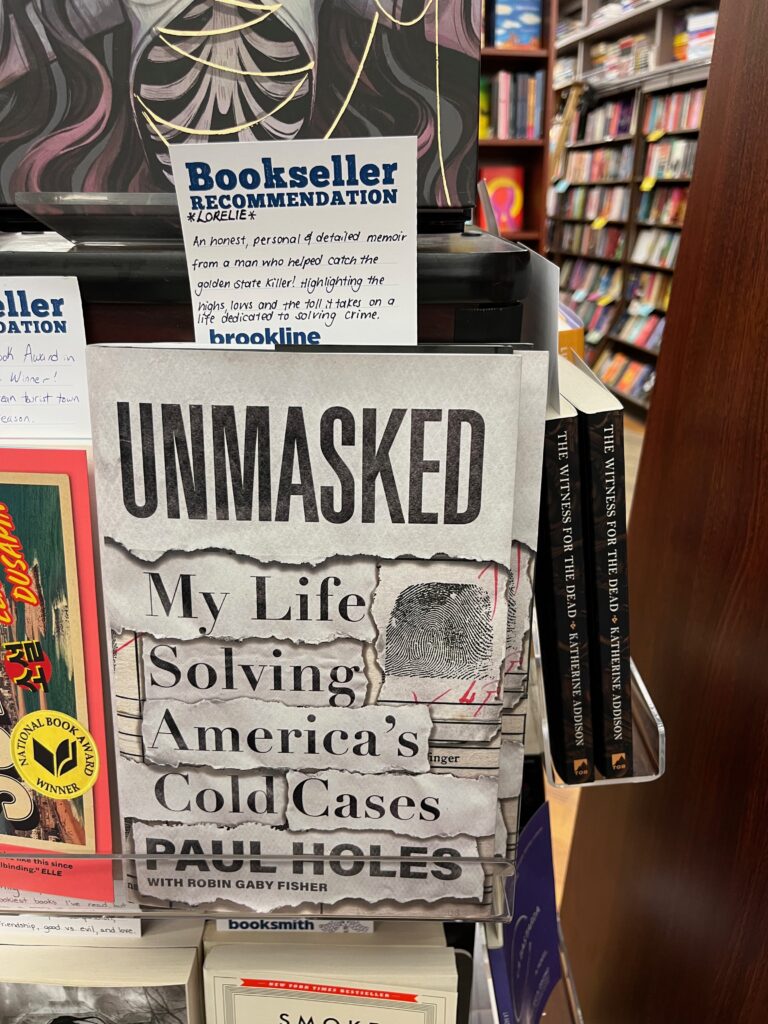 Turning the corner, I then saw the purpose of my visit; the Horror section! Just look at that top shelf! I spent a good amount of time here, reading each and every title on the shelf and snagging a book to bring home with me.
There were SO many amazing authors on this bookcase! I was especially happy to see T. Kingfisher, Agustina Bazterrica, Adam Cesare, Clay McLeod Chapman, Grady Hendrix, Joe Hill, Josh Malerman, Catriona Ward, Kiersten White, and Erika T. Wurth!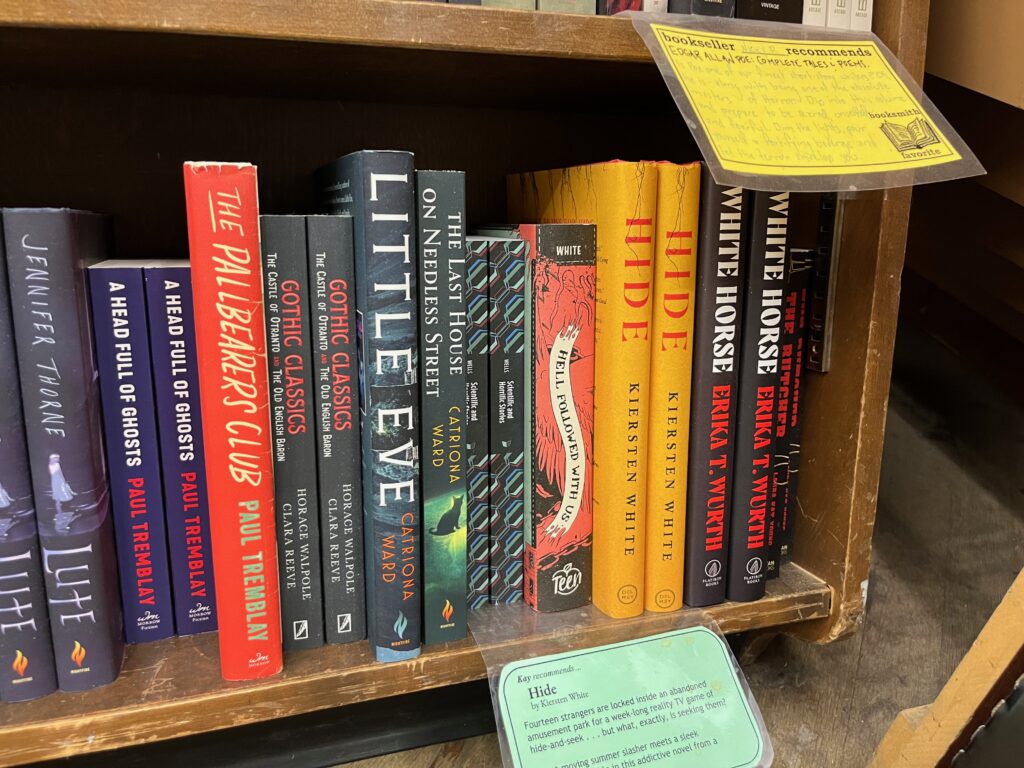 There were numerous categories of shelves in this shop, and each had a wonderful selection of titles available. One really neat thing I noticed was that the adult book section was just as significant as the young adult, middle grade, early readers, and children's books section! It was lovely to see a good balance so people of all ages can browse!
There was also an amazing graphic novel section! This is one of the largest sections I've seen in an indie bookshop! I didn't make it far in looking over this section without snagging a book.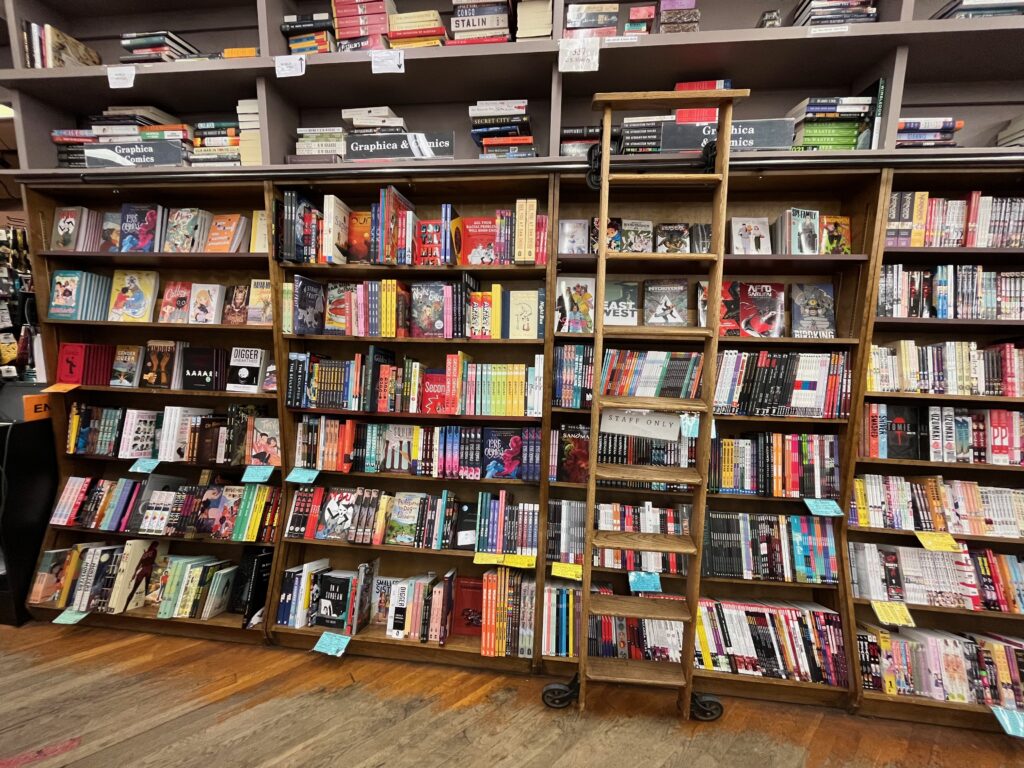 In the lower level, there was a great room filled with used books for shoppers that want to get even more out of their budgets!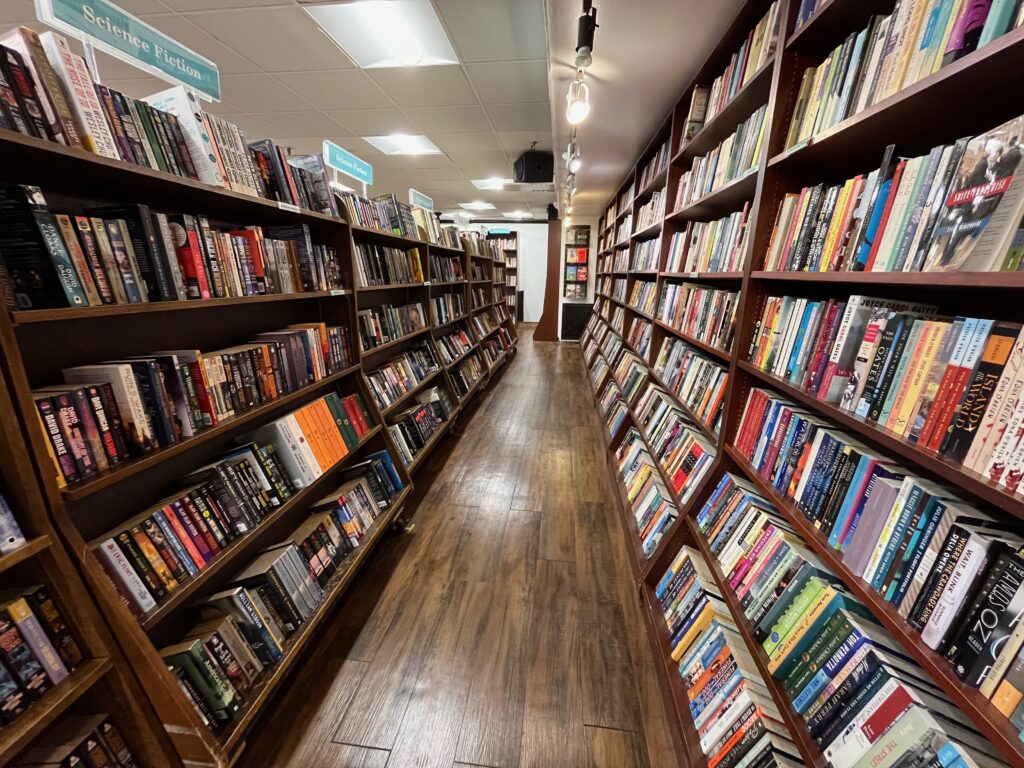 There was even a shelf dedicated to One Dollar Books!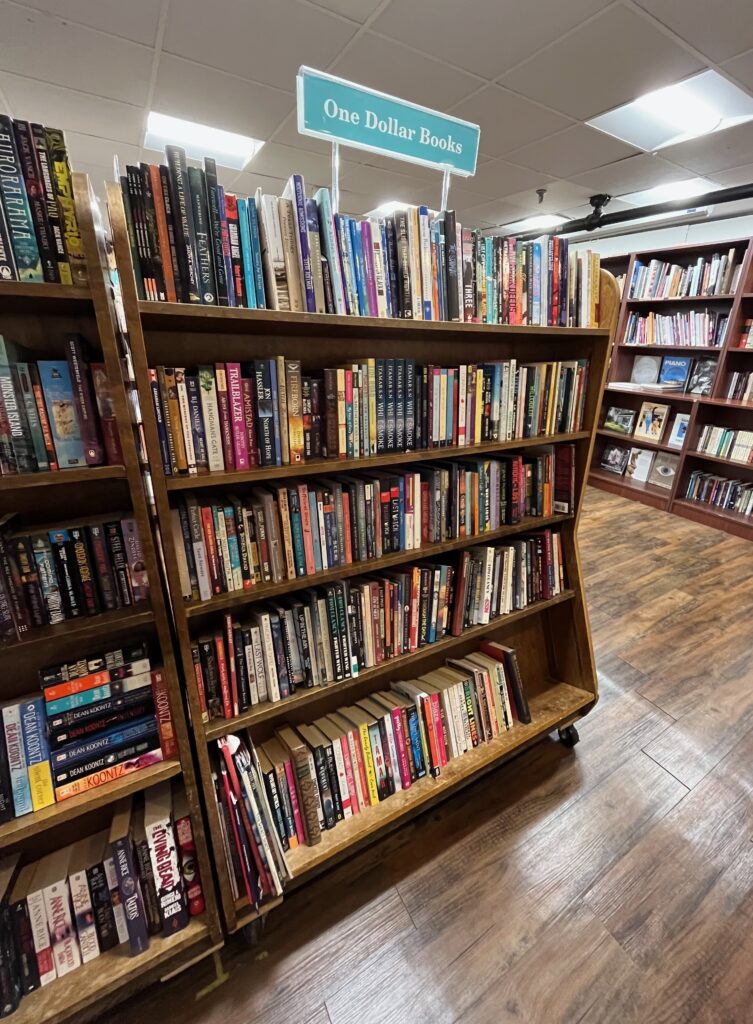 This Mystery… More Mystery… Even More Mystery section of used books made me laugh!
Back up on the upper level, with my two books in hand, I then ventured into the gifts section that continued to house books from various categories like cooking.
My GOODNESS was there an amazing variety of items here! From jewelry to cozy socks, tea and tea cups, candy, popcorn, dandles, tarot cards, and SO much more. This is seriously a great spot for all your gift shopping needs. If I lived closer, this would be my one stop shop each year.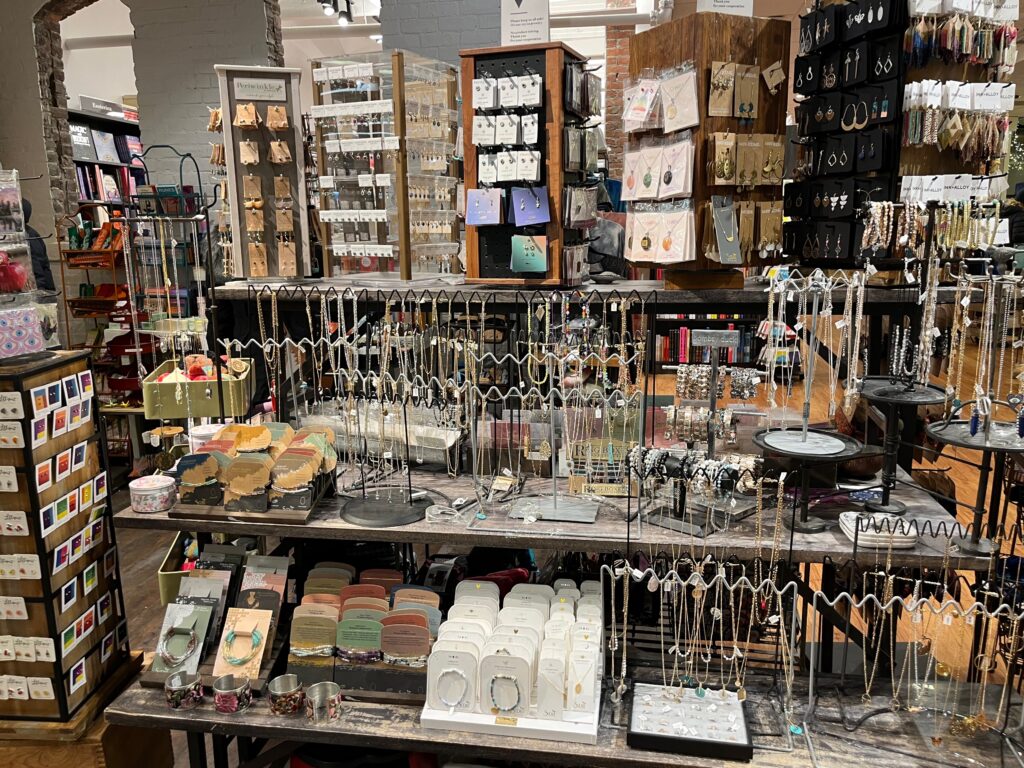 Of course, I couldn't leave this area without a t-shirt and another treat for myself!
I ended up purchasing:
Through The Woods by Emily Carroll
Shutter Island by Dennis Lehane
A Brookline Booksmith t-shirt
A Cancer constellation necklace
---
Thanks for reading!
Brookline Booksmith has been serving the community for over 60 years! Make sure to pop by for a visit when you're in town. Just be prepared for your wallet to be lighter when you leave!
To learn more about Brookline Booksmith, feel free to click the links below:
---
Related Reading: