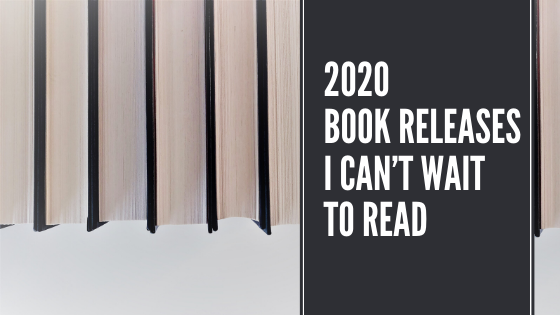 2020 is going to be another awesome year for book releases! There are so many that I am just itching to get a hold of.
Please note: This post includes Amazon Affiliate links with each "Pre-order" note. I would greatly appreciate you using my affiliate link as that allows me to make a few cents from the transaction. However, if you are able, please buy the books from your local bookshop. <3
Let's dive in!
2020 Book Releases
Snowball by Gregory Bastianelli
Expected publication date: January 16th, 2020
Genre: Horror
Synopsis: A group of motorists become stranded on a lonely stretch of highway during a Christmas Eve blizzard and fight for survival against an unnatural force in the storm. The gathered survivors realize a tenuous connection among them means it may not be a coincidence that they all ended up on this highway. An attempt to seek help leads a few of the travelers to a house in the woods where a twisted toymaker with a mystical snow globe is hell bent on playing deadly games with a group of people just trying to get home for the holidays.
Pre-order your copy on Amazon here!
---
The Other People by C.J. Tudor
Expected publication date: January 28th, 2020
Genre: Thriller
Synopsis: She sleeps, a pale girl in a white room . . .
Three years ago, Gabe saw his daughter taken. In the back of a rusty old car, covered in bumper stickers. He was driving behind the car. He watched her disappear. But no one believes him. Most people believe that his daughter, and wife, are dead. For a while, people believed that Gabe was responsible.
Three years later and Gabe cannot give up hope. Even though he has given up everything else. His home, his job, his old life. He spends his days and nights travelling up and down the motorway, sleeping in his camper van in service stations, searching for the car that took her. Searching for his daughter.
Katie spends a lot of her life in service stations, working as a waitress. She often sees Gabriel, or 'the thin man' as she has nicknamed him. She knows his story. She feels for him, because Katie understands what it's like to lose a loved one. Nine years ago, her father was murdered. It broke her family apart. She hasn't seen her oldest sister since the day of the funeral; the day she did something terrible.
Fran and her daughter, Alice, put in a lot of miles on the motorway. Not searching. But running. Trying to keep one step ahead of the people that want to hurt them. Because Fran knows the truth. She knows what really happened to Gabe's daughter. She knows who is responsible. And she knows that if they ever find them, they're dead.
Note: I just LOVE CJ Tudor's work! I've already heard great things about this one. I will definitely be snagging a copy as soon as possible.
Pre-order your copy on Amazon here!
---
The Last of the Mountain Men
Expected publication date: February 7th, 2020
Genre: Fiction
Synopsis: There have always been Mountain Men. Their names are legendary. Their motives unknown. Until now.
Over four centuries, one by one, they changed the course of human history. Occasionally, some of them were even quite good at it. Like most things in life, successful revolutions take a bit of practise.
Only they knew their identity and purpose, but someone has discovered their secrets. Now the actions of the Mountain Men are being re-enacted in the twenty-first century and there's twelve billion dollars up for grabs for anyone willing to help.
Dr Ally Oldfield isn't bothered by the money. She's much more interested in why she's being framed for most of it, and why it involves her own murky past?
History is creating chaos, but the only history Ally can't figure out, is her own.
Pre-order your copy on Amazon here!
---
The Sun Down Motel by Simone St. James
Expected publication date: February 18th, 2020
Genre: Mystery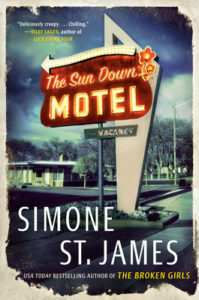 Synopsis: The secrets lurking in a rundown roadside motel ensnare a young woman, just as they did her aunt thirty-five years before, in this new atmospheric suspense novel from the national bestselling and award-winning author of The Broken Girls.
Upstate NY, 1982. Every small town like Fell, New York, has a place like the Sun Down Motel. Some customers are from out of town, passing through on their way to someplace better. Some are locals, trying to hide their secrets. Viv Delaney works as the night clerk to pay for her move to New York City. But something isn't right at the Sun Down, and before long she's determined to uncover all of the secrets hidden…
Note: I really enjoyed this author's previous book, The Broken Girls, so I cannot wait to dive into this one!!
Pre-order your copy on Amazon here!
---
Laughing At Shadows edited by Brett Reistroffer
Expected publication date: March 2nd, 2020
Genre: Horror/Humor
Synopsis: Who says you can't laugh at horror? We've all heard of being scared silly, so obviously there's room between slashings, hauntings, and summonings for a good knee-slapper. And that is exactly were this book of dark-minded but lighthearted short fiction comes in.
If you've ever giggled at guts, chuckled at cannibals, or laughed at severed limbs, then this collection of humorously macabre stories might be right up your dark little alley. With twelve tales from some seriously sick and silly writers, it's guaranteed to tickle your funny bone…if not rip it right out of you.
Authors featured in this anthology include: Skyler Goff, Andrew Johnston, Alyssa Eckles, Santiago Eximeno, Eric J. Guignard, Jeff Strand, George Nikolopoulos, C L Raven, Sean Logan, William West, Brandon Butler, and W. T. Paterson.
Note: I was very lucky and received an ARC of this one. Click here to read my full review!
Pre-order your copy on Amazon here!
---
Boy in the Box by Marc E Fitch
Expected publication date: April 23rd, 2020
Genre: Horror
Synopsis: "This is what true horror is meant to be, quiet and thoughtful, an eerie sense of something lurking just ahead in your path with no way of escape; BOY IN THE BOX by Marc E. Fitch is the haunting guilt that reminds us mistakes from the past can return at any time, and in the worst of ways." — Eric J. Guignard, award-winning author and editor, including That Which Grows Wild and A World of Horror.
Ten years ago a mysterious and tragic hunting accident deep in the Adirondack Mountains left a boy buried in a storied piece of land known as Coombs' Gulch and four friends with a terrible secret. Now, Jonathan Hollis and brothers Michael and Conner Braddick must return to the place that changed their lives forever in order to keep their secret buried. What they don't realize is that they are walking into a trap — one set decades earlier by a supernatural being who is not confined by time or place: a demon that demands a sacrifice.
Pre-order your copy on Amazon here!
---
Fractured Tide by Leslie Lutz
Expected publication date: May 5th, 2020
Genre: Horror
Synopsis: Sia practically grew up in the water scuba diving, and wreck dives are run of the mill. Take the tourists out. Explore the reef. Uncover the secrets locked in the sunken craft. But this time … the dive goes terribly wrong.
Attacked by a mysterious creature, Sia's boat is sunk, her customers are killed, and she washes up on a deserted island with no sign of rescue in sight. Waiting in the water is a seemingly unstoppable monster that is still hungry. In the jungle just off the beach are dangers best left untested. When Sia reunites with a handful of survivors, she sees it as the first sign of light.
Sia is wrong.
Between the gulf of deadly seawater in front of her and suffocating depth of the jungle behind her, even the island isn't what it seems.
Haunted by her own mistakes and an inescapable dread, Sia's best hope for finding answers may rest in the center of the island, at the bottom of a flooded sinkhole that only she has the skills to navigate. But even if the creature lurking in the depths doesn't swallow her and the other survivors, the secrets of their fractured reality on the island might.
Pre-order your copy on Amazon here!
---
Malorie (Bird Box, #2) by Josh Malerman
Expected publication date: May 19th, 2020
Genre: Horror
Synopsis: In the thrilling sequel to Bird Box, the inspiration for the record-breaking Netflix film that starred Sandra Bullock and "absolutely riveted" Stephen King, New York Times bestselling author Josh Malerman brings unseen horrors to life.
The film adaptation of Malerman's first novel, Bird Box, was watched by over forty-five million Netflix accounts in the first week, the best first seven days ever for a film on the platform. Countless more came to know the story through social media. The image of Sandra Bullock's character, Malorie, blindfolded—as she's led through a terrifying near-future apocalypse by the trained ears of her children—has become synonymous with a new generation of horror.
Now from the mind of a true master of suspense comes the next chapter in the riveting tale. This time, Malorie is front and center, and she will confront the dangers of her world head-on.
Pre-order your copy on Amazon here!
---
Mexican Gothic by Silvia Moreno-Garcia
Expected publication date: June 30th, 2020
Genre: Gothic Horror
Synopsis: After receiving a frantic letter from her newly-wed cousin begging for someone to save her from a mysterious doom, Noemí Taboada heads to High Place, a distant house in the Mexican countryside. She's not sure what she will find — her cousin's husband, a handsome Englishman, is a stranger, and Noemí knows little about the region.
Noemí is also an unlikely rescuer: She's a glamorous debutante, and her chic gowns and perfect red lipstick are more suited for cocktail parties than amateur sleuthing. But she's also tough, smart, and has an indomitable will, and she is not afraid: Not of her cousin's new husband, who is both menacing and alluring; not of his father, the ancient patriarch who seems to be fascinated by Noemí; and not even of the house itself, which begins to invade Noemi's dreams with visions of blood and doom.
Her only ally in this inhospitable abode is the family's youngest son. Shy and gentle, he seems to want to help Noemí, but might also be hiding dark knowledge of his family's past. For there are many secrets behind the walls of High Place. The family's once colossal wealth and faded mining empire kept them from prying eyes, but as Noemí digs deeper she unearths stories of violence and madness.
And Noemí, mesmerized by the terrifying yet seductive world of High Place, may soon find it impossible to ever leave this enigmatic house behind.
Pre-order your copy on Amazon here!
---
Home Before Dark: A Novel by Riley Sager
Expected publication date: July 7th, 2020
Genre: Thriller
Synopsis: In the latest thriller from New York Times bestseller Riley Sager, a woman returns to the house made famous by her father's bestselling horror memoir. Is the place really haunted by evil forces, as her father claimed? Or are there more earthbound—and dangerous—secrets hidden within its walls?
What was it like? Living in that house.
Maggie Holt is used to such questions. Twenty-five years ago, she and her parents, Ewan and Jess, moved into Baneberry Hall, a rambling Victorian estate in the Vermont woods. They spent three weeks there before fleeing in the dead of night, an ordeal Ewan later recounted in a nonfiction book called House of Horrors. His tale of ghostly happenings and encounters with malevolent spirits became a worldwide phenomenon, rivaling The Amityville Horror in popularity—and skepticism.
Today, Maggie is a restorer of old homes and too young to remember any of the events mentioned in her father's book. But she also doesn't believe a word of it. Ghosts, after all, don't exist. When Maggie inherits Baneberry Hall after her father's death, she returns to renovate the place to prepare it for sale. But her homecoming is anything but warm. People from the past, chronicled in House of Horrors, lurk in the shadows. And locals aren't thrilled that their small town has been made infamous thanks to Maggie's father. Even more unnerving is Baneberry Hall itself—a place filled with relics from another era that hint at a history of dark deeds. As Maggie experiences strange occurrences straight out of her father's book, she starts to believe that what he wrote was more fact than fiction.
Note: This one comes out ON MY BIRTHDAY! You bet I'm treating myself to this one! I cannot wait!
Pre-order your copy on Amazon here!
---
Thanks for reading!
What books are you looking forward to in 2020?