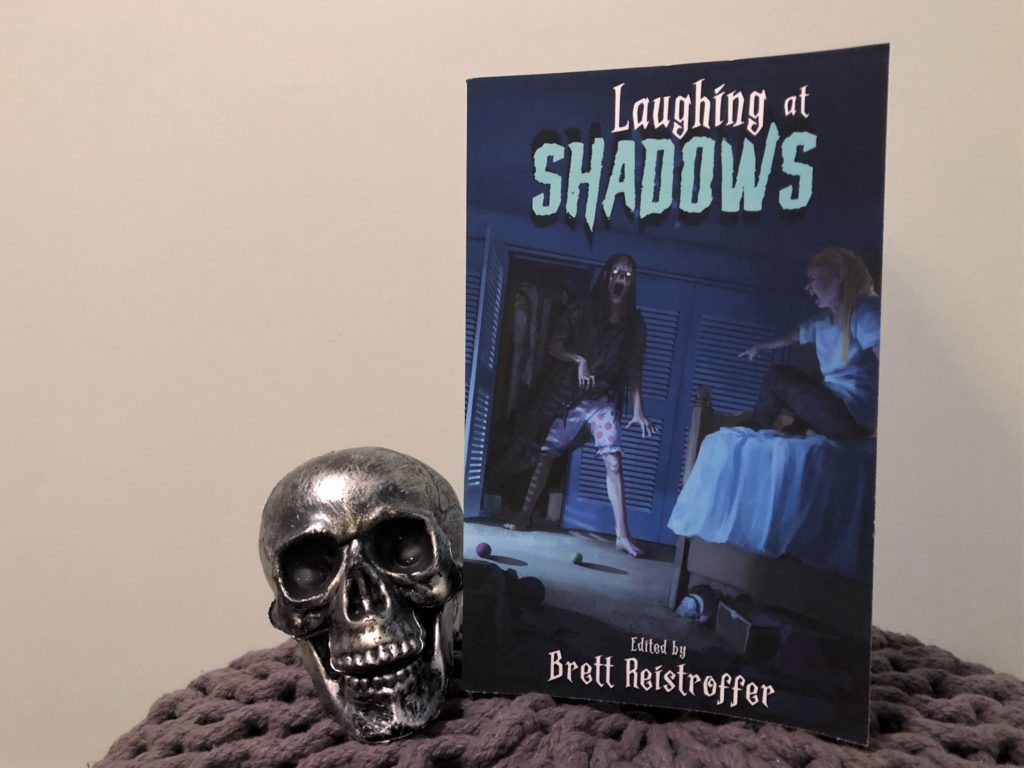 Laughing at Shadows edited by Brett Reistroffer is such a great collection of tales that mix horror and dark humor perfectly. From the silly to the downright horrific, this book has quite the range!
This book comes out on March 2nd, 2020. It's one you will definitely want to keep an eye out for!
Full disclosure: I was given a free copy of this book by the editor in exchange for an honest review. This did not affect my rating in any way.
Let's dive in!
My Thoughts on Laughing at Shadows edited by Brett Reistroffer
First things first… I just have to point out how great this dedication is:
If you've been following me for a bit, you probably already know that things that mix horror and humor together are my absolutely favorite! So of course this collection was right up my alley!
This book is such a fun read. Each tale was wonderfully written and each certainly had me chuckling one minute… and then the next I would be reading as fast as I could to see what would happen.
Out of the twelve tales, only one of them wasn't for me. Here are my quick reviews about each:
Introduction by Brett Reistroffer
A perfect introduction! This passage really set the book off on the right foot:
"So read on and enjoy stories of vengeful vegans, psychotic seahorses, and homicidal pistachios; just have some fun while doing it and remember that a good scare can be just as ridiculous as a good joke. After all, you can't spell slaughter without laughter."
Murder Sandwich by Skyler Goff – 4 Stars
If you were kidnapped and being held for ransom… What would your first words to your kidnapper be? "Where am I?" "Who are you?" "What do you want?" "Why are you doing this?" Well, the first thing that this character demands… is for a ham sandwich to be taken out of the room.
Oh my. What a miserable person! I couldn't help but laugh at the intensity of her anger… and I will definitely chuckle whenever I see a ham sandwich from here on out! And phew, this tale took a bloody turn!
Overdue Notice by Andrew Johnston – 5 Stars
Oh my gosh, yes! This was perfect! I love that this story was set up in email format. The Paradise Gardens Public Library doesn't mess around! If you have a late library book, this will make you want to run to return it immediately!
Bad Dates and Dragons by Alyssa Eckles – 5 Stars
Oh god, I do not miss dating. I was so nervous for this woman… Friends, don't go home with creepy people you've just met!
I loved this story though! Especially how the woman got to throw things back in the dudes face, like all things she said earlier in the date when he wasn't listening to her. Wonderfully done!
The Haunting of Peruvius Corcorat by George Nikolopoulos – 4 Stars
What an odd tale! And what fun! I loved the scene where Peru goes "ghost shopping."
It Came from Mail Order by Eric J. Guignard 5 Stars
I was so excited when I saw this authors name! I had recently read his novel, Doorways to the Deadeye and really enjoyed it!
And this, tale… What an idea!! This one made me chuckle, but it was also quite spooky! The thought of the sea monkeys that you can "grow" at home always creeped me out to begin with… I did not see what happened next coming!
Captain Pistachio's Charming Rampage by Jeff Strand – 4 Stars
Such an odd tale! This one had me cracking up until the moment it turned dark! What a switch!
Your Diabolical Baby by Santiago Eximeno
This one was not for me.
The Night Stockers by Sean Logan -3 Stars
Ah, the night inventory/cleanup shift… I so don't miss that from my retail days. But this was an interesting one. I love the idea behind the infection. How spooky!?
Dying Art by C L Raven – 4 Stars
So unsettling! This tale will certainly make you think twice about buying things that are made from "authentic" products… The last paragraph, oh my goodness.
Tea Time by William West – 5 Stars
I loved this one! Anything about the magic of tea time is always a hit for me. I loved how clever this woman was!
All Aboard! by Brandon Butler – 3 Stars
Phew! What a premise. This one was action packed and quite gory.
Vlad's Incorruptible Soul by W. T. Paterson – 3 Stars
Ending this collection with blood!
My Final Thoughts on Laughing at Shadows
I had so much fun reading this. I'm so grateful that Brett sent me a copy! As soon as I finish typing this review up, the book will be headed straight to my new horror shelf!
If you're a fan of humorous horror, you gotta snag this when it comes out! You won't be disappointed.
---
Snag a copy using my Amazon Affiliate link or inquire at your local indie:
Thanks for reading!
To learn more about Bad Entertainment Publishing, visit them online: