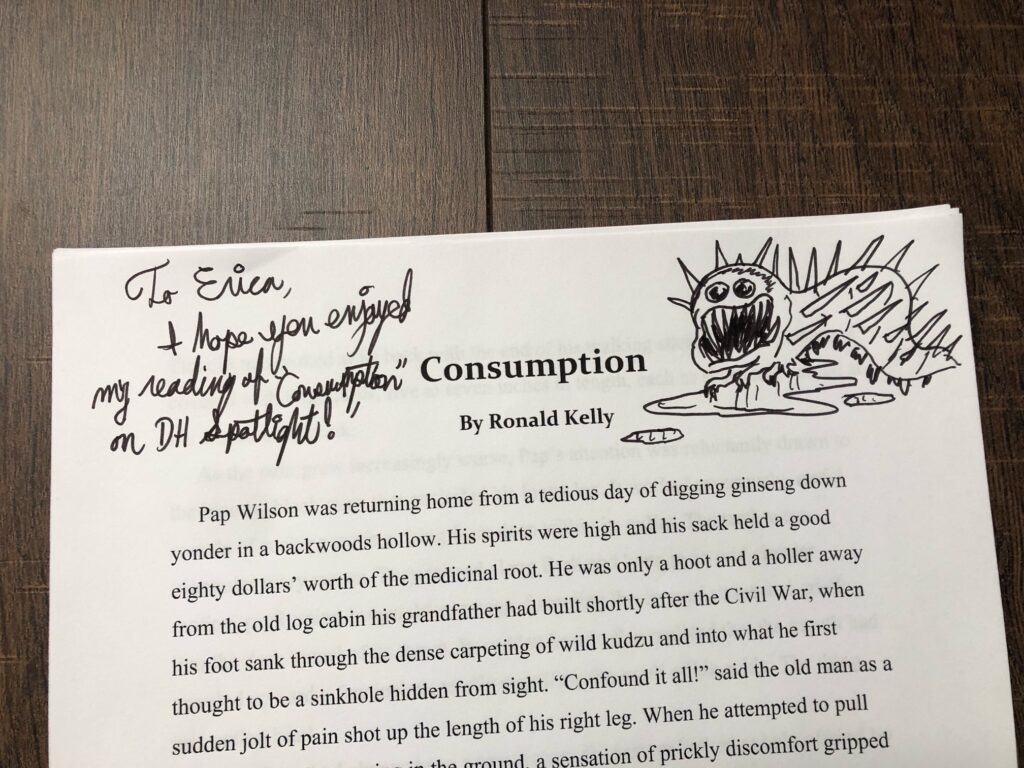 Consumption by Ronald Kelly is a short story about a family that is attacked by a creature that has an unsatisfiable hunger for human flesh…
Let's dive in!
My Thoughts on Consumption by Ronald Kelly
When Pap is out working his land, his leg falls into a sinkhole. Before getting his foot back out, something latches on… But this thing isn't like a tick or a leech, or something you can get off with a bit of work. It's latched on for good.
And unfortunately, this thing has its eyes on more than just Pap…
Consumption is a tale from Ronald Kelly's collection, The Essential Sick Stuff. If you haven't picked up that book yet, make sure to get that on your list!
I had won a copy of this short story via a giveaway from The Dead Headspace Podcast. I was so pumped to dive in as soon as possible, and I'm so glad that I did on a fine Fall Sunday morning.
Consumption is one of those stories that starts out with terror in the first paragraph and doesn't let up until the final line.
Be careful while reading this one, you may forget to breathe!
My Favorite Passages from Consumption
Tiny black eyes glared up at him, burning with an emotion that could only be described as intense hunger.
A nightmare so horrendous that it crumbles the very foundation of daylit reality, then pursues the tortured mind relentlessly into the realm of troubled sleep afterwards.
My Final Thoughts on Consumption
This short story is so unsettling. The last line will leave you sitting there with your jaw dropped.
Go pick up a copy of The Essential Sick Stuff today!
If you'd like to listen to this tale, learn more about Ronald and what inspired this story, check out the spotlight featuring Ronald himself on Dead Headspace:
---
Snag a copy through Bookshop to help support local indie bookshops:
Thanks for reading!
And thank you again to Ronald for sending me this copy via the giveaway. I love the artwork!