The minute I saw that the October Night Worms package was advertised as "Creep It Real," I was in! This package certainly did not disappoint.
NOTE: THERE WILL BE SPOILERS BELOW!
Let's dive in!
My Thoughts on the October 2020 Night Worms Package
With the name of this package, I couldn't help but snap a photo with my favorite Halloween pillow! Here's the full spread: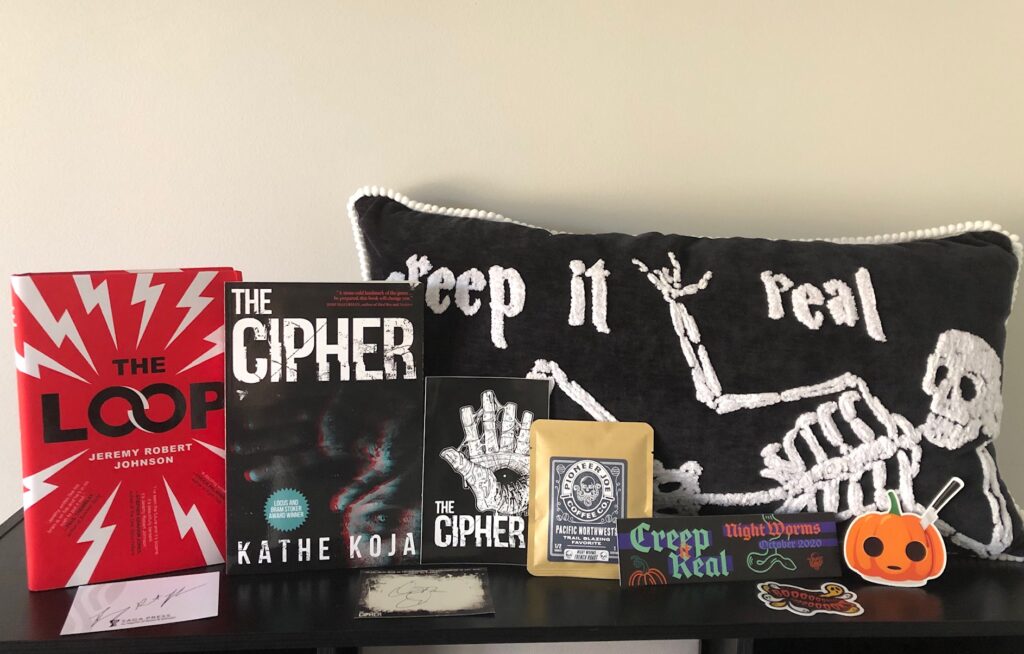 I'm SO excited that The Loop was included here as I was itching to get my hands on this one, and a hardcover copy at that! I haven't heard of The Cipher yet but I can't wait to dive in. I'm so grateful that each book came with signed bookplates. The Cipher also came with a creepy sticker!
The stickers included in this package are super cute! The pumpkin with the knife sticking in it is adorably creepy.
The month the hot drink was coffee again, so I will be giving this to my husband to try. Hopefully I'm able to snag one of the packages that has tea soon! 🙂
Thanks for reading!
And there is is! Another package that I love. I can't wait to see what the November package brings.
---
Related Reading: