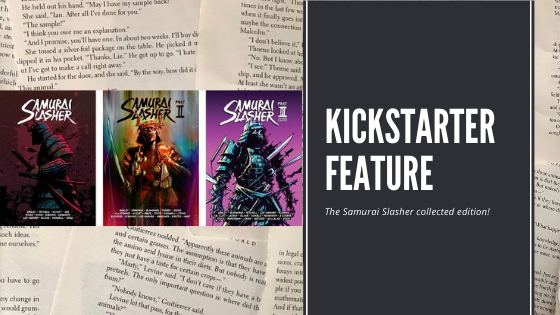 I'm so excited to be featuring a new kickstarter project that just launched on May 1st; The Samurai Slasher collected edition!
I had previously jumped on board with the Our Final Halloween Kickstarter, so when I heard that Mike Garley was running another for Samurai Slasher, I couldn't wait to take part!
Let's dive in!
Kickstarter Project: Samurai Slasher Feature
Synopsis:
The Samurai Slasher is an unstoppable killing machine who hacks, slashes, and stabs his way through anyone that's stupid enough to get in his way. The comic is a mixture of horror, comedy, and the bizarre type of storylines that you'd expect to find in an 80s b-movie.
Doesn't that sound AMAZING?!
In this new collectors edition, we have the original trilogy of graphic novels, as well as six additional stories and additional artwork that makes the collection of over 250 pages!
I had the chance to read Samurai Slasher – Late Fees and absolutely loved it. So I can't wait to have the full collection in my hands! I mean, check out this work:
As with most Kickstarters, there are many tiers that you can choose from in order to take part.
Some tiers include the The Samurai Slasher Game, which is a social/drinking game designed to be played either in person or over the internet. One of the players will have the role of Samurai Slasher, and everyone else will try to survive the game! How fun does that sound?!
There are also options to snag limited editions, The Survive-Your-Own Adventure Book, 21 Track Original Sound Track, and Original Art!