I just received an email Mike Garley, a comic writer, who put a very intriguing Kickstarter project on my radar: Our Final Halloween – A one-shot digital horror comic.
I was impressed from the start when Mike threw in this line: I thought you might be interested in this project because of your fondness for horror.
Mike, you were correct! Horror is certainly my weakness.
So of course, I jumped right in and supported the Kickstarter. And now, I'd love to help spread the word!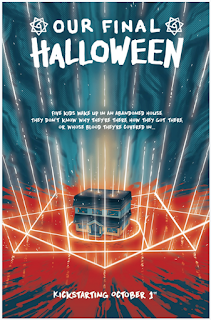 Synopsis:
Five kids wake up in an abandoned house. They don't know why they're there, how they got there, or whose blood they're covered in…
Covered in blood, disorientated, and with no short-term memory, these five kids will need to work together to solve the mysteries of this hellish house, or this will be their final Halloween.
My thoughts:
Just from the quick preview that was included in the PR files, I was so intrigued! The artwork looks really neat, especially with how bright the splashes of blood appear! I really hope they reach their fundraising goal before the 31st! I cannot wait to read more!