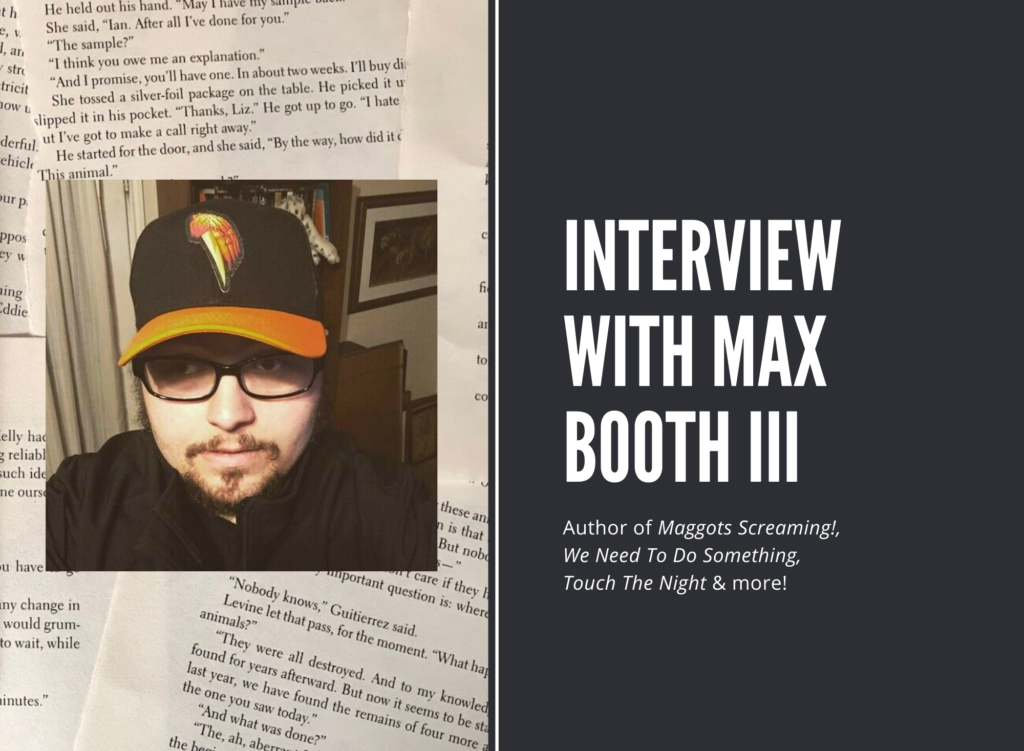 Max is one of the most hilarious people that I follow on Twitter! I originally learned who he was after seeing him participate in the KillerCon 2020 Virtual Event. I went to follow him and his publishing house, Perpetual Motion Machine (that he runs with Lori Michelle), immediately after his reading.
Within the PMM publishing house, they also have the imprint, Ghoulish Books, which launched in January of 2022. Max's latest book, Maggots Screaming!, launched today, April 12th, 2022, from that imprint. In celebration, I'm so excited to be sharing this interview with Max!
Let's dive in!
Interview with Max Booth III, author of Maggots Screaming!, We Need To Do Something, Touch The Night & more!
Who is Max Booth III?
Max Booth III is the author of several books and the screenwriter for exactly one movie (so far). He grew up in Northern Indiana and now lives in Texas. He has two dogs named Frank and Conan O'Brien.
What is your first memory of writing for fun?
When I was a kid and my dog died, I remember writing stories of her and I going on these adventures that usually involved mad scientists and bizarre scavenger hunts. I remember our neighbor, who sometimes babysitted me, reading some of what I'd written and acting upset. She was very religious and banned her own kids from reading anything fantastical. I once mailed my grandmother a ghost story I'd written as a very young child. She was a Jehovah's Witness. Several weeks later she mailed me back religious pamphlets and scolded me for various blasphemies. Another early writing memory involves writing something zombie-related in school and a teacher plucking the notebook out of my hands and giving my detention for working on "inappropriate art"—which, I felt then and still strongly feel now, is the only kind of art worth working on.
How many books have you written?
I actually mapped out all the books I've ever written on my newsletter, so I'll just link that here since I get pretty detailed about each book: https://theghoulishtimes.substack.com/p/practical-effects?s=w
What are some of your other interests outside of writing?
Dogs, mostly. I always would rather be hanging out with my dogs than doing anything else.
Are you also a reader?
Of course!
What genres do you reach for the most?
Horror and crime are my two preferred genres. Long, complicated literary books are also a favorite.
Do you have an all time favorite book or author?
My all-time favorite novel is The Devil All the Time by Donald Ray Pollock and my favorite author is Joe R. Lansdale.
Book Related Questions
Maggot's Screaming! is your latest release that launched today, on April 12th, from Ghoulish Books. First things first, I just have to talk about the cover! Created by Corinne Halbert, this is definitely one of my favorite book covers of all time! The colors are incredible, which certainly catches the eye, but with each element that is included I found that it drew me in even further as I kept looking around! There's also a bit of a Shining vibe going on! Can you talk us through how this cover came to be?
Corinne is so great. I love her work. I knew from the beginning that I wanted the cover to feature bright psychedelic colors. I don't know why, exactly, some kind of intuition. The book is very dark at times but it's also filtered with humor, and I think bright colors are a good indication of that kind of experience. I had posted on Twitter asking for recommendations of artists who are great with bright colors and someone recommend Corinne. I think I hired her the next day or the same day.
In the novel, the narrator briefly brings up something called a corpse flower—which is a real flower—and I initially envisioned the front cover featuring corpse flower imagery, with naked dead bodies kind of growing from its roots. However, after talking a bit with Corinne, she suggested letting her try something slightly different. Her signature art style usually incorporates three heads melting together, and she wondered if something like that might work. I thought about it for all of two seconds before realizing that would actually be perfect, considering the book is about three corpses decomposing together.
She also asked for character references, how they might look. I casually threw out names like "Shelley Duvall" and "Philip Seymour Hoffman" for the parents, and…yup, you can definitely see the resemblance there!
As readers dive into the story, they will see that we're guided through the events of that intense weekend by the young boy. I really enjoyed that readers were fully immersed in the tale from his perspective. From everything from his little quips of humor to the stress he was feeling, it all felt very real. What was it like writing from his perspective?
Pretty fun, and a little stressful. At a certain point I definitely realized the narration did not often sound like it was coming from a 13-year-old child. I could have stopped and rewritten everything again to make the narrator sound the right age, but…I don't know. I guess I kind of don't care about that? A big inspiration from the book's narration comes from the movie Frailty. The movie and my book are similar in a couple ways. A young boy is narrating. A single father is losing his fucking mind and his son realizes this but also doesn't know what to do about it. Both are set in Texas. Both involve a big hole being dug in the back yard.
Your characters are all incredible in this novel! I wrote in my review that, "They were are all so intense in their own ways. It's like Max took the personality dial for each of them, hit the limit, and then twisted to break it off so the personalities kept going up!" What was your inspiration for the main characters?
A lot of the characters are loosely based on real people in my life. But that's probably true for any book I write. This is just the only time I've named characters after myself and other friends/family. I think it's very fun to take a simple character trait and just…dial it to its most extreme setting, and let them go berserk with it. You can probably track that method used most noticeably with the Andy and Doctor Winzenread characters.
While this is certainly a dark tale filled with horror, there was also a lot of heart and humor. The humor specifically had me cracking up! But the dread… holy! You had so many one liners that popped in here and there that would take anything uplifting or humorous and throw readers into feeling anxious again. Were these one liners strategically placed, or did this just come as you were writing?
I honestly can't think of a single one-liner from the book, which tells me they all arrived subconsciously and were not planned. Thank you for the kind words!
Just one last question; Where can readers find you?
I'm on Twitter @GiveMeYourTeeth and my website is www.TalesFromTheBooth.com.
---
Related Reading: