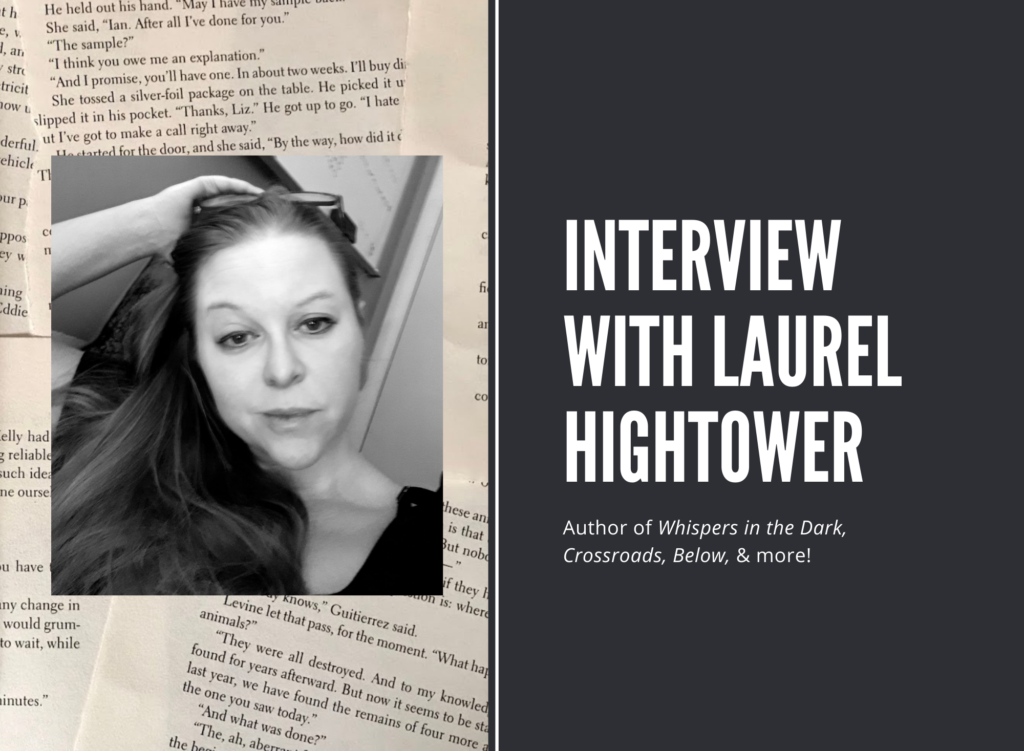 Since reading my first book by Laurel Hightower, I've been in absolute awe of her and her work. If you haven't yet snagged any of her books, I highly recommend doing so right away.
Her latest book, Below, launched today March 29th, 2022 from Ghoulish Books. In celebration, I'm so excited to be sharing this interview with Laurel!
Let's dive in!
Interview with Laurel Hightower, author of Whispers in the Dark, Crossroads, Below & more!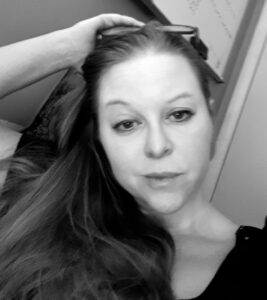 Who is Laurel Hightower?
Laurel Hightower grew up in Kentucky, attending college in California and Tennessee before returning home to horse country, where she lives with her husband, son, and a rescue Pit bull. She works as a paralegal in a mid-size firm, wrangling litigators by day and writing at night. A bourbon and beer girl, she's a fan of horror movies and true life ghost stories. She is the author of Whispers in the Dark and Crossroads, and co-edited the charity anthology We Are Wolves as well as The Dead Inside, an identity horror anthology. Her short fiction has appeared in several publications. Below is her third book.
What is your first memory of writing for fun?
When we were little, my brother and sister and I used to play a game called "mail mitt." We had an old baseball mitt stuck on the banister of our split level house, and would write stories and put them in the mail mitt for the others to retrieve, read, and possibly comment on? It's all a bit hazy now but I remember it being fun on both ends, whether you were the writer or the reader. And much less hazardous than our other favorite game, which was zipping each other into giant suitcases and pushing them down the stairs.
How many books have you written?
You'd think I'd know that off the top of my head, but I had to go check my files! If you only count standalone work, I've written eight. A truly awful first attempt that shall never see the light of day, Whispers in the Dark, then three (and a half) in a series that hasn't been published (however I'd LOVE for that to happen—it's a world I loved creating and like to revisit frequently.) Then Crossroads and Below, and a ghost free thriller. Now if you ask me how many WIPs I have…
What are some of your other interests outside of writing?
It sounds cliche, but my biggest focus for the last four years has been my son. I'm a working mom, and it never seems like I have enough time with him, so other than fitness (I love doing HIIT and lifting weights) everything I do is with him. So I guess my interests are visiting playgrounds, exploring cemeteries and parks with a small person, acting out entire movies, and watching the same cartoons over and over. Basically the best life ever.
Are you also a reader?
Absolutely—I consider myself a reader first, because my love of story started there. My parents read to us a lot, which led to me wanting to learn to read early on my own, and I've been devouring books ever since. There's a passage in Wonder Boys by Michael Chabon about a character who, when stranded without a book, reads shampoo bottles, and that's totally me.
What genres do you reach for the most?
Horror first, and that's not just because it's my field. It's the genre that excites me most, and the one I never get tired of. I also love mysteries, and I'm a sucker for a good romance. I'd love to see more love stories that show us long after the meet-cute. It's easy to fall in love, but those expressions change depending on where we are in life. Flowers and dinners out change to painting a room as a surprise, giving your partner a night off when they need it, and turning toward each other when things get hard. That's the kind of romance I'd like to see more of.
Do you have an all time favorite book or author?
That's such a hard question but I don't want to just say no! Neal Stephenson is one of my all-time favorites, and of his works Reamde is probably my number one. I also still think about Silent Joe by T. Jefferson Parker, and The Haunting of Hill House by Shirley Jackson is the most influential.
Book Related Questions
When I found out that you had a book about mothman coming out, I was ecstatic as it's my favorite cryptid! What made you want to write a story about this creature?
I loved the movie version of The Mothman Prophecies back when it came out—the anbiguity of it, the terror that never quite came out of the shadows. I picked up John Keel's book a couple years ago and after reading it and getting more in depth information on everything that happened, I wanted to write about it, but I wasn't sure how to make it my own. I didn't want to just regurgitate stories that had already been told, so I kept the idea simmering on a back burner. The combination of an anxiety-inducing solo drive to Scares That Care and a cringey intrusive thought on another drive (I do that fun thing where you picture the worst possible thing happening in every situation, and this time it was picturing a semi sailing off an overpass) gave me the spark I was looking for, and it went from there! I'm so psyched to see there are other Mothman books coming out this year, because I think there are so many ways to take on the legend.
One of my favorite elements of your style is how you're able to take a story and start out so calm and smooth, that readers can almost forget they're reading a horror story. Right up until things go sideways of course! That was certainly the case with Below as readers are a bit anxious while our main character is on the road, but then we hit a scene that is quite a shock! Can you walk us through the writing process surrounding the accident that kicks off the terror?
Thank you so much! A big part of it came from my solo drive to Scares That Care last summer. It's about a nine hour drive for me, and I wanted to do something that scared me. Well, I succeeded beyond my expectations there—it was crazy timing, because that trip kicked off my vestibular vertigo. Apparently that's a common way for it to start—it's lurking, then a long drive or an airplane ride stirs it up. So essentially, I felt drunk the whole drive. It was terrifying—I white-knuckled those West Virgina mountains and hyperventilated the whole way. I stopped so many times I thought I'd never get there, and all I wanted was for someone else to take the wheel. So that extreme anxiety was still fresh in my mind when I started writing BELOW, and I pretty much just followed the path of "what's the worst thing that could happen?" which is usually where my mind goes, anyway.
And in case anyone's wondering, I'll be flying to Scares this year—no more direct research on that particular topic!
When I think about your work, the first thing that always comes to mind is how it falls into the gut-punch horror category, which is certainly the type of horror that sticks with readers long after the last word. You've got emotional trauma in Whispers in the Dark, intense grief in Crossroads, fierce guilt in Black Lace Binding from Gothic Blue Book VI, even blood-boiling scenes in Though Your Heart is Breaking from the We Are Wolves anthology and also in Hooking Up from the SLASH-HER anthology. In Below, we've got a mix of strong elements that we see the main character go through; determination, bravery, anger, and so on. Everytime, the reader is really put into the character's shoes, and we feel that emotion right along with them. Do you have any tips for writers that want to add more emotion to their works?
Again, thank you so much for your kind words! It's such a validation for readers to connect emotionally with characters I've written—it feels like being trusted with something precious. I think in some ways anxiety actually helps in this regard—I'm generally hyper aware of my own emotions in given circumstances, and have usually been good at putting myself in someone else's shoes. I remember a lot of it—how certain things felt as a kid, or while I was struggling with getting pregnant, or in painful interactions. I'd say as a first step, find the spark of your character or struggle in yourself. That doesn't mean you have to base the entire plot around it, but if there's a hurt or a fear you feel strongly, put it on the page—it'll come across more authentically, and can be extremely cathartic.
For longer works, I build a character's history and traits, then I try to see the world through their eyes. I carry notebooks with me all the time, and will often think, oh, I feel this way about seeing a parent yelling at their kid, but how would my character react in this instance? How does their background and personality shape how they feel about it, and how it impacts the story? I think empathy is key—even if I don't agree with someone, I can try to see and understand how they were feeling and why they did what they did. Most writers and bookish folk strike me as empathetic, which is a big part of why we write and immerse ourselves in reading, so I'd advise leaning into that. And as a side benefit, it's hugely valuable in parenting and other interpersonal relationships.
I'm absolutely obsessed with your work! Anytime I see your name on something new, I'm very quick to snag a copy. From your books and short stories, is there a specific item that you wish readers were more aware of than they currently are?
Oh what a great question! For my own shorts, I'd love people to read my story in Twisted Anatomy, entitled The Other Head. It deals with body dysmorphia though, so if that's triggering for folks, please skip! Other than that what I'd really love people to read is a work I edited, rather than wrote—The Dead Inside is the identity horror anthology I co-edited with Sandra Ruttan of Dark Dispatch. I'm so proud of all our authors, and the work we did putting it together, and my hope is that readers will find at least one story or poem that makes them feel seen, that makes them breathe a little easier knowing someone else feels the same sense of isolation or pressure.
Just one last question; Where can readers find you?
I can usually be found on Twitter, @hightowerlaurel, and my website is www.laurelhightower.com.
---
Related Reading: