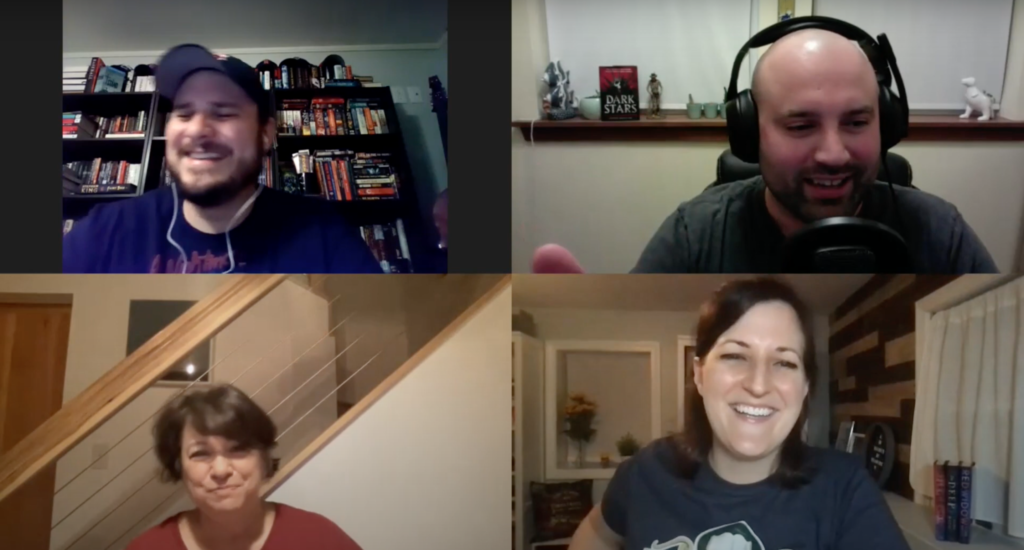 My goodness, after I got off the interview recording with the Dead Headspace gents and the amazing Alma Katsu, I felt like I was on cloud nine! This interview was amazing. What an honor to be in the presence of Alma!
Let's dive in to my recap!
Give the episode a listen here:
Or watch here:
Meeting Alma was just amazing. She is so kind and so humble! I loved her energy so much. I have to admit, I was pretty star-struck per usual when jumping on this show, but especially here after binge reading some of her work back to back… but Alma's presence somehow had me settled almost immediately after we all jumped on. I have no idea what it was that was so calming, but I'm going to go ahead and just say that she has a superpower!
On this episode, I got to ask one of my burning questions: You recently tweeted a reminder that you write in various genres. Do you have a genre you haven't written yet that you'd like to explore?
We also got to discuss her previous work in the CIA. I don't even have the words to summarize what this was like being able to sit on a live session here. It's just so darn cool!
Speaking of not having the words… When I brought up The Deep, admittedly my favorite book by Alma so far, I had a bit of verbal gushing going on. In writing this recap, I haven't yet listened to the release, and I'm so nervous I sounded like a dummy. But I'm sure book reviewers can understand this very well! It's just one of those books I want to stand on the rooftops and scream about! I was so bummed to hear from Alma that this one didn't get much notice as it launched right when COVID hit. So if you're interested in historical horror, please please please go check it out!
The Deep by Alma Katsu is a slow-burning, goosebump-inducing, dread-filled historical horror novel of heartbreak and hauntings on the sea.
Check out my review for The Deep here!
We also spent some time discussing Alma's upcoming release, The Wehrwolf! Boy, is this one I also want everyone to check out…
Toward the end, we also highlighted a book that we're all about to start reading; We Came From An Island by Cynthia Pelayo.
Alma Katsu is such an incredible author! I first read her book titled The Fervor and fell in love with her ability to balance the darkness of history with a little paranormal and a dash of hope. So from the historical horror to spy thrillers and more, I can't wait to read even more from her very soon!
---
Related reading: