When I first heard Patrick R. McDonough planning to launch this podcast on Twitter, I knew I was going to be obsessed with it! Sure enough… I am! I binged all of the episodes already and while I'm sad I've reached the end, I'm so pumped to see what's next!
Horror/Dark Fantasy/Dark Sci-Fi fans, this is a podcast that you'll want to go subscribe to immediately!
Let's dive in!
My Quick Thoughts on the Dead Headspace Podcast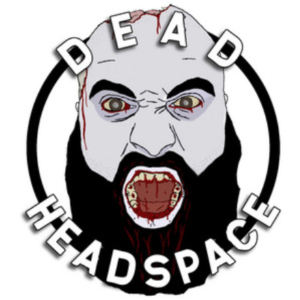 First things first… THAT LOGO RULES!
Next up, the theme song. It's so fun and unique! I cannot wait for you all to hear it if you haven't yet.
And of course, we have the hosts- Patrick McDonough and Brennan LaFaro! They do a wonderful job hosting these interviews/discussions! I also loved the episode where they just had a discussion between the two of them.
These episodes are longer than most of the podcasts that I listen to and I LOVE that. It's so nice to sit back and listen in to the discussion between Patrick and the guest(s). It's like you're sitting in and listening to a bookish event, but from the comfort of your home!
One thing that really sets this podcast apart from others I listen to is how how personal the discussions get. And of course, I loved this! Rather than being too structured and rigid, it just flowed so wonderfully.
So far, there are six episodes available:
Lex H Jones
Jim "Gingernuts of Horror" Mcleod
Ink Heist
Horror Classics: The Girl Next Door
Michael Clark
Ken McKinley
I couldn't stop myself… I binged all of six of the episodes. I loved each of them so much! I cannot wait to listen to more and to see where this podcast goes next!
Listen here now:
Thanks for reading!
And don't forget to subscribe on Spotify now or on your favorite podcast platform later once it launches! To follow on social, check out Patrick, Brennan, and Dead Head Reviews on Twitter.
Related Reading: