Crime Scene by Cynthia Pelayo is a gut-punch epic poem of murder, grief, and the determination to solve cases so those lost do not go forgotten.
Content Warnings:
Death of a child, grief, trauma.
Let's dive in!
My Thoughts on Crime Scene by Cynthia Pelayo –
Kicking off with a wonderful author's note, Cina explains the work as an epic poem. This is a narrative work of poetry where each poem is meant to be read in order to properly tell the overall story.
Next, we jump into an introduction by Sara Tantlinger who outlines how potent Cina's words are here and how each poem demands that we remember not only those that have been lost but that we also remember our humanity during the grim moments.
As readers take their first step on this Crime Scene path, they will quickly learn that Cina won't be holding back here. The grief that is displayed in Report No. 0002 is heart-stopping.
From there, we follow Agent K as she first views the crime scene and her determination to solve the case. However, over the years, we also see the great toll that this job takes on Agent K which adds another layer of grief to the already ever-growing pile.
However, there is a faint light of the one thing that carries most of us along in the darkest of times; hope.
My Favorite Passages from Crime Scene –
"This first look could destroy you," Agent M warns
Agent K shakes her head. They do not know her fractures
"I'm already broken," she says, feeling fissures widening within
It was a day like today, they are all, wrapped
in kindness and care, but as hours tick
a scythe appears, splintering expectations
There will be no safety here or anywhere
Dried flecks of blood like shimmering stars sweep across a face asleep in infinite.
A system that plays into
destruction of communities
is a vulture embodied
At home she covers her floor in newspaper clippings
Black, white, and red confetti, THE LATEST VICTIM,
Headlines taunt, excite, people like to be teased with grief
so long as it's not their own personal pain to experience
My Final Thoughts on Crime Scene –
Epic poems are my absolute favorite poetry format! What Cina has done here with her epic poem is incredible. There's so much beauty woven into the darkness. As a reader, you'll both hang on to every word and dread what's to come next as the case slowly develops.
I'm kicking myself for taking so long to get to this one after meeting Cina and snagging a signed copy at Merrimack Valley Book Fest! I read this in one sitting, unable to pull myself away.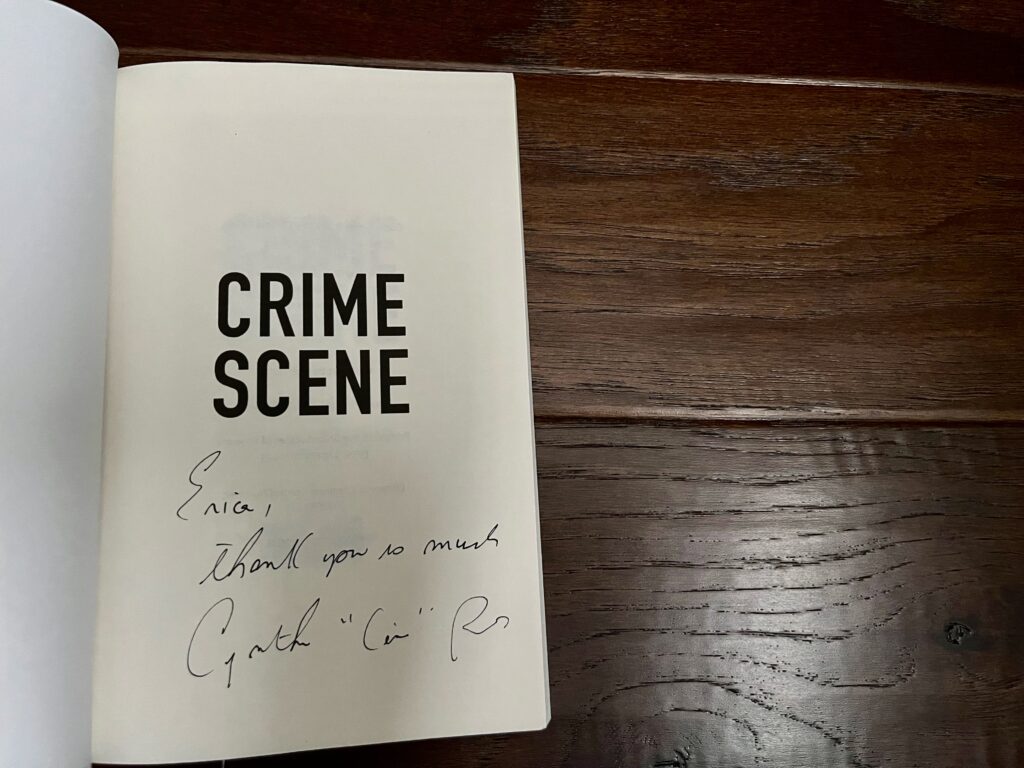 Horror fans, don't delay. Go grab a copy today!
---
Purchase your copy of Crime Scene
Thanks for reading!