White Horse by Erika T. Wurth is a tale of secrets that refuse to stay buried…
Content Warning:
Death of a parent, domestic abuse, drugs, suicide attempt & gun violence.
Let's dive in!
My Thoughts on White Horse by Erika T. Wurth
Kari is an urban indigenous woman that wears black ripped jeans and band t-shirts, loves listening to metal, and always has a horror book on hand. Kari grew up filled with hatred toward her mother as she believed her mother had left her when she was just two days old. Filling the empty space with drugs and alcohol, Kari's life isn't on a great trajectory. But when her cousin brings her an old bracelet that has been in the family for a very long time, all of Kari's core beliefs are shaken and it forces her on a new path.
Suddenly haunted by visions and the ghost of her mother, a fire is ignited in Kari. From there, it's a rocky journey to find answers. Along the way, she's forced to face her inner demons.
A slow-burn of a novel, this story takes it's time winding around each of the story elements just like a car traveling up the Colorado mountain roadways. The paranormal focus was light, but it was sprinkled in just enough to keep catching me off guard!
I will admit, there were times I wanted to scream at Kari for how shortsighted and selfish she was being. She was totally wrapped up in her own things, and couldn't see two inches in front of her to realize how her actions were affecting others. Of course, that lack of support for others finally explodes, leaving her adrift to solve her problems on her own. I was so excited that she had finally learned to think of others rather than wallowing in her own self-pity and grief. After that turning point, I couldn't put the book down!
One quick element that I wanted to comment on before moving on is that while I'm not from the area, I have visited! On a work trip, I made it a point to visit the Tattered Cover. I was so excited to see a mention of being in Tattered Cover in one of Kari's dreams, and then to see her visit the location as well! That is such a cool bookstore. If you're ever in the area, make sure to stop by!
My Favorite Passages from White Horse
Daddy was brittle. His mind was like a boat lost at sea. Sometimes it came close to the shore, only to push back. I didn't want to make it so it never made anchor again.
There was something sad and small and yet, almost otherworldly about Idaho Springs, like there were secrets in the cold, rocky ground that might spring up at any time. And take you down with them into the dark.
God, that tapping like a skeletal hand on a mirror.
Though I loved everything by King, I'd always found this particular book to be spellbinding. I remembered finding it in the library one day, after wandering the shelves, my fingers brushing the spines, trying to convince myself to check something more realistic out, something more patently educational, and failing and moving, like I was haunted, toward the horror aisle. For some reason, I hadn't seen this book before, and finding it, a King I'd never read, felt like uncovering a magic key, one with infinite potential. One that opened doors that acted as portals to other worlds.
I feel strong by the end of that year, I am healed. But I don't realize that healing requires scars, and I am still rough beneath them, I still have pain locked behind that ropy skin. And there is weakness there, there is vulnerability, a thing I have always been terrified of.
My Final Thoughts on White Horse
I highly recommend this story to fans of slow-burning tales that make you switch back and forth between loving and hating the main character, before settling in on how you feel about them right at the end.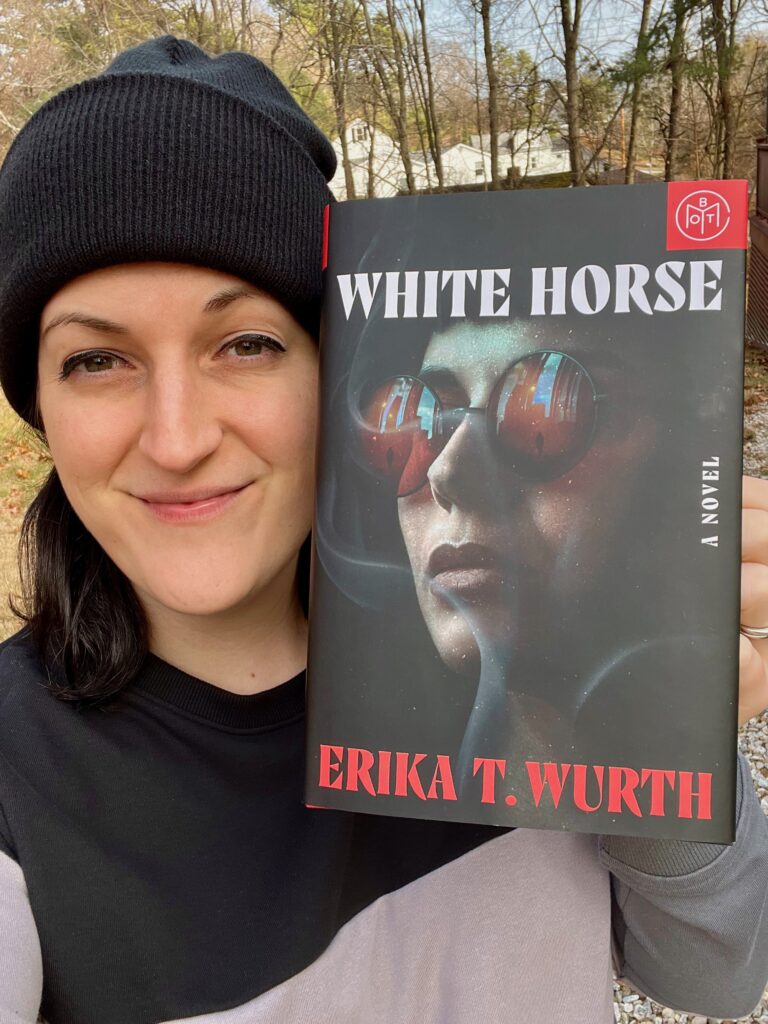 ---
Snag a copy through Bookshop to help support local indie bookshops:
Thanks for reading!