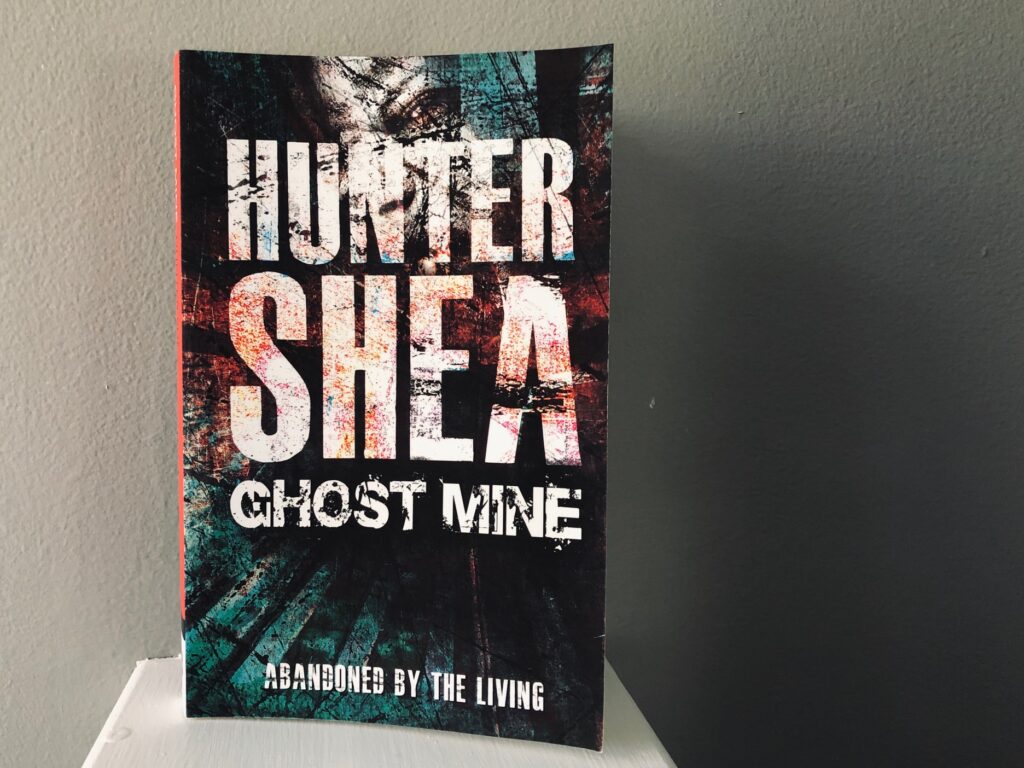 Ghost Mine by Hunter Shea is a horror western that will kick you in the side with its spurs, and once you're off and running, there's no slowing down until you've reached the final page.
This is a tale that will make you feel equal parts claustrophobic, terrified, and hopeful. And my gosh, what a combination these three are!
Let's dive in!
My Thoughts on Ghost Mine By Hunter Shea
My goodness that first chapter really starts things off with a very creepy and unsettling feeling!
While the first chapter may set the tone for the rest of the book by letting the reader know that something weird is going on, I loved that chapter two take a step back to slow things down and start our path anew.
I was so hooked the entire time I was reading this! I picked it up during my vacation and I'm so glad that I did. I would have struggled to put this one down!
I mean, the last sentence of various chapter made it extremely difficult to pause the tale. For example,
He whispered, "Nat, tell me I'm seeing things. Are those eyes?" I looked down the tunnel and my stomach turned to ice.
Because the sun was disappearing, and not behind the clouds.
And then things took a mighty sour turn.
Phew! The level of suspense and bursts of full-on terror in this tale certainly kept my heart pumping! I never knew what to expect.
I also absolutely loved all of the characters. Whether they were the main characters, supporting characters, the bad guys, or just the others that we met only briefly, I loved them all!
Two of our main characters, Nat and Teta, were so much fun to follow. I loved seeing their brotherly banter. I really enjoyed that they always had each others backs and could read the slightest change in body language or facial expression with each other and then either communicate or calm the other down if needed.
Another character, Selma, was wonderful. I loved that she fit in with the two as if she had known them for years. I couldn't help but chuckle when the men joked about "women's work" with her and how quickly she gave it right back to them at times.
My Favorite Passages from Ghost Mine
Fear for his life was quickly overcome by wild fascination, as can only happen in the heart and soul of a nine-year-old as wild as the creatures that roamed the prairie.
You never can figure what the hell life is up to.
Half of the gin- and beer-soaked men whooped and raised their arms in victory. I watched paper money exchanged hands as they parted, the winners dropping their winnings on the bar and ordering enough booze to make walking home a high adventure.
Blood brothers, he called us. I was never sure if he meant it in the traditional sense or if he was referring to the prodigious amount of blood we'd shed together.
Growing up just shy of wild animals, we were both used to spending the night in the middle of nowhere. But even in the dead of night in the midst of some untamed prairie, the night had its own kind of music that let you know life went on while you slept.
Here, it was more like being sealed in your own coffin and lowered into the ground.
Even holding my lamp out as far as I could, it's light was devoured by the impenetrable black of the mind. This was no place for men. This was where nightmares were stored, a place where secrets remained for eternity. I had a feeling that nature made it so alien, so inhospitable for a good reason. Everything about this place said BEWARE. COME NO CLOSER. If death had a face, this was it.
My Final Thoughts on Ghost Mine
I was so drawn into this story… everything from the action sequences to the various relationships that we saw play out, it was all mixed so well into the plot that I didn't want the story to end!
I highly recommend this one to fans of horror westerns! Especially if you enjoy when creatures are included.
---
Snag a copy through Bookshop to help support local indie bookshops:
Thanks for reading!