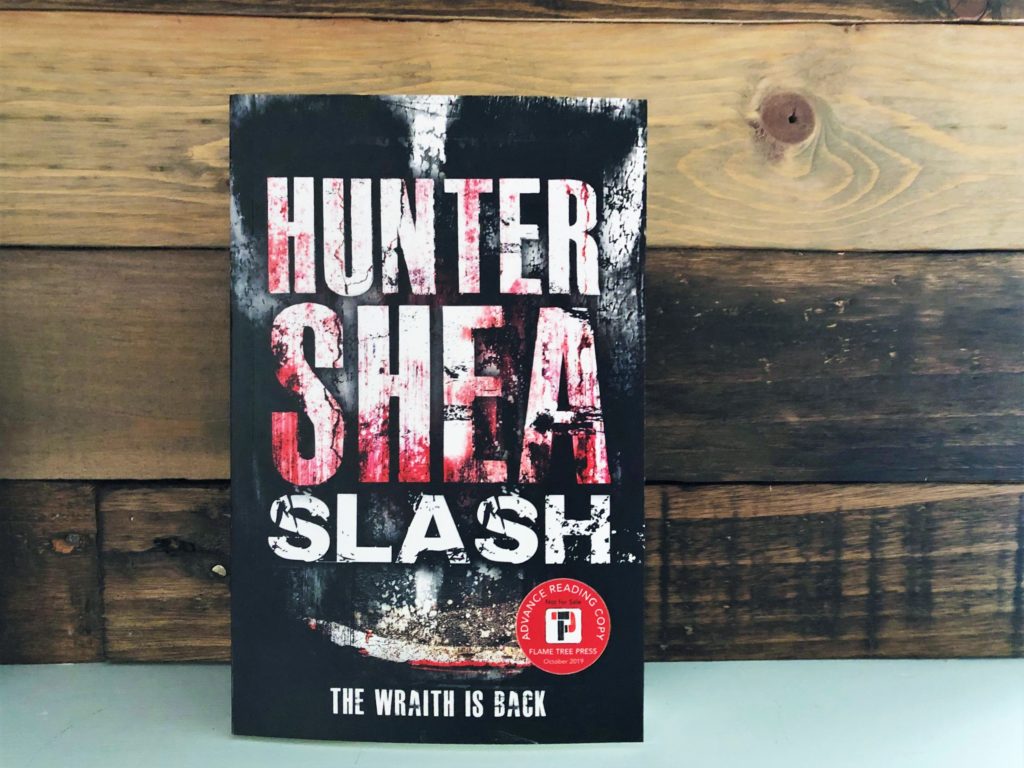 Slash by Hunter Shea is an amazingly fast paced tale filled with sadness, terror, and gore.
With the mystery that totally sucked me in combined with the horror and dread I felt about what would happen next- I really struggled to put this one down!
Full disclosure: I was given a free copy of this book from the publisher in exchange for an honest review. This did not affect my rating in any way.
Let's dive in!
My Thoughts on Slash by Hunter Shea
YOU GUYS! I FINALLY READ A HUNTER SHEA NOVEL!
And whoa…. I need to get my hands on his other works ASAP!!
When this story begins, we meet Ashley King. It's clear that Ashley is suffering. She jumps at the sound of a car door shutting, and she mentions her sleeping pills and all of her scars. Suddenly, we're in Ashley's nightmare. When she jolts awake, there's a line that makes the reader question if it was just a nightmare, or something based on previous events…
In the next chapter, we meet Todd Matthews, Ashley's fiance, as he's headed home from work. When he can't find Ashley in one of her usual spots in the house, he sees that the basement door is cracked open and heads down there. Hanging from the ceiling, he finds Ashley. But it's far too late to help her.
While Todd goes through mourning and tries to process what happened, he focuses his anger on all the final girl fans and the media that glorifies these awful situations. While he processes, the readers are given more and more information about Ashley's past and how she became a final girl.
One day, Todd finds Ashley's suicide note. In it, there is a clue. After searching, he ends up finding a memory card. On this memory card was a video where Ashley explained things to him that he wasn't aware of while she had been alive. Also in this video, Ashley mentions that she would record herself on each of their explorations and leave the memory cards on location.
Determined to gather anything he can that Ashley left behind and learn more about what happened that night, Todd ends up going back to the grisly scene that Ashley had barely escaped.
He thinks this will be a relatively easy trip; just pop in and find the memory cards and leave. But what he doesn't know is that there's something out there still. And it may just cost him and his loved ones their lives.
Phew! I could go on and on about this plot! But I will stop there as I don't want to ruin the craziness that happens next.
This is a tale that has a wonderful Friday The Thirteenth tone, but in my opinion, was much more terrifying!
There were so many scenes that I read as fast as I could to see what would happen next! But a few times, when a scare would happen, I had to close my eyes for a moment.
I know jump scares are typically only used to describe films and how the scares are combined with a sudden switch in imagery and a loud noise, but the scares in this book got me to jump just like a jump scare in a film! This is honestly the very first book I have read where something like this happened and I was shocked. The writing was just that perfect; I was totally captivated by the tale and it felt like I was watching it all play out as a film!
My Favorite Passages from Slash
What drives a man to slaughter four people he's never met and have never done a thing to him? You'd have to dissect their brain and find the rot to know.
Todd's legs had a hard time getting started. He felt like a character in a Scooby-Doo cartoon where their legs spin and spin before actually propelling them forward.
My Final Thoughts on Slash
When I finished reading, I wanted to scream out of terror but also out of frustration for all that these characters had to go through…
This book is such a wonderfully written horror novel! It had great characters that were all perfectly developed for their roles, an intense plot, lots of action and gore, plenty of jump scares, and all kinds of powerful emotions! It was just incredible!
After finally reading this book, I am kicking myself for taking so long to get around to reading Hunter Shea's work! I had SO MANY blogging friends recommend his books to me… You all were right, I'm obsessed!
If you enjoy gory horror-filled reads that have a wonderful Friday The Thirteenth tone to them, then I highly recommend this one to you!
---
Snag a copy through Bookshop to help support local indie bookshops:
Thanks for reading!
And thanks again to Flame Tree Press and Sarah Miniaci for sending this book my way!