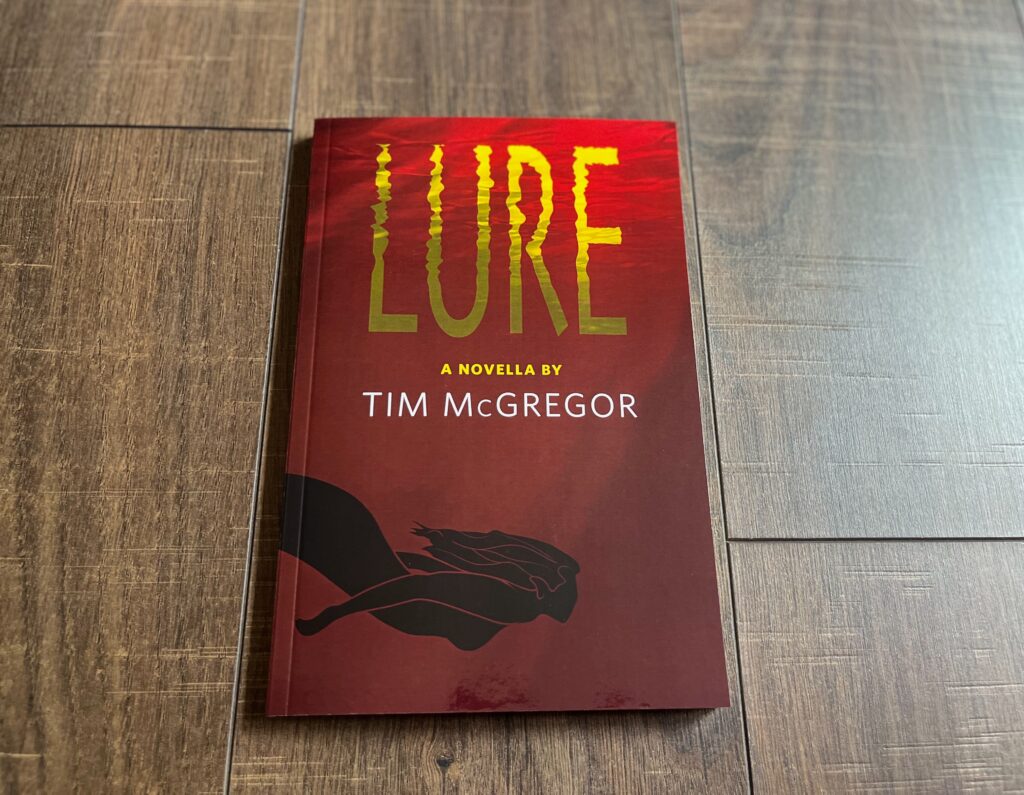 Lure by Tim McGregor is a tale of fear and violence set in a small fishing village that has fresh blood in the waters.
Ready to add to your list of fears when it comes to the ocean?
Let's dive in!
My Thoughts on Lure by Tim McGregor
When this tale begins, we meet a family in which the father, a reverend, had brought them to this desolate town years ago. Try as the reverend might, he can't get the villagers to put aside their focus on "blasphemous" sea monsters. There's even the bones of one hanging in the chapel itself!
The creature has a strong hold over the town. But one day, the town learns that the creatures aren't just lore of olden days; these things are real and one of them is close to their shores.
Unable to leave the creature alone, the men go after it, determined to kill it.
They're headstrong and think it will be a small task to strike her down. But this creature is more intelligent than they think and she isn't about to let them get away with their actions against her.
PHEW!
The atmosphere of this tale rolls in like the storms the fishermen see coming on the horizon. And once it hits, it hits hard.
Readers won't have to wait very long for the action to kick in and soon after, the terror begins to crank up and it doesn't ease!
The main character, Kaspar, is a love-stricken young man that is prone to daydreams. His empathy is obvious, and while a great trait in many instances, in this case, it may just be his downfall.
I loved Kaspar at first and wished only for the best for him. But later on, as venom soaks into his bloodstream, he turns into a selfish person, fixated on the wrong things. There were so many times I wanted to reach through these pages and smack this kid upside the head!
I have no doubt, that under different circumstances, this kid could have figured things out and potentially saved the whole town.
But of course, this is a horror novella. So instead of things getting better, they just get worse.
Another beautifully written and haunting tale from Mr. McGregor! I was hanging on to each and every word.
My Favorite Passages from Lure
Halfway down the stone pier, I see Agnet coming the other way. I could no more stop the smile on my face than I could stop the sun from going down.
It is as if the sea has declared war on us and it's barbarian horse is determined to storm our gates.
I feel something wicked bloom inside my chest, like mold blackening an overripe apple.
The village daughters emerge from their cottages and hovels and into the streets. The tools in their hands drip with blood, the metal clotted with scraps of hairy scalp.
My Final Thoughts on Lure
I was so nervous at every new situation the author threw at the reader. The darkness that took over this small town was terrifying! I mean, the sea creature alone was enough to haunt me, but add in the desperate hunger and the way people treated their neighbors among everything else? What a nightmare!
This book would be a great beach read. But I would recommend you pick it up only after you've finished going into the ocean for the day… 
---
Snag a copy through Bookshop to help support local indie bookshops:
Thanks for reading!
I picked up this book directly from the publisher, Tenebrous Press. If you missed my unboxing, click here to check that out! I'm so thankful that I was able to snag the preorder that was complete with the extra goodies!