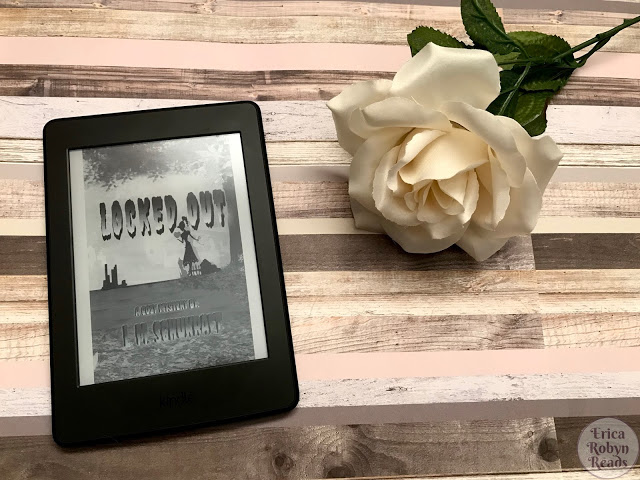 One of the first books that I read as an honest review for this blog was Even Halos Can Be Crooked. I really enjoyed that read and quickly followed L. M. Schukraft on social media to stay informed about her latest releases.
Recently, when I saw the roll call for ARC readers for her latest book titled Locked Out, I signed up immediately! I had seen her post here and there on Facebook dropping hints about the novel and I just couldn't wait to read it!
Full disclosure: I was given a free copy of this book from the author in exchange for an honest review. This did not affect my rating in any way.
My Thoughts on Locked Out by L. M. Schukraft
She has done it again; I loved this book so much! I had to fight with myself to put it down when I had to go to sleep or work. I easily could have picked this up on a weekend morning and read straight through!
The overall plot was so interesting! I thought that the mystery element was done very well; I didn't see the resolution of it coming at all! While the book was centered around the mystery element, there was also a fair amount of cutesy romance and thrilling suspense; both of which were also wonderful!
What amazing characters! The good characters were so funny and realistic, and the bad characters were super sketchy! I really enjoyed learning more about each character as they spent more time with the main character, Emeline. Brandon was my favorite character. I found myself laughing out loud with his little one-liners and pop culture references. He reminded me so much of my fiancé! 
As the author warned me when she sent the book file, there were a few typos here and there. There were also a few areas that were a bit repetitive, but it didn't take away from the reading experience at all! And of course, this is an ARC that the author is still working on, so I'd be willing to bet she has already fixed the issues I saw.
My Favorite Passages from Locked Out
Ethan tried to get away. He was just a foot away from Emeline now and his stomach was about ready to go into the Black Bear without him.
Nobody's there, she thought, You're too old to be afraid of the dark. Emmie knew this. But, oh my, it didn't seem to be trust at the moment because fear was turning her spine into ice prickling jelly.
Before he thought better of it, Ethan was staring up at Emmie as she glided down the stairs. Glided? He didn't know when he started using words like 'glided' to describe a woman but that's the only way he could describe it.
Get a grip, Emmie. Ha, get a grip. Emeline didn't realize she'd snorted out loud until she saw the questioning look Ethan threw over his shoulder.
"If working at Rebuild doesn't work out, you might want to consider becoming a chef," Brandon chuckled. Ethan waited for it. He knew his brother too well. "For pets!"
Brandon dissolved into more laughter. Hawk was shaking his head. Emma was trying to get Kruffles off the table but the cat wasn't giving up the cherry reduction.
"Oooh, master," Brandon dropped one shoulder down and did a limping shuffle over to Ethan. He made a face and said in a scary voice, "Master, that is such a brilliant plan."
Her brain skipped around last night like a cricket on Redbull.
Seeing her this happy was beyond words. She had a smile that made his heart skip a beat.
"Good morning, Emeline. You okay?"
"Peachy. Perfect. Just great." Emmie heard the increased pitch to her voice. If she didn't calm down, her voice will be so high, it'll call dogs. She took a deep breath and said a little calmer as she walked past Hawk, "I'm a little nervous."
"Take care of her."
"I will guard her like the super hero I pretend to be this night." Brandon proclaimed with a flourish.
"Guys, don't you get it? She did it in the ballroom with the candlestick!" Her laughter was quickly followed by a groan as she grabbed her head.
Brandon connected it first and started laughing.
Ethan turned his frown on him and Brandon said between laughs, "Clue!"
My Final Thoughts on Locked Out
I loved every second of this read! I would highly recommend picking this one up if you enjoy fast-paced, fun mysteries with elements of cutesy romance. I cannot wait for book two to be published! These characters are definitely ones that I would happily read about time and time again!
---
Snag a copy through Bookshop to help support local indie bookshops:
Thanks for reading!
If you haven't read anything by L. M. Schukraft, I highly recommend checking her out! Here are some of her links: