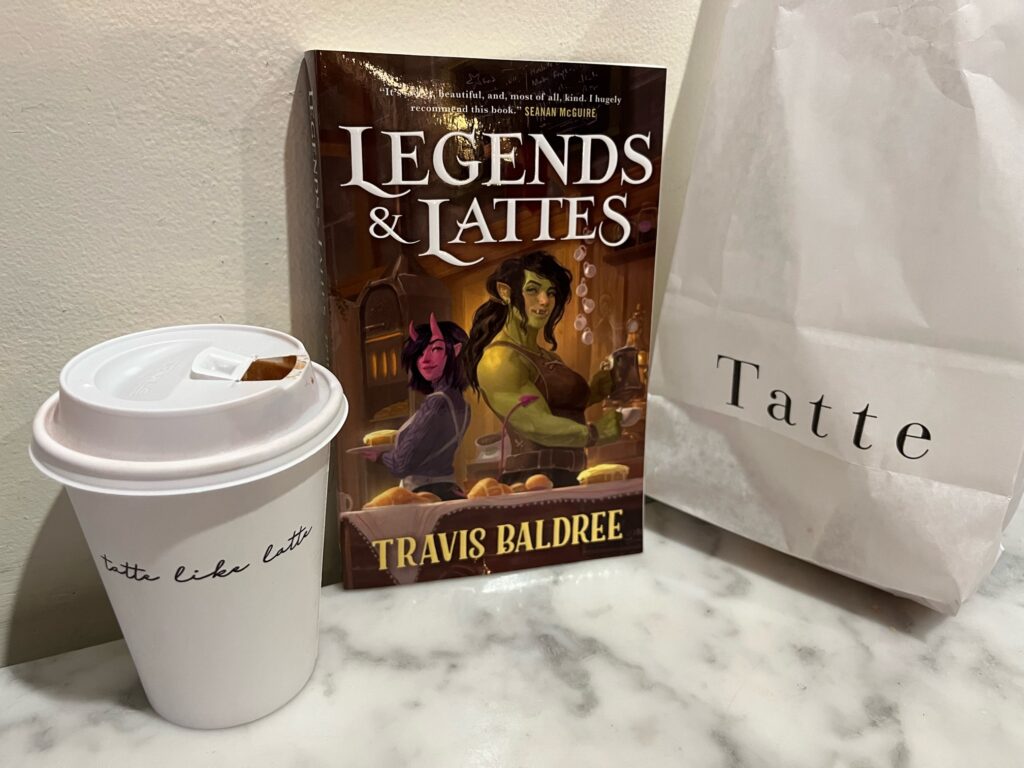 Legends & Lattes by Travis Baldree is a wonderfully cozy story about the risk of starting over, finding community, and finally realizing that you're home.
Let's dive in!
My Thoughts on Legends & Lattes by Travis Baldree
The cover of this one totally captivated me. I am so in love with the illustration. The characters themselves look amazing, but it's also the little things as well like the pastries on the table, the coffee cups hanging from hooks, and the glowing oven in the back! Paired with that title, I knew this was going to be a book for me immediately.
In the prologue, we meet Viv, an orc barbarian who has lived a life of violence. She's on one last job where she only wants one thing. After that, she's retiring her sword.
After a time, Viv enters a town called Thune. She is on a mission to find a fitting location for her next quest; to set up a coffee shop. Using the ley lines, she comes across a rough looking livery that, while it needs a load of work, is exactly what she was hoping for.
From there, Viv slowly puts together a close-knit team that will help her on this new journey. But can she make a good living from selling a product that the town has never heard of?
I loved every single word of this book. This is a perfect case of me wanting to stand on the rooftops and scream to go buy this book!
The organization of the storyline itself was perfect and the pacing was wonderful. The characters were all absolutely amazing. The moments of intensity were very well done and had me gripping the edges of the book. Then the warm moments had me ready to melt into a puddle of happiness!
I cannot recommend this book highly enough! This is easily in my top ten reads of all time now. I can't wait to dive back in again at a later date. And selfishly, I would love to see this author write more here. Either another tale set in or around the shop, or tales from the other characters perspectives. I just loved this world SO much. I'm not ready to let it go!
So thank goodness that my copy had a bonus prequel story at the end! I was so grateful to get a bit more!
** UPDATE! On Twitter, the author noted that a second book is coming! WAHOO!!
My Favorite Passage from Legends & Lattes
Fennus always found ways to make her feel less-than with the barest twist of inflection or a carefully chosen word slipped like a knife between the ribs, so sharp you didn't notice the wound until you looked up from a lapful of blood.
My Final Thoughts on Legends & Lattes
I couldn't have loved this book more! If you're looking for a great read that will fill you with warmth, then this is it. Legends & Lattes is a true joy from start to finish!
Go grab this book as well as your favorite beverage and a delicious pastry, and dive in!
---
Snag a copy through Bookshop.org to help support local indie bookshops:
Thanks for reading!
One last note – I just have to mention that I bought my copy of this book from a beautiful place called Beacon Hill Books & Cafe. The pairing of the book itself and this location is just too perfect. If you're ever in Boston, please make sure to check that shop out!
Beacon Hill Books & Cafe
Beacon Hill Books & Cafe is an absolutely STUNNING bookshop and cafe right down the road from the office space at my new job. This is a shop I will be visiting anytime I am in the area!