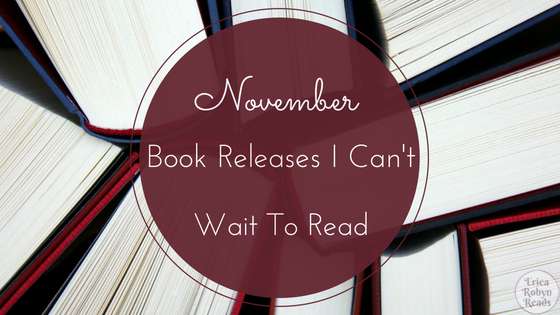 There are just two books coming out in November that I have been anxiously awaiting for the past few months. One I have already read, but the other I am still anxiously counting down the days for!
2 November Book Releases I Can't Wait To Read
River Bodies by Karen Katchur
Expected publication date: November 1st, 2018
Genre: Mystery
Synopsis:
A body just turned up in the small town of Portland, Pennsylvania. The crime is eerily similar to a twenty-year-old cold case: another victim, brutally murdered, found in the Delaware River. Lead detective Parker Reed is intent on connecting the two murders, but the locals are on lockdown, revealing nothing.
The past meets the present when Becca Kingsley, who returns to Portland to be with her estranged but dying father, runs into Parker, her childhood love. As the daughter of the former police chief, Becca's quickly drawn into the case. Coming home has brought something ominous to the surface – memories long buried, secrets best kept hidden. Becca starts questioning all her past relationships, including one with a man who's watched over her for years. For the first time, she wonders if he's more predator than protector.
In a small town where darkness hides in plain sight, the truth could change Becca's life – or end it.
NOTE: I was very lucky and received an ARC of this one, so I've already read it. I really enjoyed it! Check out my review here.
Expected publication date: November 13th, 2018
Genre: Mystery
Synopsis:
"Femi makes three, you know. Three and they label you a serial killer."
Korede is bitter. How could she not be? Her sister, Ayoola, is many things: the favorite child, the beautiful one, possibly sociopathic. And now Ayoola's third boyfriend in a row is dead. Korede's practicality is the sisters' saving grace. She knows the best solutions for cleaning blood, the trunk of her car is big enough for a body, and she keeps Ayoola from posting pictures of her dinner to Instagram when she should be mourning her "missing" boyfriend. Not that she gets any credit.
A kind, handsome doctor at the hospital where Korede works, is the bright spot in her life. She dreams of the day when he will realize they're perfect for each other. But one day Ayoola shows up to the hospital uninvited and he takes notice. When he asks Korede for Ayoola's phone number, she must reckon with what her sister has become and what she will do about it.
Sharp as nails and full of deadpan wit, Oyinkan Braithwaite has written a deliciously deadly debut that's as fun as it is frightening.
Thanks for reading!
What book releases are you looking forward to this month?