Phew, September was such a blur! I worked much more than usual for me, and we had some very scary family matters come up, so my apologies about being a little MIA.
However, even with my massive lack of "me time"… It was a great horror reading month for me!
But before we get into that, here are the random items! 🙂
The day before our wedding anniversary, my mom gifted us an anniversary cake in the same flavor we had at our wedding. But this time, she made sure the little surprise I had originally ordered (but the bakery forgot) was included! Check it out:
Alex and I spent our first wedding anniversary celebrating the new Mr & Mrs Godek at The Barn on The Pemi. It was such a beautiful wedding!
This month held a LOT of house-related projects. Including building furniture. One of the items that I was the most excited about putting together was our new TV stand:
My grandma also gifted us the most amazing and comfy bedding! We were so thrilled to put the bedding on our new bedframe from Wayfair and our new mattress from Casper. Getting a new bed, and a king sized one at that, was a HUGE upgrade for us! Now to get other new furniture for the bedroom! As you can see below, I'm using a desk lamp and outdoor table as my side table. It works for now, but I can't wait to replace them eventually!
This month also held back to back showers one weekend; a bridal shower for my friend, Heather, and a baby shower for my sister-in-law, Aja.
This month we also went to King Richard's Faire for the first time, thanks to the tickets Mike and (Girl) Alex gifted us for Christmas last year! Mike and (Girl) Alex we're clearly much more prepared than me and (Boy) Alex, and they looked AWESOME.
To close out the month, we took a long overdue vacation to Disney World and Universal Studios! It was SO much fun! For the trip, we were calling it our belated honeymoon/one year wedding anniversary.
I ended up giving myself whiplash from one of the rides, but luckily the pain from that held off until we got back home. The trip was 100% worth the pain later! I went on so many rides and had an absolute blast with our group (below)!
One of the highlights of the trip for me was, of course, Hogwarts!!
Stay tuned for a photo-heavy post about the trip! I'm hoping to put that together very soon.
Without further delay, let's dive in to my monthly wrap-up!
My Reading Breakdown for September:
5 Stars- 8
4 Stars- 1
3 Stars- 0
2 Stars- 0
1 Star- 0
DNF- 0
Monthly Musings
Watching:
The Good Place (TV Show, Season 4)
I'm SO sad this series is over. I love this show so much. Alex and I watched this while we ate dinner or breakfast on the weekends. It was a great show to put on to de-stress from all the craziness this month.
MindHunter (TV Series, Season 2)
I started watching through this season, but unfortunately I was only able to catch part of an episode here and there. I'm hoping to finish it up soon!
Alaska State Troopers
For the very first time since we moved in together 5 years ago, Alexander Metcalf was able to play video games on the PS4 while I watched cable at the SAME TIME… in different rooms too! This was equally amazing and super weird. So of course I went back to one of my favorites. This show is so addicting.
Forensic Files
I watched a lot of Forensic Files on cable as well. I freaking love this show.
Playing:
Nothing this month.
Drinking:
When attending the Godek wedding, Alex and I had a couple of drinks. His was a Moscow Mule, mine was Prosecco that was on tap!
Alex and I popped open this gift from the Shermans to celebrate our wedding anniversary!
This pink drink was called a Woo Hoo. It was quite tasty, but VERY strong.
On one of our vacation days in Florida, Alex and I had a beer by the pool. We each bought six-packs in hopes of relaxing each night in the pool… but this was the only night we were up for it. Oops!
At Epcot I had an awesome tea, though I can't for the life of me remember what it was… Mochi black tea, I think?
At The Leaky Cauldron, I had a delicious peach fizzy tea!
Listening to:
This month, I listened to The Graveyard book on audio! It was so much fun listening to the full cast!
I also got all caught up on the podcast, The Fall Line.
In the bookish community:
Wondering what gift to get a bookish friend? Check out this AMAZING chart by The Literary Apothecary.
We also got a trailer for Into The Tall Grass and I am SO EXCITED to watch!
Monthly bookish related haul:
This month the only bookish related items I purchased included, a wand from Ollivanders, and a chocolate frog and Bertie Botts Every Flavor Beans From the Wizarding World of Harry Potter.
Book of the Month:
My BOTM is still on hold while we work through some house stuff. I'm hoping to unbox my unread BOTM picks soon to at least read those!
Book Club:
I was unfortunately too busy for both of my book clubs this month. 🙁
My favorite bookish photo this month:
I have two favorite this month!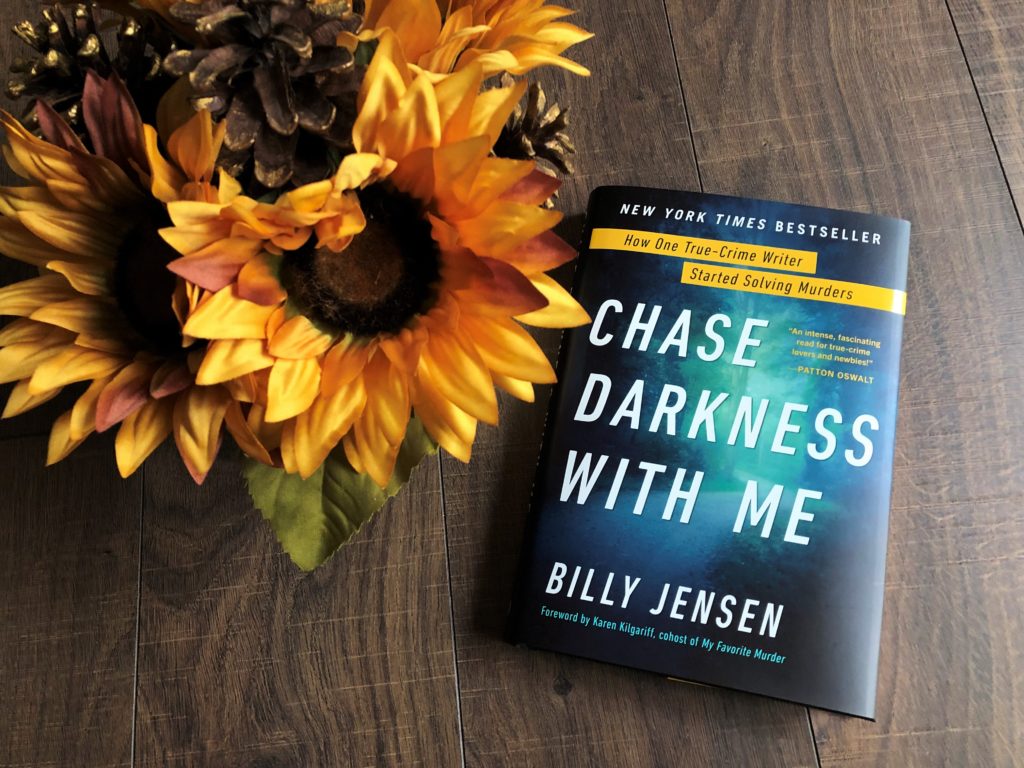 In Case You Missed It:
Looking forward to:
The beginning of October is going to be wicked busy! Stay tuned for a post about one awesome bookish event I'm SO excited for!
In October I have the honor of being the Matron of Honor for Heather of Heather's Reading Hideaway! I cannot wait for her big day!
October also holds the very first weekend since JUNE that I have NOTHING on the calendar. I've got my fingers crossed that it stays that way! Update: I was wrong… We have plans that weekend. Keep your fingers crossed for me to have a free weekend for November 2nd and 3rd!!
Thanks for reading!
How was your month? Have any special plans for October? I'd love to hear about them in the comments section below!